2016 Bronze Best use of programmatic
06 Dec 2016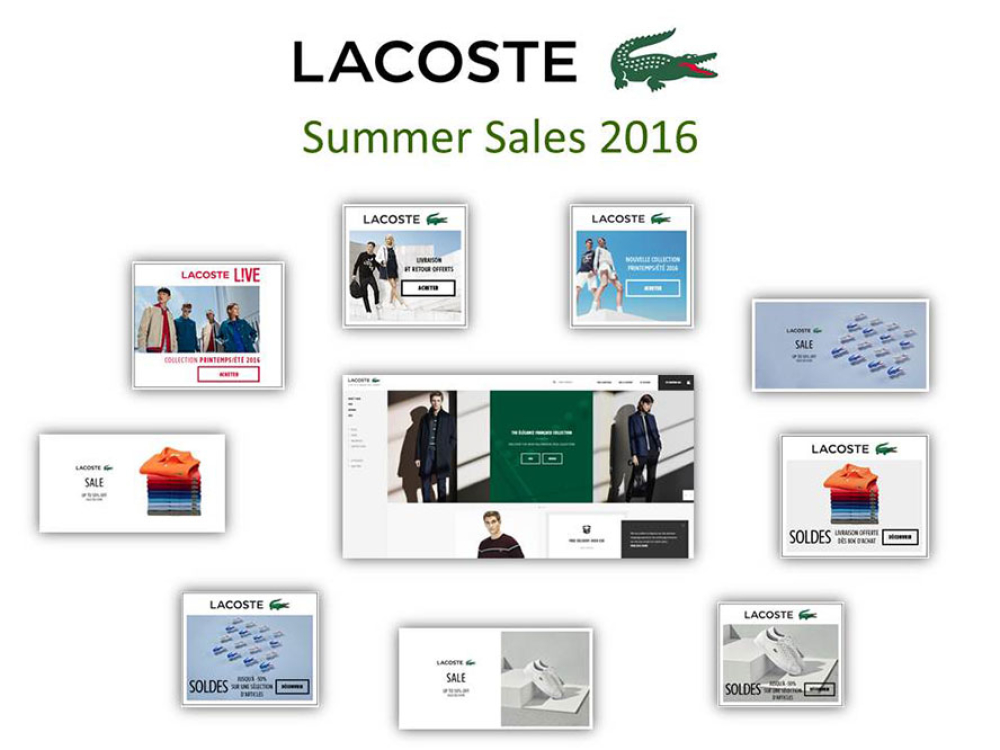 Agency numberly
Client Lacoste
Campaign summary
Real-time bidding on Amazon and Facebook ads
Campaign overview
Lacoste wished to generate sales during the peak summer sales in three of their main markets, France, UK and Germany, using different strategies to target all the audiences (prospects and clients) to multiply the touch points and increase the impact and reach.
Strategy
The strategy included several technical and targeting characteristics.
Clients: audience analysis sorted customers according to their profiles to better match their needs: active clients, inactive clients and prospects.
Then they were matched through a data onboarding process to target through different channels. This approach allowed for a push of personalised content (free delivery, goodies, etc.) to the different segments defined.
Retargeting: multiplying the touch points through different channels and technologies like Real Time bidding, display and Facebook Ads, and adapting the pressure depending on the recency and the engagement of each visitor.
Acquisition: using different kinds of strategies (whitelist, contextual targeting, data segments) in order to increase reach and empower optimisation options.
Creativity
A differentiating aspect of the campaign was a focus on A/B testing with the aim of achieving the best performances possible.
The campaign ran A/B tests on creative in order to test which message was performing the best (product, offers, etc.).
A/B testing formats (different kind of banners were tested) and programmatic channels (Real Time bidding, display and Facebook Ads), let to adapting the budget spent on each, depending on the results.
The work focused on viewability. In order to have better viewability, a key consideration, they ran three different types of campaigns: campaigns targeting only viewable deals, above the Fold campaigns, and reach campaigns, without any viewable restriction in order to prove which method was the more convenient according to the needs.
A/B tests for devices and specific campaigns on desktop, tablets and mobile device defined the most efficient approach.
Results
The campaign was live for two months and was a success.
The media plan included Real Time Bidding, Amazon Ads and Facebook Ads.
Overall, the campaign generated 19,749,380 impressions and 2,290 sales among the three countries.
These results were achieved for a CPA of 12.76, which was below the objective.
Team
Biljana Savic (Global Online Marketing Manager) • Celia Pinot (Digital Marketing Project Manager) • Dorothée Lacroix (International Managing Director) • Laura Diez (Senior Media Trader) • Aurélia Farhi (Senior Marketing Executive) • Pierre Tack (Media Trader) • Gianni Sun (Media Trader)
Hear more from the DMA