Understanding and Connecting With Your Customers Amidst New Realities
12 May 2020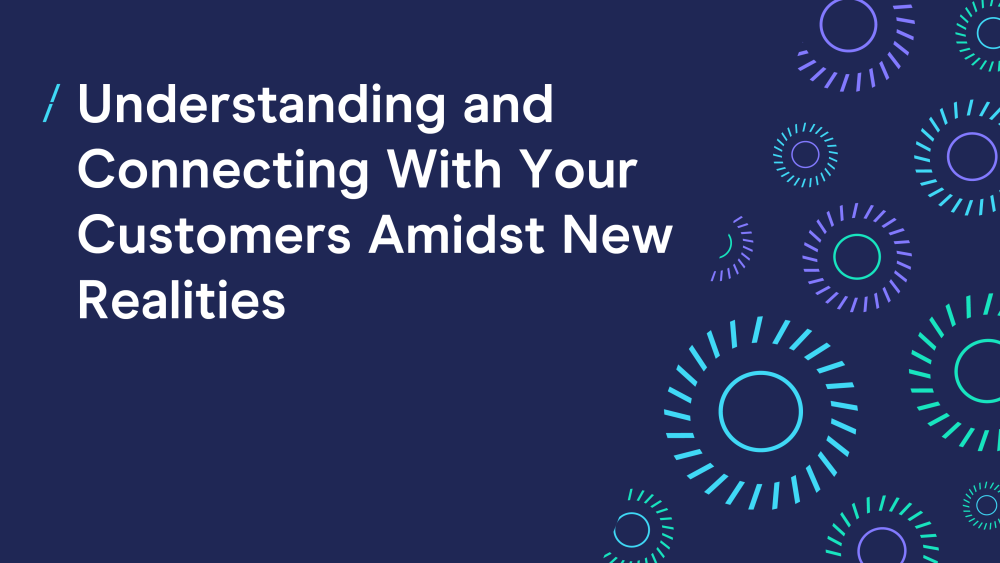 From the Headline Sponsor of the DMA Awards, Datorama, this is the second in a series of thought-leadership pieces focusing on how businesses can work through the coronavirus outbreak.
Successful modern marketers know that the customer always comes first, and that exceptional customer experiences are the key to unlocking short-term and long-term growth. Everything from ROI to brand value as well as customer acquisition, retention, and loyalty is connected to your ability to deliver great customer journeys.
During times of global change and uncertainty, tuning into your customer community and adapting to changing behaviours is more important than ever. Customers need to feel that their needs are being met and they should be able to look to their favourite brands and companies as a source of leadership and stability.
Above all, marketers must prioritize empathy and trust when communicating today.
The change surrounding COVID-19 impacts the tone of everyday interpersonal communication. It's only natural that it will change the tone and approach of most marketing, too.
Using data and measurement to evaluate the resonance of each message and tactic, marketers can ensure that they are providing customers with empathetic and helpful information that is relevant to each changing day.
Creating Content and Messaging to Match the Moment
Brands of every size in every industry have had to quickly pivot their strategies to fit the tone of the conversation surrounding today's economic and public health climate.
Many brands have stepped up to the plate to help encourage social distancing. Nike recently enlisted a variety of sports icons to promote a new "Play inside, play for the world" campaign and inspire athletes and fans to stay inside for the safety of everyone else. Other brands, like Coca-Cola and McDonalds, have made creative adjustments to the spacing in their own logos to share the message that now is not the time for tight kerning.
Purveyors of in-person experiences like concerts, museum exhibits, and live theatre are sharing virtual experiences and content. The New York Philharmonic Orchestra recently posted a virtual Boléro concert — featuring musicians playing in sync virtually from their own homes — to YouTube. In addition, Disneyland released a virtual viewing of its latest parade, and museum fans can now take a full virtual tour of the Metropolitan Museum of Art. Creative tactics like these help live-experience-focused brands stay connected to their fans and customers who are now stuck at home.
In recent weeks, philanthropy has become a major part of the marketing conversation. Many brands are donating millions of dollars to recovery and research efforts. These benefactors include PepsiCo, Starbucks, KFC, and more. The business of business is to help improve the state of the world — and now, more than ever, is the time for businesses to help do that.
Lastly, to meet customers' new needs, marketers may need to consider shifting their media mix. A brand dedicating a majority of their advertising to billboards for example, needs to think about marketing on video streaming services or mobile gaming. This is where most customers are currently spending their time.
Delivering Certainty with Unified Data
How can you ensure these messages are resonating with customers at the right place at the right time? During such a fragile time with ever-changing circumstances, marketers need to be certain that no message misses the mark.
Real-time data is more important than ever in our increasingly virtual marketing world. Marketers need to know how their efforts are resonating with their customers right now — not months from now.
By frequently tracking and measuring engagement and sentiment across channels, marketers can inform their decision-making process with clear data and optimize the ability to serve customers during this time. Social channels are one of the most important for closely tracking customer sentiment (stay tuned for our tips & tricks post on social listening tools).
By connecting siloed data sources throughout a unified system of record, marketers can accelerate their operations and connect to customers' needs faster than ever. A holistic view of all marketing activities includes clear, up-to-date information about how customers are responding to marketing.
The tactics that brands use to connect with customers in times of uncertainty will form lasting impressions. Fostering a successful, on-going dialogue with customers during this time ensures that companies will exit this crisis with stronger relationships that will enable smarter marketing well into the future. In the coming weeks and months, marketers have the unique opportunity to put customer well-being — and the health of the world — first.
---
As part of a series from DMA Awards Headline Sponsors Datorama. The original article can be found here.
For more coronavirus advice and help from the DMA click, here
Hear more from the DMA