Marketing Automation in Print: What They Said
12 Apr 2021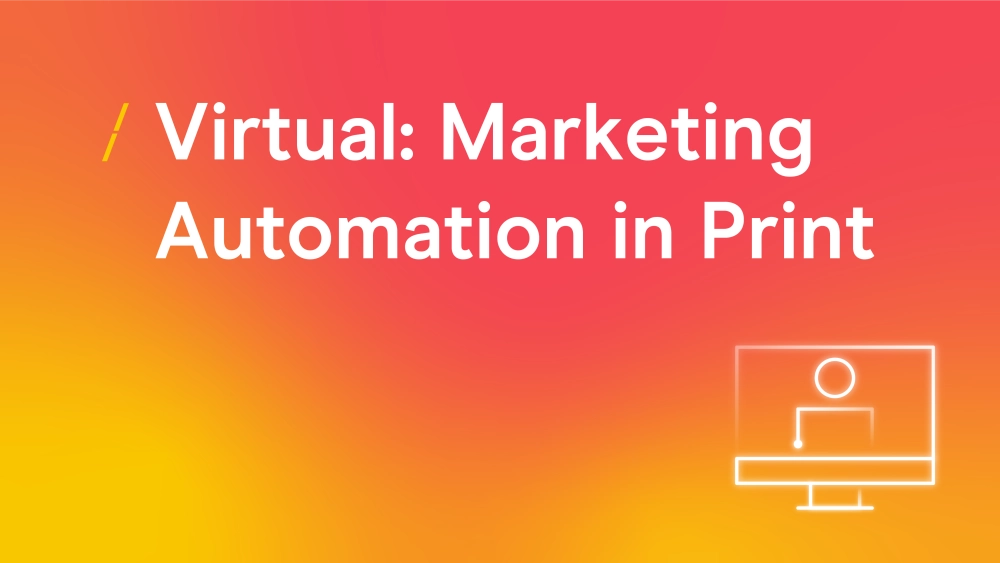 At our virtual event, Marketing Automation in Print, we looked at how marketing organisations have a chance to create a more relevant and personal experience by adding printed direct mail into their media mix.
We gathered the expertise and different perspectives of tech providers, brands, and agencies to show how marketing automation can position print in an omnichannel environment.
Marketing Automation Makes Mail as Easy to do as Email - Philip Ricketts, Wholesale Commercial Director, Royal Mail MarketReach
Phil Ricketts shared insights from JICMAIL showing that mail effectiveness has only continued to grow throughout Q4 in 2020. As the customer lifecycle gets increasingly complex with multiple touchpoints, this is important to consider when looking at integrating channels for a more holistic approach.
Marketing automation technology means that you can now automate the mailing process in the same way you can with digital, making it possible to scale your programs and integrate it within your marketing stack.
Tedious manual processes, like sending a customer a mail pack at signup can be automated and made much faster. Another vital aspect is that experimentation and optimisation of your approach through testing is made as simple as it can be with digital. Automation platforms give complete visibility of delivery and can match back to your data as well as dramatically increasing the speed to market.
Bridging Digital and Print with Marketing Automation – David Baldaro, Marketing Operations Manager, XMPie
David Baldaro shared a case study from RPM Digital's campaign with Dorset Wildlife Trust (DWT) and how they successfully engaged with their audience despite a very saturated market.
The campaign spanned 9 months, starting with a sign-up process that collected enough data to make sure the content they received was very specific to their interests and their circumstances. XMPie's marketing automation platform allowed for digital and print to be customised to a very granular level, changing the copy and content for those that were members or those that did not live in rural areas.
The campaign was mainly automated, with content pre-planned, but there was enough flexibility to respond to upcoming events that hadn't been in the initial plan. It allowed the team to react to the campaign exceeding expectations, with 4000 sign ups compared to the goal of 1000, rather than needing to worry about manual processes.
The results:
ROI of 2:1
Email open rates (46%) averaged double the charity average (26%)
Click rates (8.2%) were more than treble the charity average (2.6%)
Unsubscribe rates (0.1%) were lower than the charity average (0.2%)
Only 2% unsubscribed across the 8-month campaign.
Increase in memberships, with a high number of high value, lifetime membership signups
RPM Digital was then able to take this case study and implement similar campaigns with other charities.
The Conservatives Toolkit – Richard Lonsdale, Head of Digital Solutions & Integrations and Nick Barbeary, Client Experience Director, Paragon
Richard gave a demonstration of the front end of the toolkit that allowed for individual users to create their own marketing content whilst remaining on brand with the rest of the content being shared nationwide. The campaign toolkit allows for approvals to be made quickly and easily before being sent for production. The platform is completely integrated with creating social and digital assets along with print content. It's automated large requests of print as well as a large amount of the design through multiple templates that can be customised as needed.
Marketing automation allowed for a unified brand experience whilst still having the flexibility needed to react on a local level to current events.
Panel discussion of the Future of Print - Lucy Swanston, Managing Director, Nutshell Creative Marketing, Kelly O'Sullivan, Senior Print & Publications Manager, Sainsbury's, Jonathan Tame, Managing Director, Two Sides, Philip Ricketts, Wholesale Commercial Director, Royal Mail MarketReach and Marian Stefani, CEO, IPIA
Questions to Kelly O'Sullivan
What are the future plans now that the Argos catalogue is gone?
Following the removal of the Argos catalogue, the brand was able to look at how to be more targeted and innovative with their plans, integrating with other channels and reaching customers regularly in a way that wasn't possible with the catalogue. They are now looking to use smaller and more targeted mailings in a variety of formats that will reach customers throughout the year.
How do you work with marketers to make sure that print is successfully integrated within campaigns?
Despite being a separate team, they work very closely with marketing team as a whole, from the inception of an idea to when it is briefed into an external agency. Rather than the traditional approach of a marketer coming to the print team at the end of the planning process and saying what they want produced, they are able to challenge things like where the personalisation should go, what size would be best and give recommendations of what type of print would best for the campaign.
This process means they are able to bring together everyone's different expertise from the beginning and make the best use of that knowledge.
"Getting in right at the planning stage is the best way to make sure that your print campaign works in conjunction with all of the digital campaigns that you're doing so it feels like one campaign to the customer."
Kelly O'Sullivan, Senior Print & Publications Manager, Sainsbury's Argos
Questions to Jonathan Tame
Who are Twosides and what can brands do to increase the sustainability of their print marketing?
Twosides is a global campaign to promote the sustainability of paper-based communication and packaging and combat assumptions that print is unsustainable. JICMAIL shows that mail is effective and is a great way to engage and reach customers which is important for people within organisations to understand and be aware of at the planning stages. Twosides' campaign Love Paper aims to educate consumers on some of the misconceptions around print media and sustainability so the two combined can be used by brands very effectively.
The best way to increase sustainability is first to discuss with your supplier, ensuring you are designing something that is as sustainable as possible. The main aspect to keep in mind is targeted data, to make sure that you are very clear on the audience being targeted so it can go to the right person and not be wasted.
There are also lots of other aspects that can be looked with the print supplier, agency, and mailing house to improve sustainability.
Questions to Philip Ricketts
What role do you think mailing houses can play in the planning stage of a campaign?
Mailing houses have made many innovations over the years to offer integrated solutions for one-on-one communications with customers. The integration of channels with different software that is offered is very impressive so one of the main challenges for the industry is raising awareness of the progress that has been made around integration of channels so that it can be more widely used.
Do you think automation removes some elements of human interaction and experience?
Automation is more about the high-volume repetitive tasks rather than reducing the opportunities for creativity. The most important thing is for brands to have an awareness that the tools to enable better and more reactive print exist and work in a similar way to digital platforms where creativity has a place in the process that may be different to traditional print media processes.
Questions to Marian Stefani
As a representative of the print industry, having heard from the rest of the panel what do you think the future holds and what steps need to be taken?
Its clear that the industry needs to take some time to communicate with customers that price is not the only factor they should be considering and the print supplier needs to be involved at the planning stage rather than just being a bolt-on at the final stage.
"The future of print in this space is about education and collaboration"
Marian Stefani, CEO, IPIA
Traditionally the print industry has been production led so its important to make it clear that in addition to this, many have a wealth of marketing experience alongside this.
The value in the print industry lies in the innovations they are constantly making and sharing that information widely is key. If customers integrate print even ahead of the planning stage they can ask, "what's new?" to find even more innovative way to engage consumers.
Final thoughts from the session
Marketing automation doesn't take away any of the creativity of a campaign, it just places it at a different point in the process and means that all channels can be used to their fullest effect. It also means that the customer is spoken to in the way that they want to, and from the channel that they want to engage with.
---
Read more from the Marketing Automation in Print series:
Marketing Automation Boosts Cross-media Campaigns
Marketing Automation in Print: AutoPoint Case Study
Marketing Automation in Print: Asurion Case Study
See more content from the Print Council here.
Hear more from the DMA