DMA Talent: Creative Data Academy 2020
07 Oct 2020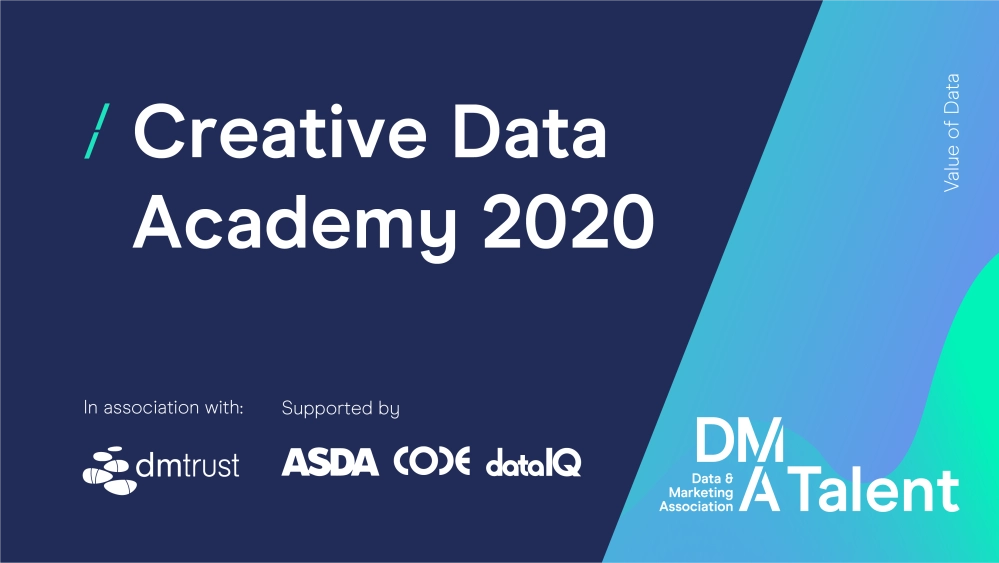 2020 has been a year of firsts and DMA Talent's Creative Data Academy was no exception. With everyone keeping safe and staying at home, we adapted our face to face Academies and ran them virtually instead. While initially unsure how the programme would translate online, and with a steep Zoom learning curve ahead of us, we're thrilled to report that all three Academies went without a hitch (if you don't include the odd minor technical one!).
Created in 2013 to address a skills gap within the industry, our Creative Data programme continues to encourage and inspire the next generation to choose a career in data and marketing.
Our three Creative Data Academies – originally planned to take place in Leeds, Edinburgh and London earlier in the year – each retained their own regional identity, with businesses from the surrounding areas shaping each programme.
We were joined by a total of 80 talented and diverse students, each selected following a rigorous application process. Studying, or graduated from, subjects ranging from History to Accounting to Journalism to Chemistry, from all across the UK; one thing they all had in common was their passion and ambition to learn more about the industry. We were eager to meet them and they didn't disappoint.
Working in teams, our students tackled a tough business issue over the three days, using data to inform and support their response, and pitched their insights and marketing recommendations to the client on the final day. Asda, ScotRail and Virgin Atlantic Airways provided the business briefs and all were blown away by the students' ideas. Carolyn Stebbings, Managing Director of Code Worldwide and SVP Data & Tech Solutions of RAPP, said this year's group were "exceptional". Scott Allan, Marketing Insights Analyst at ScotRail, told us, "every one of the pitches was of a superb standard, made even more impressive when considering the short amount of time they were given to work on the brief".
The students also heard from a variety of speakers on topics ranging from data and segmentation, hyper-personalisation, media channels, ethical use of data, how to deliver a pitch and practical job-seeking tips. We were fortunate to have support and input from many businesses, including Merkle, BBC, ASOS, Pets at Home, Hyper Group, Golden Charter, Tesco Bank, MediaCom, Spark44, Tapmydata, The Data Lab and Standard Life.
And we received some great feedback from our students;
"I am more motivated to pursue a career in data and marketing. It was so incredibly fun and exciting to be able to take part in a marketing pitch and, even though I was terribly nervous, I loved it."
"I am extremely grateful to the team, the opportunity was incredible."
"The academy helped clarify my attitudes towards working in the industry, and I want to continue to look at Data Analysis and so forth."
And we're delighted that Silvia Ivanova has just accepted a job as Analytics Consultant at Hyper Group, as a direct result of attending the Leeds Academy.
We would like to thank our sponsors and supporters, the DM Trust, DataIQ, Code Worldwide and Asda, whose generosity have made 2020 Academies possible.
.
If you're interested in attending an Academy in 2021, join DMA Talent's mailing list by clicking here and be among the first to know when applications open.
And if you're a business looking to recruit talent or raise your profile amongst aspiring marketers, the Creative Data Academy provides the perfect platform. DMA Talent have plenty of partnership opportunities available - find out more here.
.
Want to find out more about all the events and programmes DMA Talent run? Click here to go to the home of DMA Talent for all the latest news and information.
Hear more from the DMA