Data 2020: Using Data as a Force for Good
06 Apr 2020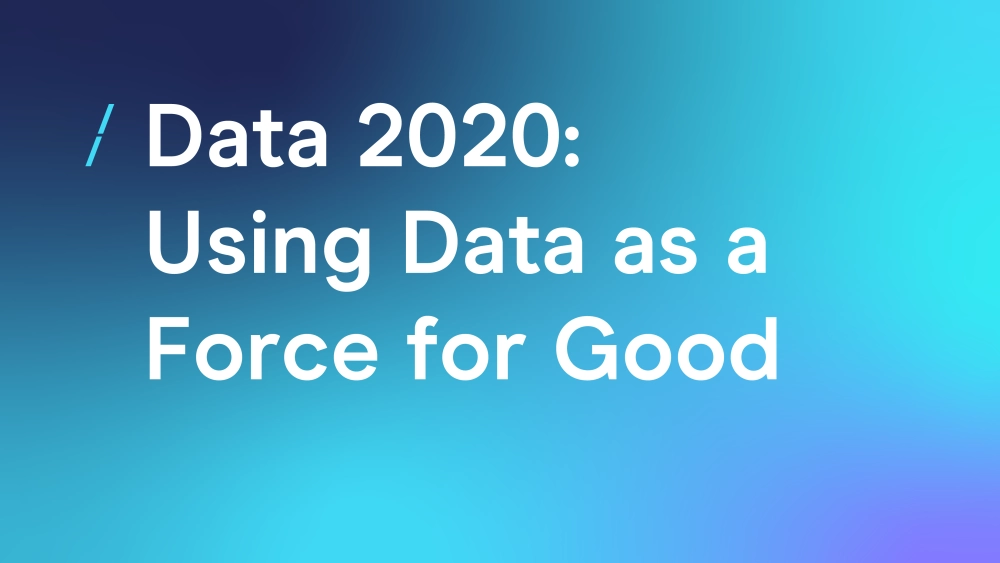 The DMA's Data 2020 event took place in February at Euston Square. Here's a detailed recap of our panellists that discussed the ethical challenges behind data-driven tech, and the award-winning campaign that is living proof of the good it can bring.
Many people feel anxious that AI and algorithmic systems in 2020 are beginning to correlate to those in Orwell's dystopian novel 1984; we're realising everyone is being monitored and tracked. These systems have the potential to improve lives, benefit society and build better businesses, but such technology brings ethical challenges that need to be carefully navigated.
At our Data 2020 flagship event, Rachel Aldighieri, Managing Director of DMA, led a panel that discussed these challenges, opportunities and how ethical frameworks, public policy and regulation can support tech development. Panellists included:
Dean Russell, MP for Watford
Olivia Gambelin, Founder and CEO, Ethical Intelligence
Ben Lyons, Head of Online Targeting, Data Ethics and Innovation
Firs Khnaisser, Head of Decisioning, Standard Life
Gambelin, an AI ethicist, described ethics as a beautifully intricate field that doesn't necessarily have those clear-cut answers we're used to seeing in tech. Data with AI is black and white, she said. We have 'yes' or 'no,' 'positive' or 'negative.' In ethics, a lot of times, we have 'maybe.'
The advocate for the use of responsible AI had a positive message: "We've done this before," she said. "We have bio ethics; we have political ethics; we have business ethics. So, we have taken ethics and applied it to an industry. Right now, we're facing a new difficulty. We're applying it to a brand-new industry that's constantly evolving. What we can do going forward is look back on the previously established fields."
Khnaisser explained that the notion of value needs to be relooked at in a very radical way. As brands, he said, we use language like customer/consumer as though this is a person who gets stuff done to them, and the brand/organisation who does stuff to them, whereas that doesn't really happen. "The customer is actually a vital part of the organisation."
In response to why industries should bother with data ethics, Khnaisser used Nike's past campaign featuring Colin Kaepernick as an example. After the former NFL player sat during the national anthem to protest black communities being oppressed by the police force, Nike created an ad showing Kaepernick's face overlaid with the caption: 'Believe in something. Even if it means sacrificing everything.'
Though there were people who absolutely loved the message and people who absolutely hated it, Khnaisser explained, the campaign pushed Nike's stock price significantly higher. "It goes to show that it actually pays to have values," he said.
Lyons agreed it's important to start from a place that's principles based. Transparency is the first step in enabling informed targeted responses, he said, reminding us that audiences don't want to be burdened with lots of information and choosing what meaningful bits to communicate is important.
The ethical challenges coming through more for businesses – especially when using AI in data-driven tech – often comes down to fear of ownership, Russell explained. Who owns that insight and what will it be used for? How to unpick that is essential. "The fear will potentially impact the ability to make good out of it," he said.
We need to have very clear frameworks in how we measure and monitor the ways data is being used, Russell agreed, but we also need to understand it in a way that's deeper than blanket legislation.
He praised the earlier presentation on The Dynamic Blood Appointment Campaign, which encouraged people who've never given blood before to visit their local donor centre. "Could we get a point where we have data donation?"
The campaign won Gold for the Best Creative Use of Data at the 2019 DMA Awards. Its winners included:
Tom Aggett, Marketing Manager, NHS Blood and Transplant
Tristan Cavanagh, Creative Director, 23red
Jonathan Acton, Head of Creative Delivery, Clear Channel
Aggett explained that while there's a global trend in a decrease for blood donation demands, new donors are needed in specific centres. Real-time data was captured and injected into over 120 sites across ten UK cities, targeting those who live and work nearby these static zone centres. The ads were displayed on digital screens for ten seconds and four pieces of highly localised data were used in all sites:
Number of available appointments that day
Appointments booked that day
Available appointments in a week
Number of first-time blood donors that week
Though data helped people with their choice, Cavanagh said it wasn't enough on its own to motivate them; people need to really care about those who receive their donation. To create an emotional connection, form a sense of immediacy and communicate the wide range of stories, genuine recipients of blood donation were found.
Photographer Dylan Collard shot compelling images of the diverse recipients: Amit has the blood disorder Thalassemia Major and needs transfusions every three weeks; Katherine received blood while giving birth to her son; Mary was diagnosed with Sickle Cell Disease before being born and needs regular donations.
The recipients are depicted in the state when they receive blood. "They don't look vulnerable," Cavanagh said. "There's a defiance; they're very proud."
To overcome the barriers preventing many individuals from giving blood, including inconvenience and thinking people like them aren't donating or their blood isn't needed, the behavioural structure EAST was applied to the data:
Easy – told people a centre was close by, making it easy for them to give blood
Attractive – showed donating improved the lives of real people
Social ­– presented the social proof on a day-by-day and week-by-week basis, as people commonly do what they perceive others to be doing
Timely – made sure people understood that the need is urgent
Post-campaign research showed that people noticed the imagery first, closely followed by the appointment data, then the location to the nearest donor centre. Cavanagh explained that to get the message across, an emotional response was triggered, rationalized, then a direct action was given. The audience responded better to a visual contextualizing message, Acton said.
The campaign was largely successful: compared to a similar period with no marketing activity, it generated a 55% increase in registrations, and a 23% increase in registrations post campaign.
Every day the NHSBT needs 5,000 people to give blood. One unit of blood donation can be used to create three separate products, which can be used to treat three different people.
Find your nearest blood donor centre here.
Hear more from the DMA