Coronavirus: Spotlight on the DMA Community
14 May 2020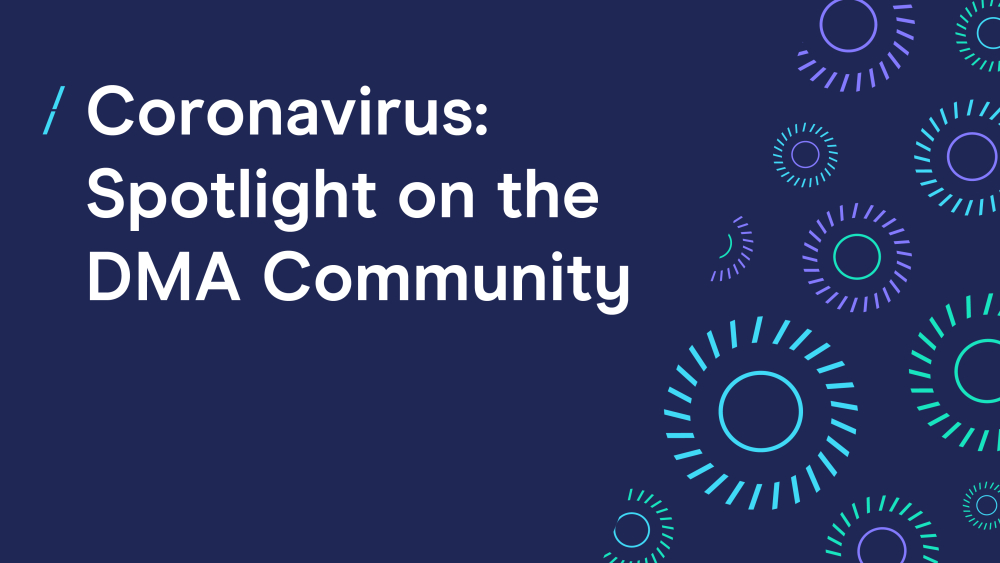 As part of the work the DMA is doing to support our community at this time, this article will be a repository on our website that shines a light on all the good work that our communities are doing to help those affected by coronavirus.
This will include resources such as free templates, marketing strategy advice, and thought leadership pieces.
If you or someone else is doing something you think should be included, please let us know. The repository on the website will be continuously updated. Please share the details via councils@dma.org.uk.
pure360 have created content offering advice and suggestions to help marketers during the coronavirus crisis. This toolkit is still being updated so keep an eye on their socials for new content.
crEdit: discounted media space during coronavirus crisis
Edit has secured £1 million worth of heavily discounted media space that they are offering to those in the charity sector. It is to help those who need to rebuild and support their donation pipelines. It is also available to businesses in financial services and the grocery retail sector.
Nutshell Creative Website for downloadable templates to combat fake news
Nutshell Creative have collaborated with Vpress to launch the "Keep calm and communicate" website as a response to the UN's call to the creative community to promote consistent messaging around the facts of coronavirus. Users can download their own templates for free and have an alternative where they can personalise their own artwork with their company brand (can consist of leaflets, poster, floor stickers etc) and order their own.
DPL's Behavioural Science Perspective of the Current crisis
DPL has been sharing thought leadership pieces with DMA Members that examine the current situation. These help to give insight into your colleagues and your consumers as the crisis continues.
Panic-Buying, Personality Types, and the Coronavirus
Is Your Personality Type Suited Towards Working from Home?
Coping with Isolation: Extraverts vs Introverts
Getting Clients "Back on Track" and Providing Creative Inspiration
Life Coach and Business Mentor Stephen Chandler has passion, experience, and interest in the creative marketing industries, and the people driving them. He believes in creating an environment for his clients that stimulates and encourages self-reflection, enlightenment, focus, and direction – and answers. Chandler's clients include employees of companies such as Sky, Facebook, Island Records, Wavemaker, and University College London.
In the current climate, he's particularly keen on providing services that allow people to take back some control; make their lives even better in the long-term; and shine a light on different ways of being. With that in mind, he's created five one-hour sessions for companies, groups, and individuals:
Spring-Clean Your Mind – and Boost Your Creativity
How to Deal with D*ck-Heads – Learn Self-Belief, Grit & Resilience
Focus in a F*cked-Up World – Priorities, Boundaries & Avoiding 'Shiny Objects'
Get to Know YOU – Your Values, Motivations, Beliefs & Inner Strength
Developing an Entrepreneurial Mindset – Opportunity Planning, Creativity, Effectiveness, Purpose & Survival
In these confusing times, Chandler wants to be part of the solution, not the problem, so he's offering DMA members a 25% discount on all sessions booked using the code, DMA25. More information about what he does, how he does it, and why he does it can be found on his website. You can also head straight to his testimonial page.
If you'd like a highly effective sounding board, someone that helps you overcome your challenges, and achieve your goals, then get in touch at stephen@chandlerandfriends.com, or on 07720402373.
The COVID-19 Contact Centre Revolution

Steve Sullivan, Deputy Chair of the Contact Centre Council, has carried out a survey of contact centres during the crisis. He's written a report on his findings illustrating changed customer behaviours and expectations, along with first-hand comments and feedback from contact centre leaders.
Read the full report.
---
For more Coronavirus advice, guidance and help from the DMA, click here.
To find out more about our Councils and Committees click here.
Hear more from the DMA