Coronavirus: New Restrictions Emphasise Importance of Contact Tracing Technology
23 Sep 2020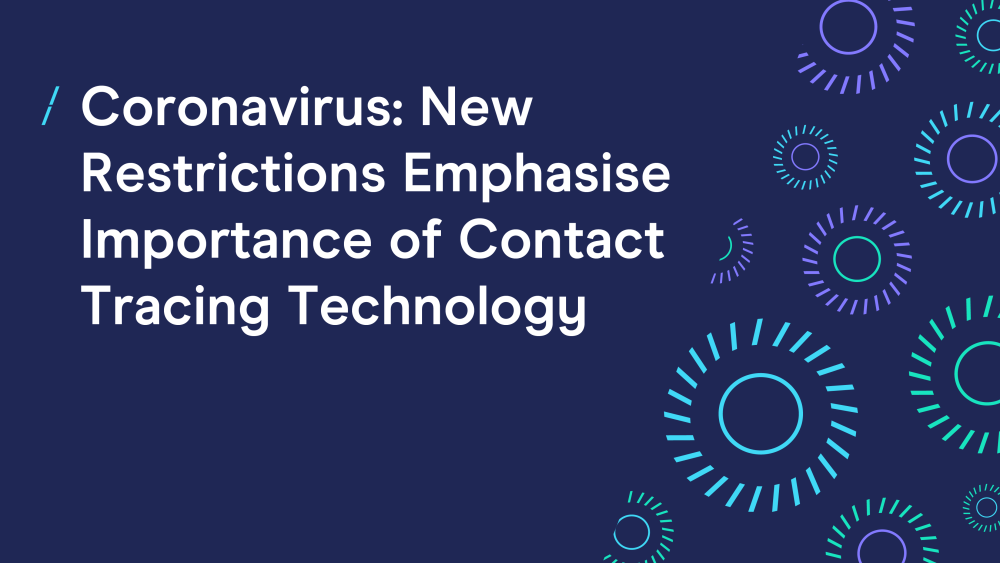 Today, Governments across the UK announced new restrictions on social interaction as new cases of coronavirus have spiked.
However, unlike in the early days in the pandemic, Governments in Stormont, Holyrood, Westminster, and Cardiff Bay are better equipped to deal with outbreaks thanks to contact tracing apps.
Having collaborated with the Republic of Ireland, Northern Ireland was first in the UK to release their contact tracing app StopCOVID NI. Scotland followed later with Protect Scotland. The UK and Welsh Governments are set to release their app on Thursday, following hiccups in earlier developments earlier in the summer.
It's important to remember these are only additional tools for governments to reduce the number of coronavirus cases and keep tabs on the spread of the virus. However, these apps will be crucial in allowing governments to pinpoint local flare-ups of COVID, and to avoid nation-wide lockdowns that will further harm the economy and public morale.
But, underpinning the importance of these apps in the fight against coronavirus is the impact of these solutions on public trust in both government and businesses use of individuals' personal data.
DMA research showed pessimism in the industry. 57% of professionals believe the governments handling of coronavirus will have a negative impact on customers willingness to share personal data.
DMA Head of Public Affairs, Michael Sturrock said:
"The adoption of contact tracing apps has positive implications not just for the pandemic, but for the use of tech in public policy more broadly.
"The coronavirus pandemic has forced administrative improvements that were long overdue, and the rewards from investment in technological advancement will be reaped long after we are through this crisis.
"However, it is the job and responsibility of governments to bring citizens along with tech advancement. The success or failure of the use of tech in policy will be defined by how transparent, accountable and diligent with data governments are. As we have seen from trials on the Isle of Man, if the public does not trust the tech that governments adopt, they will simply not engage with it. Equally important is the betterment of business practices in these areas so that the natural public response to new tech is not scepticism, but informed openness".
Promisingly, public engagement with contact tracing apps in Northern Ireland and Scotland is strong. In both nations, downloads have reached the crucial 15% threshold required for the technology to begin to make an impact on reducing the spread of coronavirus.
Notably, the Governments in Edinburgh and Belfast made significant effort to stress the fact they recognised the importance of data privacy. Both opted to collect the absolute minimum amount of personal data required for the function of each app.
Having faced tough criticism over contact tracing practices, and lengthy delays in contact tracing app release, eyes will be on the UK Government tomorrow to see their approach to data privacy and functionality.
As businesses across the UK have been required to take contact tracing into their own hands, many have opted for tech solutions to aid their efforts.
DMA member Promotigo is one such company to develop a solution whereby patrons of hospitality venues can store their details securely through an online form accessed via QR code upon entry to the establishment. 'GuestVisit' removes the legal burden of data storage from venues and securely stores information for access only by the NHS contact tracing services when need be. The solution has been adopted by pub chain Greene King, London Business School and Unite Union's student halls and many other businesses in hospitality and beyond.
Promotigo and GuestVisit CEO Nick Deyong said:
"In the event of a Test and Trace request, the Guest Visit support team will provide an extract of all customers who submitted their details at a participating venue during the requested time period.
"We have seen a tremendous amount of success in the short term with almost 400 venues now participating in Guest Visit. The latest government announcements have made it mandatory for certain businesses to collect contact details from their customers and also for those businesses to apply for and display a QR code for the new NHS app.
"The NHS app is voluntary so it's essential that businesses continue to have a compliant system in place to collect customer contact details and Guest Visit does this by ensuring that customer data is secured and only released in the event of a bone fide track and trace request at the venue".
The DMA has published a COVID-19 contact tracing article series as part of the Value of Data campaign. Experts from public policy, government, academia and industry have contributed articles, discussing implications for privacy, security, health policy and beyond.
Furthermore, on the DMA Politics Podcast this week, Michael Sturrock caught up with SNP Westminster Spokesperson for Health, Dr Philippa Whitford MP about release of the Scottish Government's Protect Scotland app to discuss how they have been getting on.
Hear more from the DMA