Code Worldwide confirmed as sponsors of UK wide Creative Data Academy
16 Jun 2021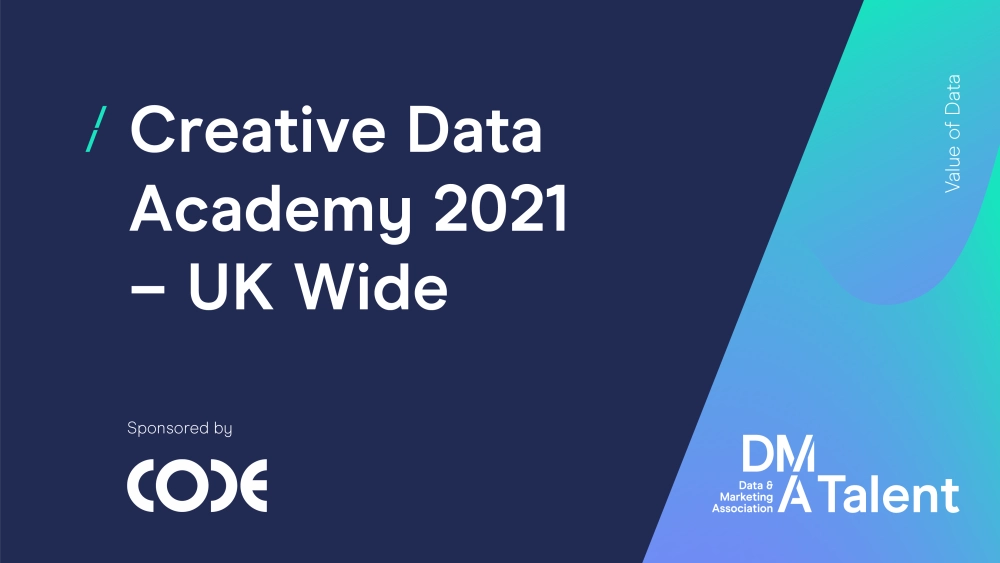 DMA Talent are delighted to announce Code Worldwide as sponsors of 2021's UK wide Creative Data Academy.
It'll take place online, running from Wednesday 8 – Friday 10 September. Across the three days, 30 aspiring data-driven markers will hear from industry experts and data specialists, and put their skills to the test by working on a brief set by one of Code's clients.
Code will present a brief on the first day, and the students will tackle it in small teams throughout the Academy, with support from data and marketing industry professionals. They'll pitch their ideas to the client on the final day, going head-to-head with their peers. The team from Code Worldwide will be on hand to provide feedback and crown the winning team.
Code Worldwide have supported the programme for a number of years, and Carolyn E Stebbings, SVP & Managing Director of Code told us "2021 sees Code proudly sponsoring the DMA Creative Data Academy again. It's such a fantastic programme that really does push the attendees metal. Even though last years was virtual the talent was exceptional, and I look forward to more of the same this year."
.
If you're looking to recruit the best talent or raise your profile amongst aspiring data-driven marketers, our Creative Data Academies provide the perfect platform. Email us to discover our partnership opportunities.
Interested in finding out about all the other events and programmes run by DMA Talent, which aims to provide aspiring marketers with the skills they need to break into the industry? Head to their home page here.
Hear more from the DMA