Best of the Best in B2B
25 Sep 2019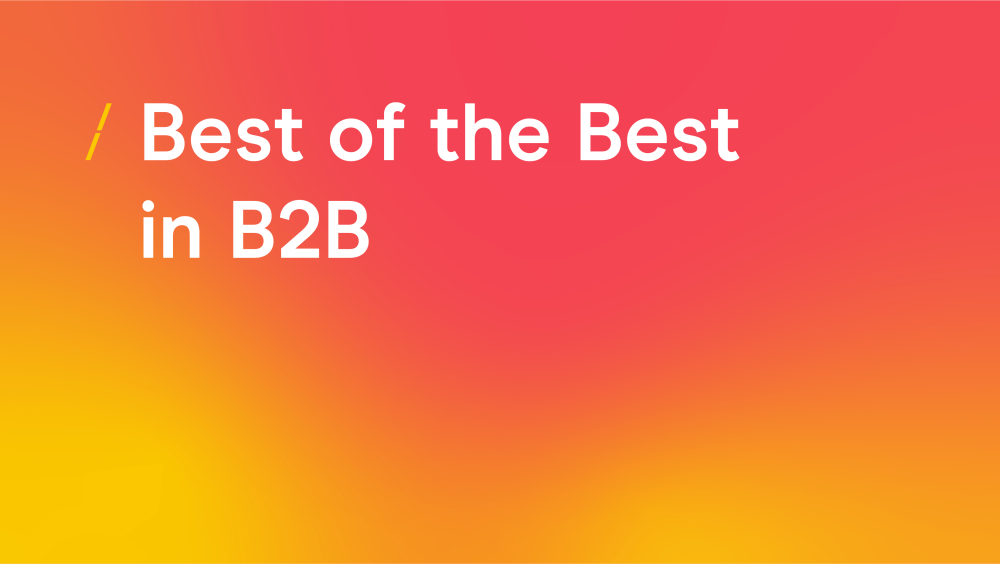 B2B marketing is synonymous with competitive marketing. It's an unforgiving battlefield, where creative edge and reckless flair are fundamental to campaign success.
To explore what the leading B2B marketers are doing right, we asked our panel of B2B experts to share their favourite B2B campaigns and, using their expert knowledge, explain why it stands out from the crowd.
Sam Walrond, Client Manager, Earnest, cites Earnest's Direct Mail campaign for Canon as the one that got him hooked on B2B.
It's is the perfect example of thinking outside the box, so to speak, and turning something that's often seen as a commodity into something with real personality.
Brand Marketing Manager from Barnardo's Siân Beveridge, chose the re-development of the B2B Gumtree website as an example of B2B excellence.
The work involved the development of the B2B marketing value proposition across all sales verticals and the implementation of a structured and appropriate tone of voice to power the trade marketing website. The redevelopment resulted in a year-on-year website traffic increase by 30% and average web duration session by 56%.
TLC's Giant Chip Fork campaign stood out for Faye Stammers, Account Executive, Quantum Europe. TLC created a tailored end-to-end campaign that ensured the reward perfectly aligned with brand and customer base. In a world of email and digital, the use of a physical item really made this campaign stand out. Printed on a giant chip fork was 'batter the competition with the next big promotional reward.' This fork was sent to highly targeted brand directors and directly generated £60,600 worth of new business.
Claire Wood, Operations Director and Interim Head of the Marketing Function at Deloitte LLP, is a fan of the 2018 DMA Gold winner 'Stronger Together campaign' from the Armstrong Partnership and Bucher Emhart Glass.
Claire was a judge for the DMA Awards 2018 Best B2B category. When judging the entries, she was on the lookout for campaigns aligned with business strategy. This campaign went one step further.
The team that generated the idea actually fuelled a complete rehash of the Bucher Emhart business strategy. By combining the two traditionally separate glass manufacturing processes into one, they repositioned themselves in the market; took the first-mover advantage (as no one else had ever done this before), and, most importantly, they executed the marketing campaign to capitalise on these features and drive enviable revenue growth. There are very few marketing ideas that can truly say they caused an organisation to change strategic direction, but this one did just that.
We're here to help you start your B2B career adventure and hope you've enjoyed our series so far. Coming up, we have a few interviews with people from all over the industry that should really help paint a picture of what it's like to work in B2B marketing.
Find out how to break into B2B
Hear more from the DMA