Behind the DMA Breakthrough Award
30 Jul 2020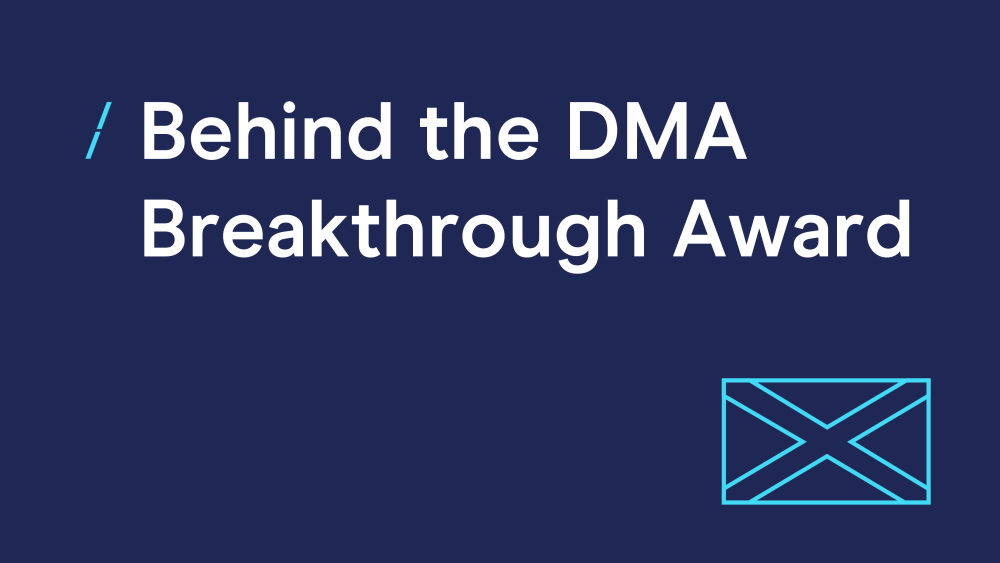 When Jack Brodie and I won the DMA Breakthrough Award last year, we were only a few months into our Advertising Masters Course at Edinburgh Napier University. Neither of us had had any prior experience in the advertising world, and we'd only met each other a few weeks before we started on the brief.
After being shortlisted, we suddenly found ourselves thrust into the wider advertising world outside of our classroom. We refined our entry, practised our presentation, then came down to London to pitch in person to Direct Line and members of the Graeme Robertson Trust.
This was the first time I'd ever had to pitch anything, and I'm really glad I was given the opportunity to practise those skills as well as my creative ones. Initially, it was nerve-racking, as I had no experience to gauge how well it was going. Then Ian Bates, one of the GRT Trustees, began laughing at one of the jokes in our work, and we started to enjoy ourselves. At the awards ceremony, Ian told me that he did that to make us relax, so thanks again, Ian.
The ceremony was a lavish affair and, honestly, we were overwhelmed. I couldn't quite believe we were up for an award at such a large event. After winning, we found ourselves being introduced to loads of industry professionals by members from the GRT and DMA. We got the sense that they were looking to nurture our careers and introduce us to people who could provide us with opportunities. Best of all, all four finalists for the Breakthrough Award were offered a week's placement at MRM McCann.
While the awards ceremony was a fun event, and the prestige of winning was a great confidence boost so early on in our careers, the most exciting aspect of winning was the networking opportunities we were able to leverage from it. Winning the award was an easy in for us to approach creative directors and, in the month following the ceremony, we were able to arrange meetings with several agencies back in Edinburgh and even gained a week's work experience with Story UK.
Of course, that momentum we built up has tailed off somewhat since lockdown. We've found ourselves in uncharted waters. It's difficult to navigate the start of a professional career at the best of times, never mind when the entire global economy is having to find new ways of working. Plenty of people are still keen to help us out, setting up Zoom Book Crits and live class briefs, but so much seems to be postponed and on hold. Our time at MRM has been tentatively pushed back to September, when we hope it will be safe for us to go down. We've both had other placements pushed back until the office is able to open again.
But we remain optimistic about the future. People seem open to the idea of remote internships and I'm sure that as the industry settles into a post-pandemic world, plenty of opportunities will present themselves again. Winning the DMA Breakthrough Award has definitely given us an advantage, putting us on people's radars early on, and the DMA's continued interest and support have been extremely reassuring as we move forward.
MSC Creative Advertising Student at Edinburgh Napier University
brodiechildsart@gmail.com
---
Find out more about DMA Scotland, here.
Hear more from the DMA