2021 Bronze Charity
08 Dec 2021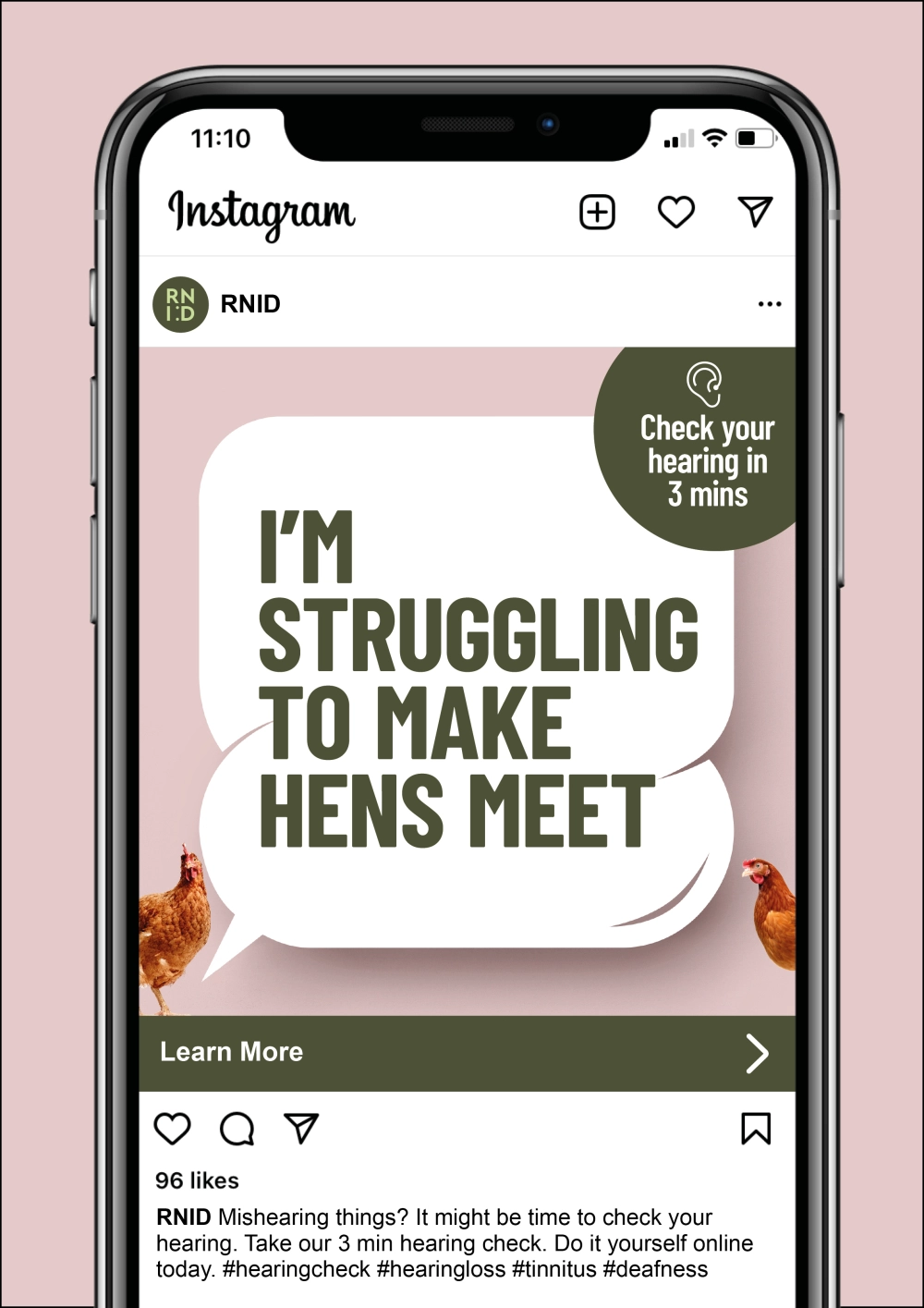 Agency: psLondon
Client: RNID
Campaign Name: Mishearing Something?
Campaign Overview
RNID needed to promote its new digital hearing check tool to a core demographic - one not yet likely to have self-identified as experiencing hearing loss. How could they be motivated to start their journey towards improved hearing and quality of life?
Strategy
To understand the target audience and their experiences with deafness, hearing loss and tinnitus, RNID listened to a diverse range of voices through customer surveys; reviewed content created for or by this community across different digital channels; spoke with RNID stakeholders; and analysed competitor and peer activity.
The charity discovered almost half of respondents had some form of hearing loss, and of these 59.5% said that they had not been formally diagnosed. Additionally, only 7% of respondents said they would contact RNID for information and support, yet 50% would research online.
This illustrated a clear opportunity to engage and educate a large group of people about RNID's online tools and information - if there was better awareness of availability.
The research also demonstrated people with hearing difficulties often don't know where to start when seeking help. The organisation needed to educate them, making the topic of hearing loss more accessible.
Creativity
The campaign provided the perfect opportunity to showcase RNID's new playful identity and language. The initiative used humour as a way to open up the conversation around hearing loss across digital channels.
The proposition was 'Take control of your relationship with sound', a concept illustrating a variety of commonly misheard phrases. They were brought them to life using bold typographic headlines, paired with bright, quirky imagery that embodied the obvious mistake in the phrase.
The effect was simultaneously thought-provoking, arresting and amusing, providing cut-through in a busy social landscape. The concept demonstrated how simple it is to check your own hearing using RNID's online tool, propelling people to act.
Social post copy was tailored and media targeting adjusted to include friends and family members of the core audience. This allowed RNID to expand conversations around how important checking hearing is, in a straightforward and light-hearted way. Static, animated and audio executions were rolled out across Instagram, Facebook, Twitter, Spotify, YouTube, Google Search and digital banners.
Results
Some 24,000 hearing checks were completed, and a quarter of people downloaded a form documenting their result to take to their GP.
The campaign generated 206,000 clicks and 17m+ impressions. It drove 98,000 users to the website, of which 99.5% were first-time visitors, highlighting a significant uplift in brand awareness - bolstering brand recognition and driving conversion to the tool itself.
The Team
psLondon - Joanne Porter, Client Director - Scott McNamee, Design Director - Sophia Perkins, Senior Creative - Kendra Rogers, Head of Insight & Strategy - Nicola Cast, Head of Client Partnerships

RNID - Sonja Stiner, Brand Manager - Cheryl Hughes, Head of Brand & Marketing - Huw Jenkins, Social Media Manager - Kaajal Thakker, Brand Executive - Michael Wilkinson, Associate Director of Digital and Innovation
Contributors
Hybrid