2020 Gold Utilities and Telecommunications
16 Dec 2020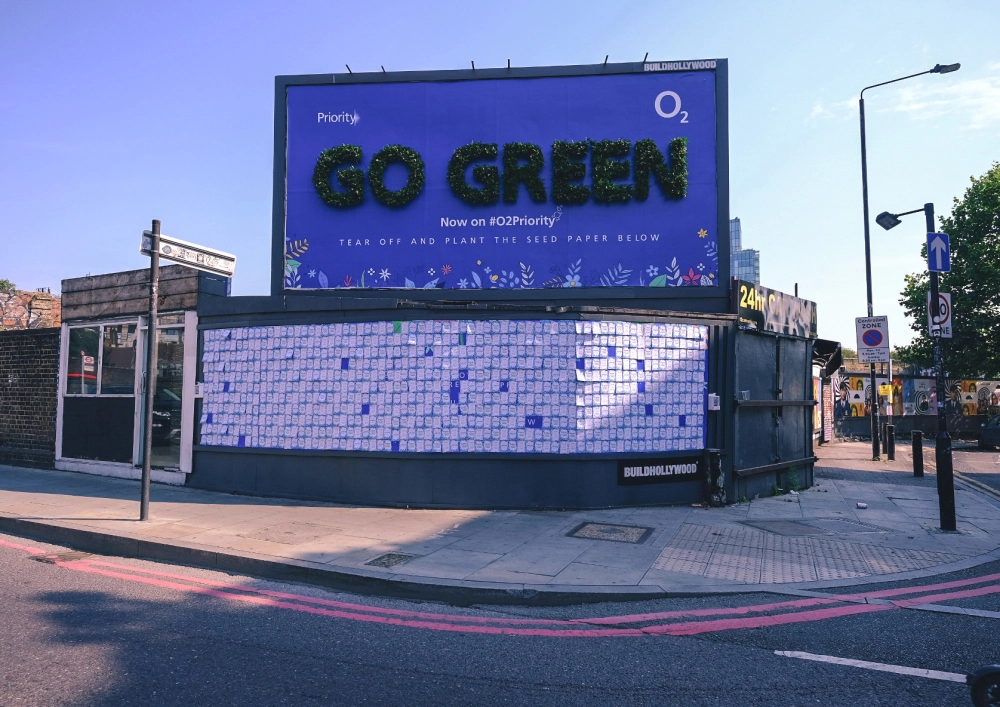 Agency: The Marketing Store
Client: O2
Campaign Name: GO
Campaign Overview
Get off the sofa, go explore
O2 Priority is an iconic rewards platform, but it needed to drive fresh engagement. The answer was Go, getting people to explore by offering new experiences.
Strategy
The task for The Marketing Store - in conjunction with Talon Outdoor and Havas Media -
was to re-engage audiences with O2's exclusive, invite-only moments for customers, via a campaign that would build hype and increase the number of people downloading and using the app.
The concept of "tentpole moments" - opportunities for Priority to punctuate culture and drive awareness of the exclusive rewards available to O2 customers - was devised.
As the UK emerged from a lengthy first lockdown, the campaign focused on a Government report stating that people in the UK could be 35% less active by 2030.
Although many COVID-19 restrictions were still in place, O2 set out to show people that being active isn't just about being out and about, it's a mindset of living a richer and fuller life.
Creativity
Go, the brand's first experience-led loyalty campaign, was created. The aim was to use Priority to inspire people to get off their sofas and explore the world around them: a literal translation of O2's brand ethos to help customers feel more alive.
The four-week campaign brought in partnerships with fame-driving brands to deliver pandemic-safe, invite-only moments for Priority Customers centred around headline activations.
To drive talkability beyond the Priority app, the Go Green activation - one of four - featured a living billboard in London, accompanied by hundreds of posters made from wildflower seed paper which people could rip off, take home and plant for themselves.
The aim was to build on the connection to nature many forged during lockdown, with a QR code directing audiences to gardening-related rewards and a Living Wall tutorial with Meristem Design in the Priority app.
To drive engagement throughout the campaign a weekly comedic content series for the Priority app was also created. Each episode saw roving presenter Aurie Styla try something he'd never done before.
Results
The campaign garnered more than 5,000 new customers while 5,000 lapsed customers were also driven to the Priority app.
A total of 403,000 customers visited the app specifically to engage with the campaign, generating over 980,000 engagements.
The Go Green billboard was widely covered across trade press and named Campaign's Ad of the Day. During the activation, O2 gave away 2,000-plus wild seed papers. The Living Wall tutorial became Priority's best-performing video ever.
The Team
"The Marketing Store - Andy Taylor, Executive Creative Director - Gareth Kane, Head of Strategy - Mark Kelly, Senior Creative - Masha Shukkore, Mid-weight Copywriter - Jade Jones, Mid-weight Copywriter - Dan Stern, Senior Designer - Wai-Kuen Hau, Senior Motion Graphics Designer - Madhushri Nadir, Senior Account Manager - Robbie Hancock, Motion Designer - Kat Burns, Senior Producer - Hannah Partridge, Director, Portfolio and Client Development - Katie Moss, Account Director - Sam Woods, Director of Partnerships - Rebecca Griffin, Senior Partnerships Manager - Sandy Cameron, Designer - Phil Collins-Moore, Group Studio Head - Zoe Johnson, Senior Artworker - Duncan Naylor, Design Director - Joanna Mikolajczyck, Client Partner
Talon Outdoor - Ben Gardiner, Creative Solutions Manager - Jay Young, Head of Creative Solutions "
Contributors
Talon Outdoor, Havas Media