2020 Gold Public Sector
16 Dec 2020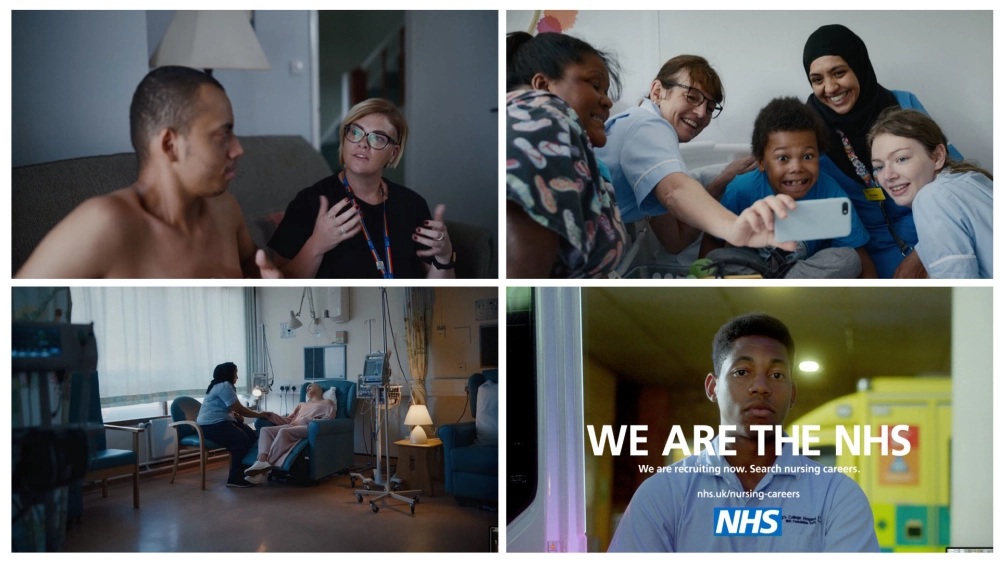 Agency: MullenLowe Group UK and Mediahub UK
Client: National Health Service England
Campaign Name: We Are Nurses. We Are The NHS.
Campaign Overview
Nursing an institution back to health
The NHS was under siege, facing a supply gap of 50,000+ nurses by 2021. Government funding cuts, workforce shortages and policy changes created the perfect storm: more nurses were leaving than ever or, worse, never applying in the first place. A pipeline of future nurses was desperately needed.
Strategy
Budget cuts meant driving greater efficiency without compromising effectiveness, ultimately building NHS employer brand appeal and driving direct interest in nursing.
One key insight led the way: plenty of people want to change the world as a nurse, but many don't have the confidence that they can do the job. The campaign needed to go beyond inspiration, lifting the lid on nursing and fuelling confidence at every stage of the journey to combat this fear of failure.
Research revealed drivers and barriers to nursing, informing audience-specific journey maps.
Creativity
Budget cuts meant driving greater efficiency without compromising effectiveness, ultimately building NHS
Nursing takes you from ordinary to extraordinary' emphasised nursing's most motivating elements at every touchpoint, from TV to web to CRM. The work used real nurses and patients, capturing the role realities, camaraderie and dedication of the nation's beloved team: "We Are Nurses."
The role for comms was to showcase the extraordinary nature of the role; lift the lid on role realities with a multi-touchpoint plan from above-the-line to direct media; and fuel confidence at every stage, with personalised web and CRM comms to aid application completion.
Patriotic TV inspired through dramatising the extraordinary (real-life, drama, Pride of Britain) and key cultural moments (Rugby World Cup, X Factor). Social films explored specialisms and barriers: student nurses spoke about university life for teens; older nurses covered flexibility and training.
A combination of paid social and a strategic partnership with UCAS built deeper connections with bespoke creative. Meanwhile, retargeting and search nudged considerers along the journey, with revamped websites enabling customised digital journeys that fed personalised CRM.
Results
The NHS now knows more about its audiences than ever before. The organisation has a workable, expanding CRM database for now and the future, and new strategic partners that will change the recruitment strategy for years to come.
The campaign:
increased consideration (+6%)
boosted claimed action (+20%)
raised unique site visitors (+18%)
drove more than 60,000 CRM registrations, compared to 6,000 the previous year.
Comms proved highly relevant with CRM open rates averaged 45%, more than double the industry benchmark.
Most importantly, UCAS nursing applications returned to growth with an increase of 6% year-on-year, 12% among career switchers. Incremental freelance savings above £131m were delivered resulting in ROI of £14.9 for every £1 invested.
The Team
"Mullenlowe - Fran Griffin, Senior Strategist - Lovisa Silburn, Creative Director - Georgie Dale, Account Manager - Dean Lanzman, CRM Strategy Director - Stefan Bocos, Data Planner MullenLowe Open - Bien Huynh, Account Director Mullenlowe London - Hugh Todd, Creative Director - James MacAskill, Senior Strategist - Katie McCambley, Group Account Director - Jasper Wolley, Account Manager - Miti Shah, Account Executive Mediahub UK - Sabina Usher, Strategy Director - Olivia Furniss-Roe, Media Planner - Carl Ahlner, Business Director - Nick Sikora, Account Director NHS England - Ian Hampton, Lead Campaign Manager - Phil Bastable, Deputy Director, Head of Campaigns and Evaluation - Carolyn Bond, Marketing and Campaigns Manager - Victoria Harrison, Campaign Manager Academy - Billy Boyd Cape, Director - Simon Cooper, Executive Producer - Ash Lockmun, Producer - Juliette Harris, Producer - Antonia Vickers, Production Manager Soundtree - Henning Knoepfel, Engineer - Jay James, Producer Tenthree - Billy Mead, Editor Cheat - Toby Tomkins, Colourist - Douglas Haynes, Flame Artist - Olivia Jessop, Producer - Ezio Bosso, Music Composer Paragon - Josh Hind, Account Manager - Simon Jones, Account Director "
Hear more from the DMA