2020 Gold Best Use of Mail
16 Dec 2020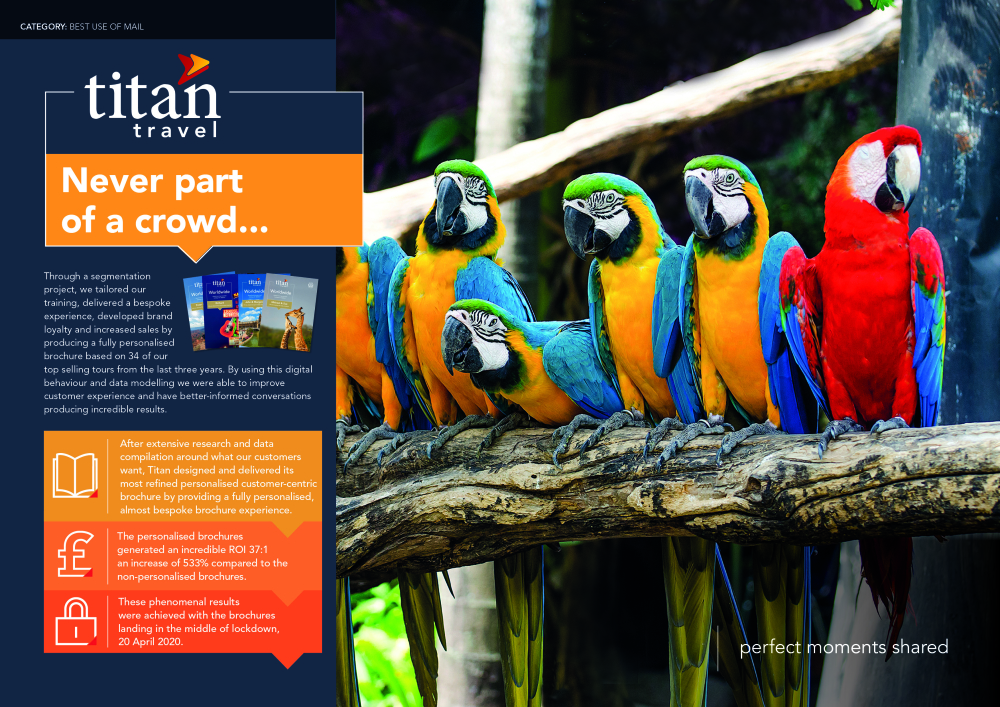 Entrant: The Lettershop Group
Client: Titan Travel
Campaign Name: Titan Travel worldwide brochure - a personalised travel experience
Campaign Overview
Worldwide tours take off with the personal touch
Titan Travel wanted to test if more personalised brochures would drive additional revenue and required specialist print to send sales soaring.
Strategy
Brochure research confirmed they are a highly valued part of the traveller's customer journey; easy to navigate and an enjoyable experience.
Titan carried out a project allowing segmentation and personalisation based on attitudes, values and needs. The campaign insight was collected from a database of 35 million people and used Kantar, TGI and GFK Financial Services tracker based on UK over-50s.
Titan achieved a match rate of over 97% of its database into one of the 11 different customer segments which drove enhanced personalisation for communications, and market sizing for strategic guidance.
Based on its 34 best-selling Worldwide tours, the customer-centric brochure reflected the persona, life stages and desires of individual customer while pushing Titan's most commercially focused trips.
Historical customer transactional data was also used to identify the different holidays its customers would prefer. The brand could prioritise them for future marketing.
Creativity
Titan's in-house studio used the extensive insight as the basis of its creative execution of the Worldwide brochure.
Each brochure featured 87 unique touchpoints that tailored the output perfectly to each individual customer. 34 cover images were selected to reflect the next most likely holiday to be purchased by a customer. The cover included the customer's name; inside, it referenced their last purchase and next three most likely bookings based on data analysis.
On the back cover, the call-to-action visual, copy and messaging were tailored for the customer segment.
For new customers, the brand identified any previous customer touchpoints and identified search behaviour on its website through unique identifiers per visitor and bricks and mortar profiles. This real-time data was essential to make the direct mail piece as relevant and targeted as possible for first-time bookers.
Results
With the help of The Lettershop Group, CACI, REaD Group, Accord Marketing and iProspect, the personalised brochure was sent to a test cohort of 28% of the total mailing.
The personalised brochures far outperformed channels such as PPC, generating ROI of 37:1 - an increase of 533% compared to the non-personalised versions. This was achieved despite brochures landing in April 2020, the UK's first Coronavirus lockdown.
One of the most interesting outcomes was increased brand exposure generated from customers sharing their 'special' brochure on social media. Customers were thrilled with the design carefully reflecting their holiday plans and personal choices - a credit to the team's creative success.
This unexpected result has given Titan natural advocacy and word of mouth promotion from customers who love the brand, an extremely valuable type of influencer advocacy.
The Team
"Titan Travel - Lisa Edwards-Webb, Marketing Director - Tariq Riadat, Product Marketing Manager - Sonia Prajapati, Senior Marketing Executive - Tom Adams, Search & Paid Media - Kainaat Achhwa, CRM Assistant - Steve Jordan, Database Manager - Lynne Isted, Creative Marketing Manager - Nicola Moore, Middleweight Graphic Designer - Adam Longo, Graphic Designer - Natalie Taylor, Content and Social Executive - Ting Dalton, Senior Copy Writer - Nicola James, Senior Copy Writer - Rodger Jacobs, Senior Systems Designer and Print Procurement
YM Group - Andy Clyde, Pre-Press Manager - Diane Appleyard, Account Manager Chantry - Rob Moules, Group Sales Manager
The Lettershop Group - David Gilman, Account Manager - Daniel Lynan, Pre-Press Manager - Joanne Speight, Data Services Manager - Cliff Wright, Business Development Manager - Alistair Ezzy, Sales Director "
Contributors
CACI, REaD Group, Accord Marketing, iProspect