2020 Gold Best Use of Email
16 Dec 2020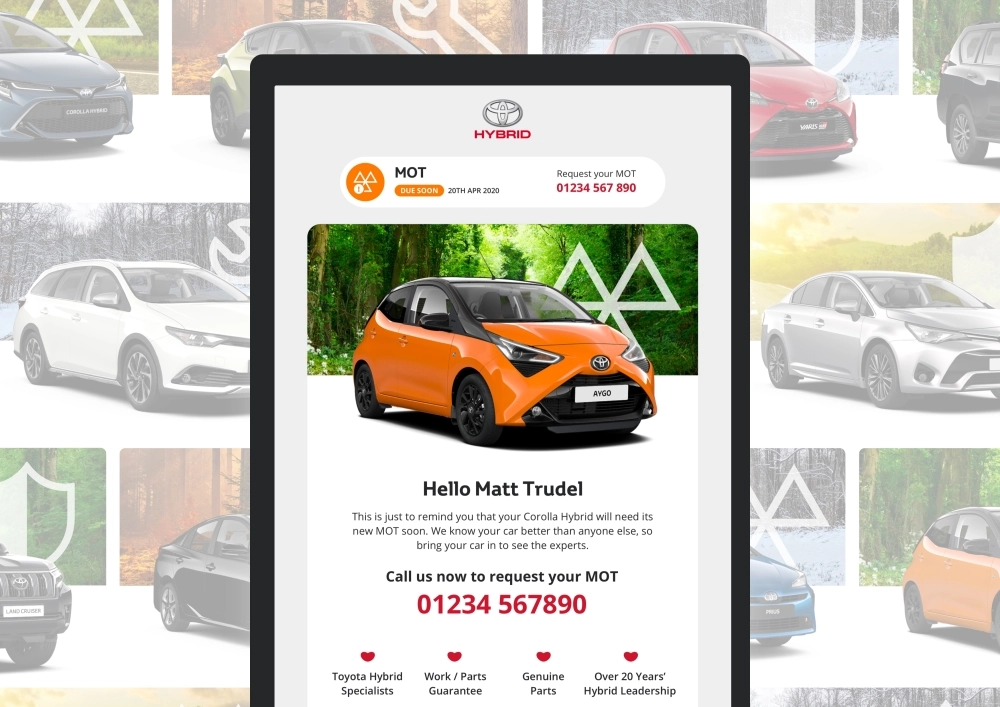 Agency: Jellyfish
Client: Toyota GB
Campaign Name: Getting Hyper-Personal: Using Data to send powerful, relevant and meaningful communications to Toyota customers
Campaign Overview
Driving people back to service centres
Each year, Toyota communicates to more than 200,000 subscribed customers on behalf of its 190-plus UK service centres. But the industry suffers from low open rates so a new, hyper-personal approach to email was needed.
Strategy
The task for Jellyfish, working with Qube, was to build automated, personalised content to promote Toyota's products and drive customers back into its local centres.
Personalised emails are nothing new. But people love their cars, so hyper-personalisation - adding in key details for the individual - was the answer.
Jellyfish studied Toyota's data to see what information was available to create effective, meaningful customer journeys. Data was then pulled from sophisticated sources such as the DVLA, and localised centre and customer information from Toyota's internal platforms.
The campaign went beyond bundling people into segments. Targeted, automated, perfectly timed and consistently branded emails were created.
Creativity
Each email was crafted in simple, charming, conversational copy in line with Toyota's voice. Individual customers were inspired to complete a single action with clear, focussed messaging such as reminders to book a service for their Toyota Yaris or an MOT for their Aygo.
Templates were designed and Salesforce Marketing Cloud used to dynamically pull in various data fields to build an entirely personalised email.
Thanks to automation, customers received timely emails based on their personal requirements, rather than being lumped into a weekly batch of sends. In addition, each email included their actual car model, in their colour, plus all the dates that were important to them.
The result? 148 trillion variations made possible through filters, scripts and auto-generated imagery, achieving a level of email hyper-personalisation never seen before in this sector.
Results
Toyota saw a 67.69% average open rate for the emails - more than four times the industry average - and a CTR of 10%. Some 15,000 customers returned to Toyota Service Centres, driving revenue of more than £5m.
Hyper-personalisation in action: receiving the right message, at the right time, with detail included too compelled and created a resonant, personal touch.
The brand hailed the programme a success and hopes to roll it out to other areas of the business.
The Team
Jellyfish - Jo Rees, Group Account Director - Matt Trudel, Senior Designer - Brad Guy, Email Marketing Manager - Mike Hall, Email Marketing Director - Katie Leask, Content Manager - Kate Levy, Senior Project Manager - Richard West, VP, Creative
Contributors
Qube