2020 Gold Best Creative Solution
16 Dec 2020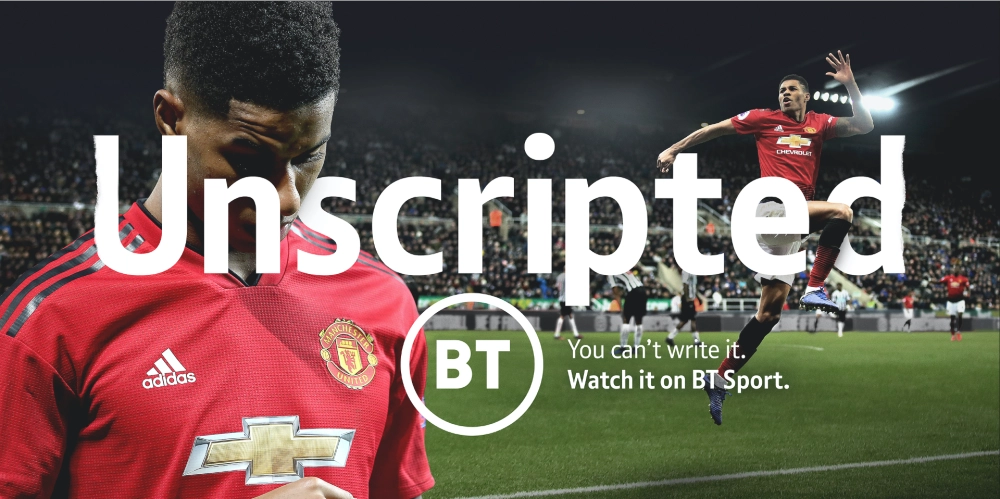 Agency: Wunderman Thompson
Client: BT Sport
Campaign Name: Unscripted
Campaign Overview
Rewriting the sports TV rulebook
The 2019/20 football season was about to begin but BT Sport's marketing budgets had been cut. The goal was to match the previous year's sales with just a fraction of the media spend.
Strategy
In 2012 BT Sport didn't exist. Sky stood alone as the dominant force in UK sports broadcasting. Eight years later, BT Sport holds exclusive rights to the Champions League and the Europa League.
But as new competitors emerge and consumer behaviours change, the challenge facing traditional broadcasters has never been so great.
Wunderman Thompson's approach to doing more with less budget, in association with Essence and Pitch Marketing Group, brought together the biggest minds in data - Google Cloud, Opta and Squawka - to do the unthinkable: write the script for the entire 2019/20 season using Artificial Intelligence.
The broadcaster set out to place itself into footballing culture and conversation, starting a debate on social media it hoped would spread organically into every other channel.
Creativity
The plan was to create a 60-page dossier that would ignite a global debate like nothing the football community had seen before. BT Sport united its partners under a shared vision and purpose: to create genuinely game-changing work.
Opta sports data, modelled analysis by Squawka and Google Cloud's platform worked with Wunderman Thompson to write and design the script.
It was released to pundits, players, influencers, journalists - and the nation - before a penny on advertising. It was followed by an Unscripted DOOH campaign, sparking huge conversation up and down the land.
Results
Unscripted delivered high awareness and sales, setting the standard for sports marketing: 30% more BT Sport subscriptions than 2018/19, with a fraction of that period's budget.
Earned media more than doubled the paid media budget, putting the broadcaster on par with Sky's media spend for its season launch campaign.
Global coverage and engagement included:
137 million impressions across 44 countries
128 pieces of organic coverage
£1.7m traditional earned media from the script alone (pre-OOH phase going live)
2.3 million print circulation
5.6 million online views
2.1 million engagements
More than 40,000 new social followers of BT Sport within the 10-day campaign period
The Team
Wunderman Thompson - Andy Lane, Managing Partner - Steve Aldridge, Chief Creative Officer - Matt Steward, Chief Client Officer - Lucas Peon, Executive Creative Director - Marcus Reynolds, Head of Strategy - Christopher Mckee, Creative Director - Richard Morgan, Creative Director - Colin Smith, Designer - Joe Mcglynn, Business Director - Phil Watson, Business Director - Natalie Wilson, Senior Account Manager - Sara Blackett, Producer - Greg Nicholls, Producer - Jonah Werth, Film Producer - Steve Hedge, Project Manager - Cathy Mears, Project Manager
Contributors
Essence, Pitch Marketing Group
Hear more from the DMA