2020 Gold Automotive
16 Dec 2020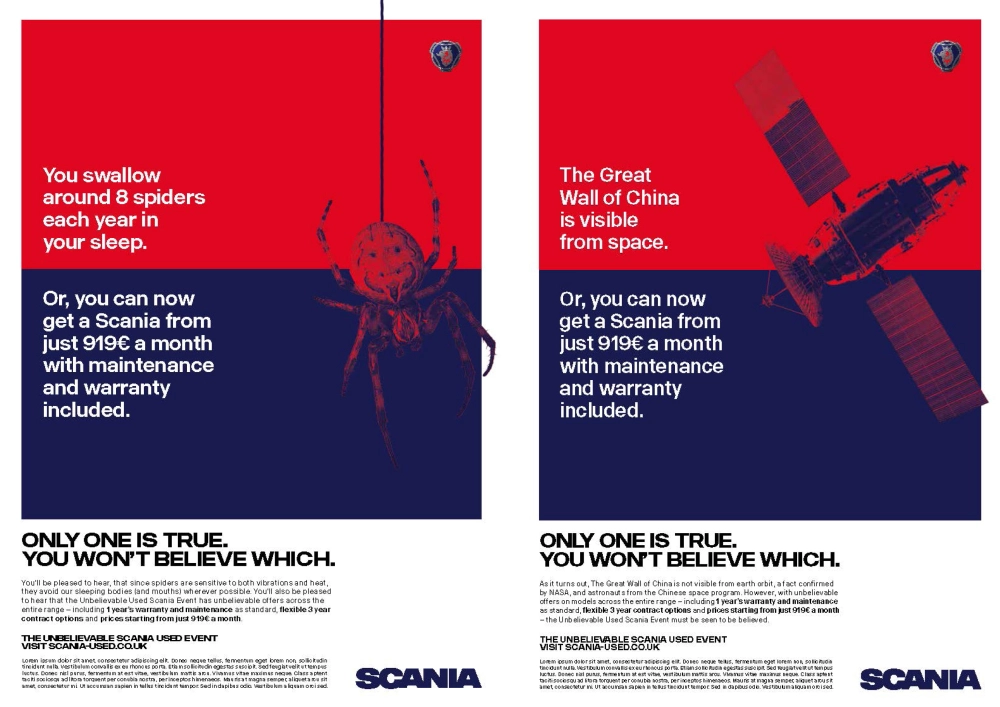 Agency: April Six
Client: Scania
Campaign Name: The Unbelievable Truth
Campaign Overview
Revealing The Unbelievable Truth
Truck marque Scania's recent growth in market share, combined with the sector's shutdown enforced by COVID-19, meant more end-of-lease returns than normal. To keep profits moving in the right direction a unique promotion and impactful campaign were needed.
Strategy
Amid a depressed market and pandemic restrictions prospects weren't going to arrive in droves. April Six, along with ThinkBDW, needed to disrupt the traditional offline journey.
As a premium marque Scania is often considered unaffordable. To combat this the campaign strategy needed to be so compelling that many people would find it hard to believe. Different commonly held 'truths' were challenged in a brave creative solution that challenged the norm of the sector.
The most effective short-term approach was to kick-start the market with a price-led message and a great finance offer framed as a one-off opportunity. A 12-week campaign targeted the brand's broad prospect pool using social and digital channels with a UK media spend of only £33,500.
Creativity
The Unbelievable Truth challenged consumers not to avert their eyes elsewhere, with curious questions that made them think and wonder. The campaign used surprising images and bold graphics that were a long way from the world of trucks and haulage.

Buyers were taken on an online journey, nurturing prospects at each stage by labelling the process as a special event:
Catching attention of motorists not yet considering Scania by breaking the mould of formulaic truck marketing, creating a moment that would stop browsers in their tracks
Connecting with people who were actively looking to buy using unbelievable offers communicated to focussed segments
Closing the deal using specific offers on individual products. Dynamic content was used to personalise the experience based on website interactions, with CTAs shifted to help purchasers take decisive action.
Results
The initiative was the first coordinated Scania Used Vehicle sales campaign for retailing across all of its European business units. All metrics were tracked throughout the funnel, but the ultimate measure of success was sales.
The agency says it achieved "unbelievable" results considering it was given just four days to launch the campaign, and only a fortnight to get 87 different assets live. The campaign achieved all of its objectives at rates well above the benchmarks set.
Growth in web traffic from 100 to 200 a day to a peak of over 3,500 unique visitors garnered £7.5m in sales; a reduction in stock levels of 40% from pre-campaign levels; and a healthy return of £220 for every pound invested.
The Team
April Six - David Dent, Planning Diretor - Henry Debenham, Client Services Director - Faye Prince, Account Director - Jack Davey, Creative Director - Marina Guirey, Senior Planner - Sara Williams, Account Manager - James Coogan, Senior Designer
Contributors
ThinkBDW