2019 Gold Best Use of AI
04 Dec 2019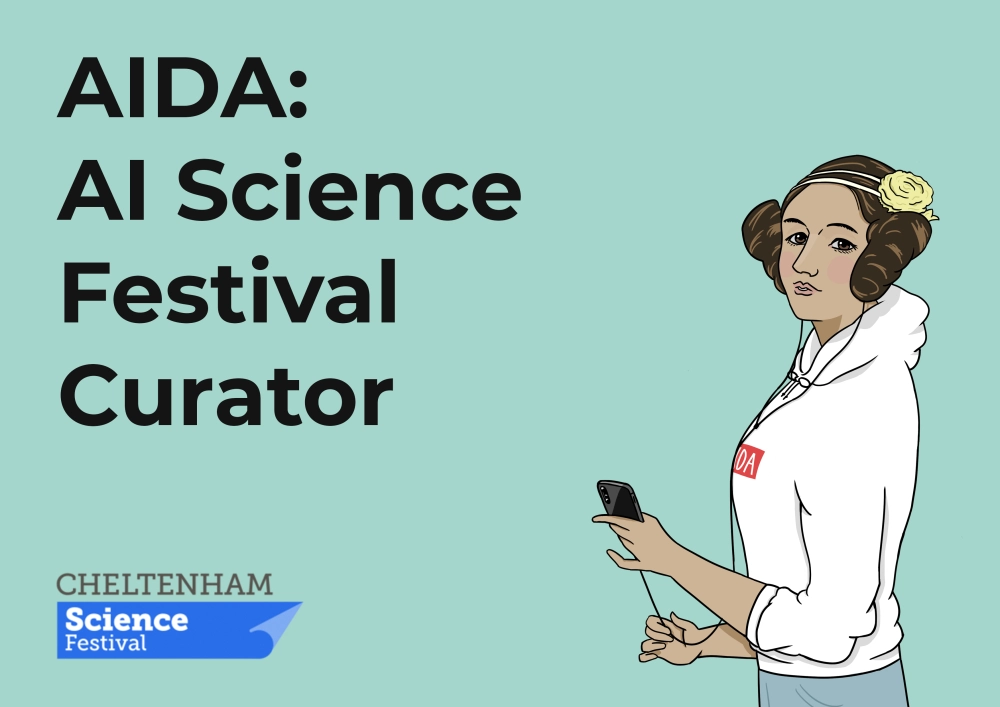 Agency: Tiny Giant
Client: Cheltenham Science Festival
Campaign Name: AIDA: AI Science Festival Curator
Campaign Overview
Creating the world's first AI-driven science talk and event curator to drum up interest in Cheltenham Science Festival.
Strategy
The Cheltenham Science Festival is one of the UK's leading celebrations of scientific knowledge and discovery.
It aims to engage people of all ages by entertaining, challenging, and discussing the latest science topics, issues and experiences.
The festival's new Head of Programming, Dr Marieke Navin, wanted to make AI a curator in a compelling, engaging, ground-breaking way that aligned with the event's progressive and innovative values.
To meet the challenge, Tiny Giant created AIDA, based on computing pioneer Ada Lovelace.
AIDA wasn't just a clever machine; she had a voice, visual identity, vision of her own and an ambition to inspire science fans to embrace new ideas.
Tiny Giant took an abstract idea - AI, data, machine learning, neural networks - and used creativity to deliver a compelling narrative to attract people to the festival.
Ultimately, the aim was to help promote science and technology as a discipline and inspiration for women and girls, and counter the view that science is just a realm for men and boys.
Creativity
Tiny Giant crunched a decade's worth of festival data into a positive, AI-driven event.
The machine output was then articulated using a unique personality to serve as a spokesperson for the festival.
AIDA's machine learning capabilities generated around 800 new potential festival talks.
Tiny Giant and the festival team selected four AI-created talk titles that were put to the public in a Twitter poll.
They chose "Introvert Narwhals", generating valuable pre-festival noise and engagement.
As AIDA also had a vital role as festival curator, she was brought to life with a striking look, a contemporary take on the 19th-century style of Ada Lovelace.
Instead of a Victorian dress, AIDA wore a Supreme-style top and listened to electronica though her headphones.
She had a written tone of voice - the words created by a recurrent neural network - and an actual audio voice using deep learning to turn input text into a nuanced, human-sounding voice.
There was also an animated film playing across the six-day festival on an outdoor cinema screen, revealing more about the project and AI.
Tiny Giant turned a cloud-based neural network into an inspirational science-loving character, giving her depth, authenticity and credibility.
The event proved AI can be harnessed to create unique stories that grab attention and drive positive conversation.
Results
Tiny Giant built, trained and unleashed a bespoke neural network that not only generated hundreds of science talks and curated the festival, but also turned into a personality featuring in press, on BBC radio, film media and an event character (played by a human).
AIDA was seen by more than 43,500 festival attendees, including nearly 8.000 pupils and teachers from 92 schools.
She created her own sell-out festival event, "Introvert Narwhals". She was heard by around 80,000 listeners on BBC Radio at the festival launch.
AIDA's transition from abstract machine to festival curator and personality was truly a world first.
Tiny Giant turned AIDA's initial data-powered training into an entertaining, thought-provoking, commercial event.
The Team
Kerry Harrison, Creative Technologist, Tiny Giant - Richard Norton, Creative Technologist, Tiny Giant - Derek Ahmedzai, Creative Technologist, Tiny Giant - Harvey Norton, Graphic Artist and Animator, Tiny Giant
Hear more from the DMA