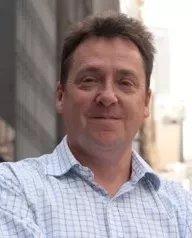 Mrs Michele Lockwood
EVP, Brand and Digital Marketing
A second generation (his Father ran direct marketing for IBM in the 70's & 80's) and evangelical direct marketer, Mark has been immersed in the digital marketing space pretty much since its inception (online since 1984 in fact): working on both agency and client-side in Europe, USA and Asia.
Mark is EVP, Brand and Digital Marketing for The Economist – he's worked for them based out of the USA and now London. His main task is to acquire new subscribers for the newspaper using digital channels and to build the brand. Overseeing global implementation of a bleeding-edge data-driven content-marketing strategy, he has halved the organisation's cost per acquisition whilst driving scaled subscription growth.
Immediately prior to joining The Economist, he was EVP Asia Regional Director at the advertising agency McCann (based out of Hong Kong). There, he was responsible for both the MRM/McCann network regionally and was also the digital marketing'go-to'person across Asia.
He has managed the development of dozens of digital initiatives and online advertising campaigns for many blue-chip organisations in his career including Adobe; Bank Santander; BT; Diageo; General Motors; Google; Guinness World Records; HSBC; IBM; Intel; Interbrew; Microsoft; Royal Bank of Scotland, Saab and Unilever (to name but a few).