What happened at Creative Data Academy London 2020?
05 Oct 2020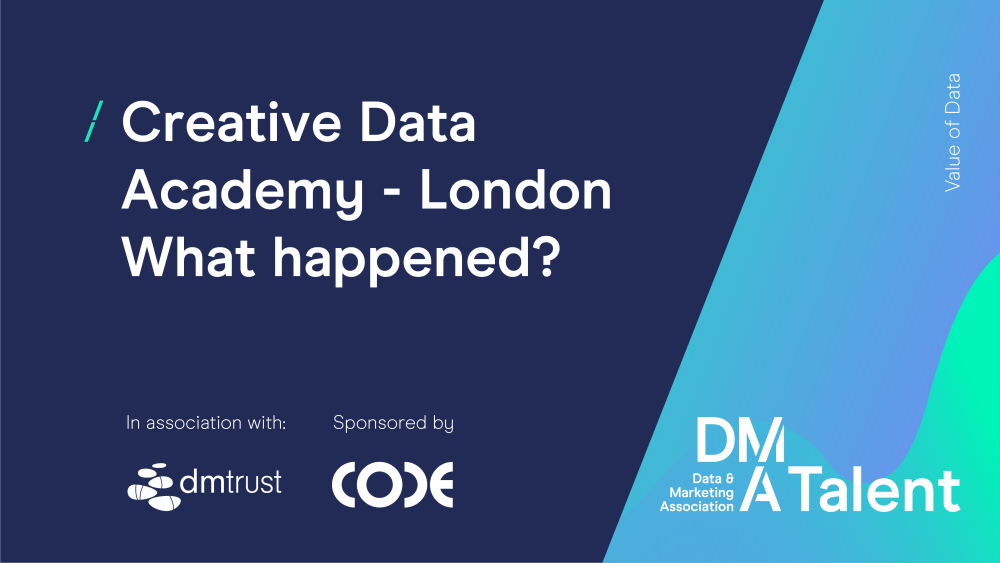 Our third and final Academy of September, and the year, saw us virtually head to London via Zoom. Having postponed all three of 2020's Academies due to coronavirus, we adapted the programmes to run them virtually, as we continue to adhere to social distancing guidelines.
Creative Data Academy London, supported by the DM Trust and sponsored by CodeWorldwide, saw a group of aspiring marketers join us from 23 to 25 September to discover how data and insights are harnessed by businesses and crucial to their marketing strategies.
The first day saw CodeWorldwide present the students with a business challenge from their client Virgin Atlantic Airways, which they worked on in small teams over the course of the Academy, using data to inform and support their ideas.
Over the three days, our students heard from a diverse mix of speakers from businesses including RAPP, Samsung, ASOS, Pets at Home, Tapmydata, Spark44 and Hidden.
Topics covered included how to breakdown a marketing brief, data segmentation and targeting, hyper-personalisation and using data ethically. Insights from these sessions helped the students tackle the brief and prepare their pitches, which they delivered on the final day to a panel of judges from CodeWorldwide, plus DMA Customer Data Council Vice Chair, Colin Bradshaw, also Chief Customer Officer and Data Protection Officer at TwentyCi.
A careers session also gave the students guidance on how to get a job in the industry, from CV and interview tips to how to build their personal brand using LinkedIn.
We asked a couple of our students about their experience of the Academy. Discover what they had to say below.
.
Kate Haniff, a third year Philosophy and Sociology student at the University of York
"I first found out about the Academy through a student career website and after reading a bit about it, I was immediately interested and decided to apply. I had begun thinking about marketing as a career path and thought the academy offered the perfect starting point, being accessible to people without previous marketing experience but also giving a great insight into both the creative and analytical side of the industry.
The thing I enjoyed the most was getting the chance to work on a live marketing brief. It was certainly challenging to produce a pitch in three days with people I'd never met and wasn't even in the same room as! But everyone was so friendly and worked through Zoom really well, and it was such a valuable learning experience.
The academy offers a great mixture between listening to professionals and active participation, giving you great insights and connections no matter your experience level."
.
Sophie Littlewood, a third year Chemistry student at the University of Oxford
"I applied to the Academy because I wanted to learn more about how I could combine my scientific background with my passion for storytelling and discover more about the marketing industry. As a Chemistry student, I've practised some of the data skills, but I don't often get to flex my creative muscles! I was elated to be picked for the Academy, and I can't quite believe how much I learnt during the three action-packed days.
We covered areas such as segmentation, hyper-personalisation and ethics, but my favourite part was working on the marketing brief from Code Worldwide with my team, "Synergy". We were tasked with creating a pitch in less than 48 hours, through bringing together our diverse insights from our different backgrounds alongside what we had learnt from the Academy. For me, it definitely felt like jumping in at the deep end but that's also what made the task so rewarding.
I can't recommend the Academy enough. There's so much to gain from it, regardless of your experience or background, and I'm grateful to be able to add such talented peers to my network. My advice to anyone who is thinking about applying is just to go for it!"
.
If you're interested in attending an Academy in 2021, join our mailing list by clicking here and you'll be among the first to know when applications open.
And if you're a business looking to recruit talent or raise your profile amongst aspiring marketers, the Creative Data Academy provides the perfect platform. We've got plenty of partnership opportunities available - find out more here.
Want to find out more about all the events and programmes DMA Talent run? Click here to go to the home of DMA Talent for all the latest news and information.
Hear more from the DMA