What happened at Creative Data Academy Leeds 2020?
17 Sep 2020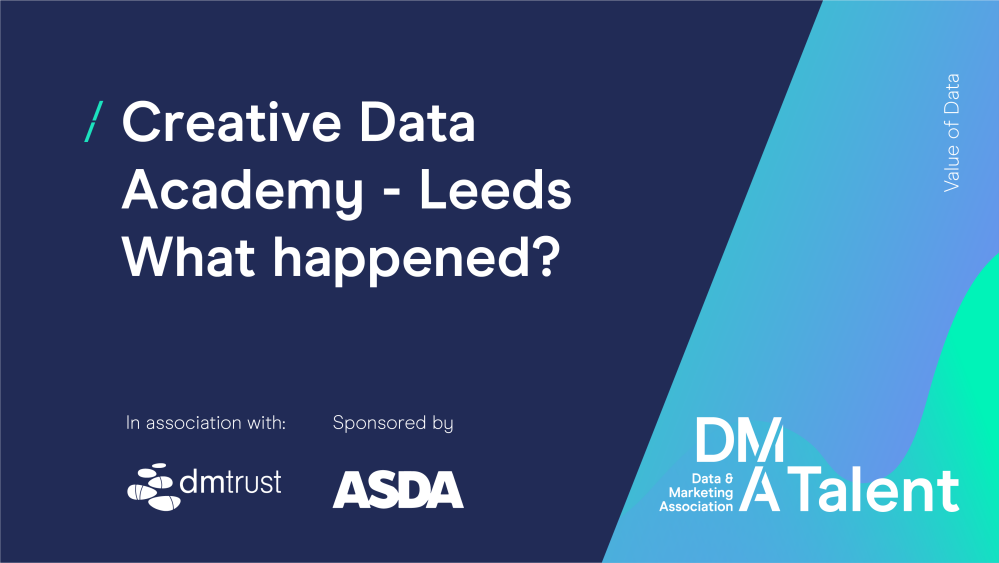 Having postponed all three of 2020's Academies due to coronavirus, we decided to adapt the programmes and run them virtually, via Zoom, as we continue to adhere to social distancing guidelines.
Creative Data Academy Leeds, supported by the DM Trust and sponsored by ASDA, saw a group of aspiring marketers join us for three days from 2 to 4 September to discover how data and insights are harnessed by businesses and crucial to their marketing strategies.
The first day saw Academy sponsors, ASDA, presented the students with a business challenge and dataset, which they worked on in small teams over the course of the Academy.
Over the three days, our students heard from a diverse mix of speakers from local companies including Pets at Home, Hyper Group, InSites Consulting, Alchemy Medias, User Conversion, BLM Law, Kao Corporation, BBC and Forward Role.
Topics covered included how to breakdown the brief, data segmentation and targeting, data visualisation and the ethical use of data. Insights from these sessions helped the students tackle the brief and prepare their pitches, which they delivered on the final day to a panel of judges from ASDA.
A careers session also gave the students some guidance about how to get a job in the industry, from CV and interview tips to how to build their personal brand using LinkedIn.
We asked three of our students about their experience of the Academy - discover what they had to say below.
.
Beth Winbow, a Media and Communications Studies Graduate from Sheffield Hallam University
"Moving back to a small town after graduating from Sheffield Hallam University with a first in media and communications was a struggle. Over time, I found myself drifting from my career aspirations, starting a part time job at my local museum, filling up spare time through volunteering.
Despite enjoying the work immensely, I began to miss my area of study but lacked the confidence to apply to more relevant jobs due to the amount of time that had gone by since I graduated. The Creative Data Academy was my opportunity to re-awaken this confidence in me. A chance to learn new skills and refresh my existing ones whilst hearing the experiences of those in the sector and to network with the other attendees.
All three days of the academy were fantastic. Full of inspiration and learning, each speaker brought a different insight and the teamwork exercises were equally valuable with attendees from all backgrounds of study bringing their own unique views, demonstrating the industry to be open to all with a passion and interest. I now have a whole new outlook on data and how it can be used creatively. No longer do the technological terms and talk of data systems and algorithms scare me. So, would I recommend others to attend in the future? 100% YES - You won't regret it!"
.
Ross Derrick, Business Management student at the University of Birmingham
"The Academy is an exciting way to build both soft and technical skills. The real-life brief provided by ASDA gave invaluable career insight into the growing use of data for all businesses. Working in a multi-skilled team gave diverse perspective to problem solving, and meant we could draw from each other's experiences. Despite the event being changed to a virtual one, DMA Talent delivered a value-adding, friendly and engaging opportunity."
.
Sian Bhari, a recent Maths graduate from the University of Surrey, who started her first job in the industry last month as a Data Analyst at WilsonJones Catering
"For a 3-day programme, I didn't expect to gain as much insight and knowledge as I did. The schedule was partly made up of a variety of unique talks from specialised professionals, where we were given the freedom to take charge of our own learning and get extensive insights from any questions we asked.
The rest of the schedule was spent working in groups, where we were still effectively supported by the DMA Talent team and the speakers, and we applied what we had learnt to our data project. For the project, we were given all the information you'd typically get in a data role, which allowed us to have a realistic experience.
On the final day, we presented our findings to ASDA in our groups, where each person was encouraged to present but it wasn't a requirement. When hearing other the groups present, we were able to understand different techniques and perspectives to tackle the problem.
One of the biggest perks of the academy was being provided with the opportunity to complete the IDM Awards in 'Data and Analytics' and 'GDPR ' free of charge and at our own pace. All in all, no matter what background you are from, the Creative Data Academy is a meaningful and worth-while experience."
.
Interested in attending an academy next year, join our mailing list by clicking here to ensure you know when applications open.
If you're looking to recruit talent or raise your profile amongst aspiring marketers, the Creative Data Academy provides the perfect platform. We've got plenty of partnership opportunities available, find out more here.
Want to find out more about all the events and programmes DMA Talent run? Click here to go to the home of DMA Talent for all the latest news and information about all of DMA Talent's programmes.
Hear more from the DMA