Team Cubed win DMA Talent's Marketing Challenge 2020
30 Jun 2020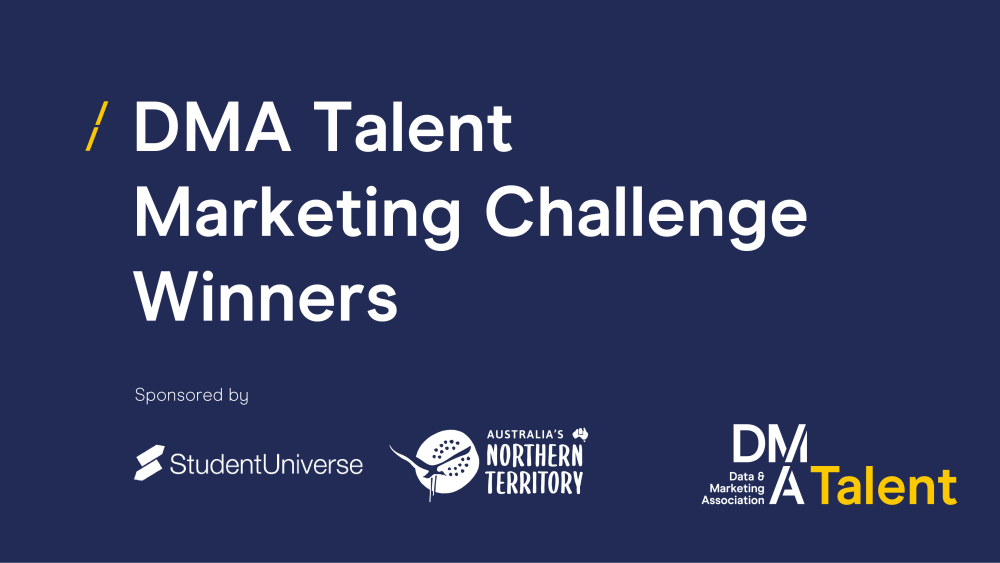 Cubed, a team formed of six students from Northumbria University, were crowned winners of this year's DMA Talent Marketing Challenge on 23 June 2020.
Youth travel agency, StudentUniverse, and their client, Tourism Northern Territory (NT), provided the brief, which challenged students to create a marketing campaign to grow awareness of Australia's Northern Territory and increase bookings from 18-30-year-olds. 292 students from universities and colleges across the UK took on the challenge, forming the 60 teams who submitted a response.
After a rigorous judging process, four teams were selected to pitch their campaigns to a panel of judges, formed of Lucy Pares (Marketing Executive at Tourism NT), Sam Willan (General Manager, International Markets at StudentUniverse), and Kate Burnett (General Manager of DMA Talent).
We had planned to run the pitches face-to-face as we usually do each summer, but with everyone adhering to social distancing rules, they took place virtually on everyone's new favourite app, Zoom. All finalists delivered slick, professional pitches and they didn't make it easier for the judges, all coming up with brilliant campaign ideas.
The judges discussed each campaign at length, and it was Cubed who clinched victory, a team formed of six Digital Marketing Masters students studying at Northumbria University; Daria Ansari Saeid, Laura Alice Garcia, Laura Charlton, Laura Cunningham, Olivia Anderson and Rod Forbes.
In addition to being presented with the top prize for their outstanding response to the brief, each team member receive £300's worth of StudentUniverse travel vouchers (which we hope they will be able to take advantage of soon!), and they will work with StudentUniverse and Tourism NT to bring their work to life during a month long campaign.
The other three finalist teams, Digi-Gen, also from Northumbria University and two teams from Sheffield Hallam University, CAL Create and X Design, didn't go home empty handed, with each team member receiving a £30 Amazon voucher.
Sam Willan, General Manager of International Markets at StudentUniverse, commented: "I was incredibly impressed by the winners' understanding of the customer journey and their multi-layered marketing strategy to effectively engage 18-30-year-olds. Our final decision was based on which campaign we believed was not only strategic and innovative, but who demonstrated an understanding of the motivators and pain points of our target market."
Lucy Pares, Marketing Executive at Tourism NT added, "The winning team conveyed an in-depth awareness into what makes Australia's Northern Territory such a desirable destination for young, aspirational travellers. Their extensive research and intricately detailed three-phased plan to encourage young travellers to visit the Northern Territory was very impressive."
Kate Burnett, MD of DMA Talent said: "During such a difficult time for students across the UK, DMA Talent are delighted to recognise and reward the hard work, strategic insight and creativity of these talented young professionals. Initiatives like our Marketing Challenge provide students with invaluable marketing experience and that all-important connection to the workplace, enabling them to harness key skills such as creativity, analytical thinking and problem-solving."
.
We'll be launching 2021's challenge in September 2020. If you want to know when the brief is live, and be kept up to date with everything going on at DMA Talent, click here to get all our latest news and upcoming opportunities delivered directly to your inbox.
Hear more from the DMA