Nasir's Kickstart Scheme Experience
09 Mar 2022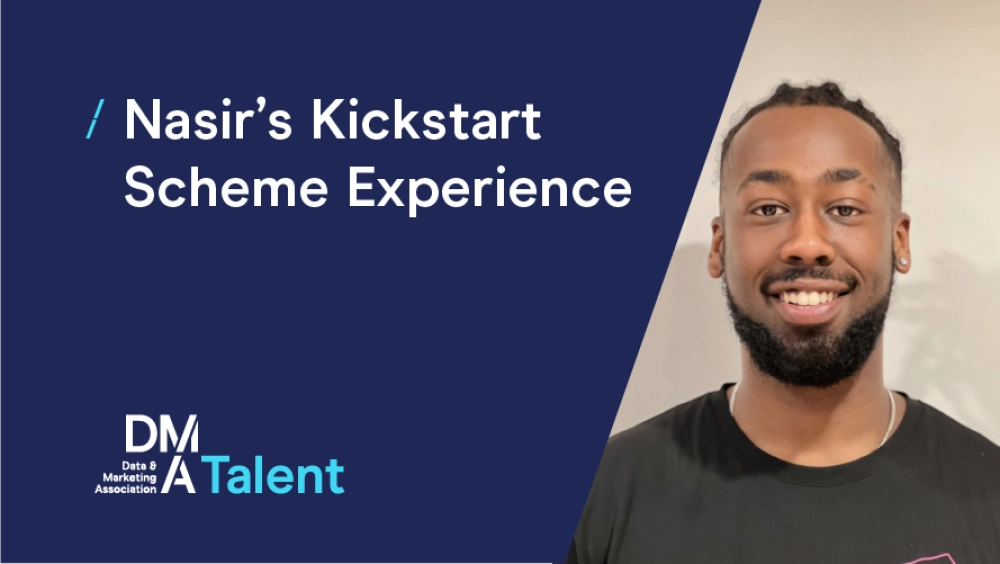 Last year, we had the pleasure of welcoming Nasir Ibrahim to the DMA Talent team on a 6-month marketing placement through the Government's Kickstart Scheme.
Fast forward 9 months, we're delighted to have him back with us working 10 hours a week remotely, from his student halls at Manchester Metropolitan University, where he's studying Business Management.
We chatted to him to find out about his experience of the scheme:
In June last year, I joined the DMA on a 6-month placement on the Government's Kickstart Scheme, giving me the opportunity to build my experience and help inform my future study and work plans.
During the placement I learnt lots of new skills, such as creating webpage content, analyzing webpage stats, conducting video interviews, all whilst developing my soft skills, and getting to grips with what working in an office environment is like.
I worked on a project which I felt correlated with my situation, where the objective was to provide information to aspiring marketers about the job roles that are the perfect fit for them. To do this, we built a quiz, presenting them with a series of questions about everyday situations, which directs them to a personality type based on their response.
Each personality type has a few job roles which match the key skills that someone with that personality typically has. There's also a recorded interview with someone in that role, helping them understand how they got to where they are, and what they need to do if they want to get there.
It was my responsibility to conduct and edit the interviews, as well as writing out a job description for each, highlighting the skills needed to be successful. Content creation was a big part of my placement which I really enjoyed. That's because my work was going to support lots of people, helping them make decisions about their futures.
The interviews also allowed me to begin building my professional network, connecting with each of the professionals I spoke to on LinkedIn.
I was made a DMA Student Member on my first day, which gave me loads of resources and learning opportunities to improve my marketing knowledge. I completed three IDM Awards during the placement, giving me three professional qualifications to add to my CV: Award in Marketing, Award in GDPR, and Award in Behavioral Economics.
I feel it's important that young people are made aware of the government schemes which are in place to help them gain experience whilst earning an income. The skills, knowledge, and behaviours that you learn work in conjunction with what employers are looking for, and this gives young people like myself an advantage when applying for jobs in the future.
I know many employers were cautious about taking young people on during the pandemic, but many have had to complete their education online so are used to managing their time and tuning in on Zoom or Teams. In my experience, it is better to work remotely than not at all.
Our General Manager, Kate Burnett, added:
The DMA is always keen to introduce young people into the business and we didn't want to stop this through the pandemic. Whilst it was hard to initially activate the scheme via DWP, we recruited Nasir through the BPMA's Gateway for Kickstart. He helped us with a new project we otherwise couldn't have started at the time. It gave him skills in writing web copy, using a content management system and creating digital content.
Many companies were and still are wary of taking young people on whilst we work remotely but Nasir proved himself capable to take on new challenges using Zoom. Projects like the one Nasir worked on need a young person's touch. Whilst we all recognise it is better for them to be in the office with plenty of planned check in points and joining team meetings it can work for all parties."
Hear more from the DMA