DMA Breakthrough Award - A Word from Last Year's Winner Joy Mooney
25 Sep 2019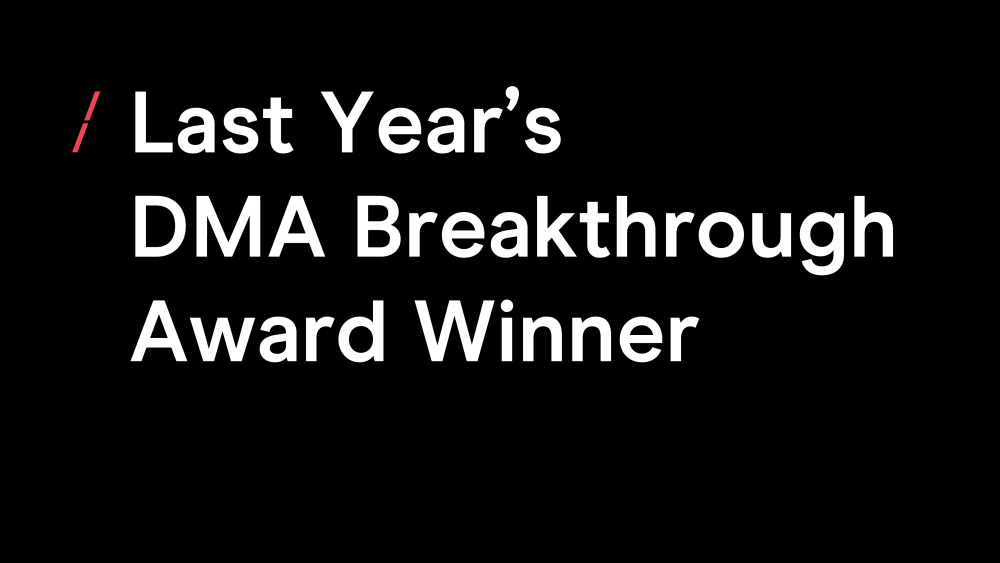 Winning the DMA Breakthrough Award has the power to kick-start your career in the creative industry.
But don't take our word for it.
Read on and find out how winning last year's award has transformed Joy Mooney's career and helped her make her mark on the industry.
The first time I heard about the DMA Breakthrough competition was in college. My tutor sat us down one Wednesday morning and told us that if we won we would make amazing industry connections, be invited to a fancy awards party in London and pocket the prize money - £1000! For a student trying to make their mark on the industry, and stay out of an unplanned overdraft, it was a no-brainer.
After analysing the brief, carefully crafting my concept, ripping it to shreds (literally) and starting again 48 hours before the deadline, I received the news that I had been shortlisted. I was to go to London and pitch my idea in front of the judges and client – Direct Line Group.
During the two weeks between finding out I'd made the cut and travelling down, I was given a fantastic opportunity to have a mentoring call with one of the judges, Chris. He offered support in the form of invaluable advice and a pep talk which I'll always be grateful for.
The 4 December 2019 was one of the scariest, most exhilarating, and fastest days of my life. It began with the big pitch. Entering the DMA offices in London, myself and the other shortlisted candidates were welcomed by the team who helped ease our pre-presentation nerves, and when my time came I was ushered into the boardroom and introduced to the client and the judges.
I'd never done anything like it before, and with my presentation waiting for me on the big screen, I felt like I shook and stuttered my way through the entire pitch – at least that's what it felt like. Luckily, it was completely unnoticed by my audience who individually gave some of the friendliest and most genuine feedback I've ever received. I left the office feeling proud of myself. A small part of me even wished I could do it again.
Then came the evening and the awards ceremony. My tutor was right: it was fancy. When my category was announced, I was whisked on stage and Katherine Ryan handed me my certificate.
The judges led myself and the other shortlisted candidates around the room, eagerly introducing us to Creative Directors from all of the top agencies in the U.K. I left the ceremony with hundreds of new LinkedIn connections and a pocket stuffed with business cards. Of the people I met and stayed in contact with, the most prominent was a Managing Director at MRM Mccann. We exchanged emails and arranged for me to come back to London in February for work experience. The prize money came in useful at that point – had it not been for that, a placement in London would have been impossible for me.
After London, I came home to Edinburgh to finish college. During this time, I took on a placement at Union Direct, a marketing agency, and shortly before graduating I secured a fully paid summer internship at creative agency, Whitespace. It felt like a dream come true. Every placement I've done, I owe to the DMA Breakthrough award. It's given me an impressive award to add to my portfolio, a piece of work I'm proud of, and the confidence to go knocking on doors.
Although I've always been ambitious, this experience has sparked a hunger in me that I don't think will ever go away. More importantly, it's given me confidence and assured me that I'm good enough.
For anyone trying to pave, chisel, or hammer their way into the creative industries I'd tell you to start right here, right now, with the DMA Breakthrough Award.
It might just be the tool you need to Breakthrough.
We hope that Joy's words will encourage you to start crafting your own entry for the Awards.
Good luck.
---
Are you ready to tackle the DMA Breakthrough Award?
This year's brief is sponsored by Direct Line and encourages students, interns and non-professionals up and down the UK to add client work to their portfolios and experience what it's like to work on a real-life brief.
Find out more information and get your hands on the brief here.
Hear more from the DMA