Discover what happened during the Virtual Big Book Crit
24 Jun 2020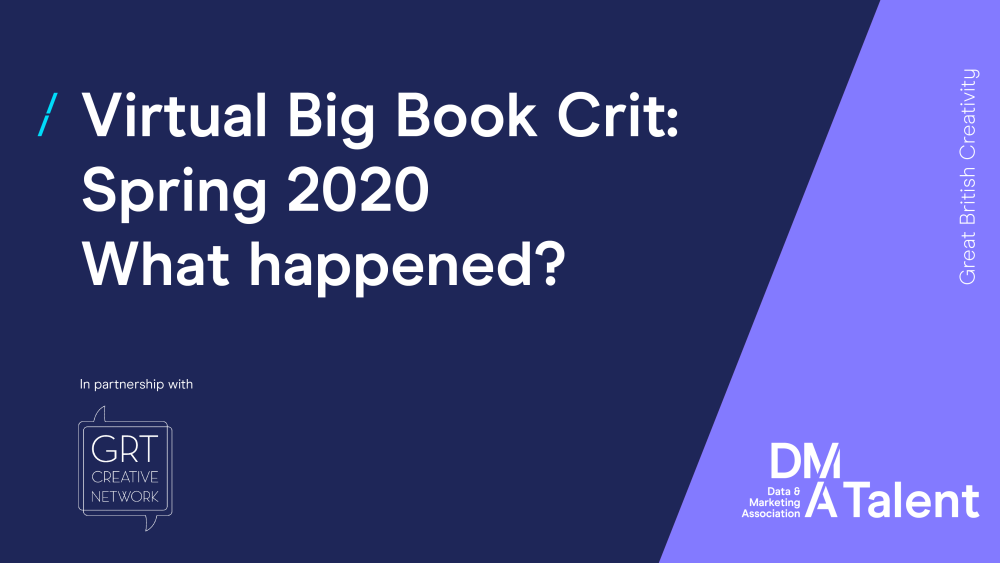 After heading to Leicester for the first time ever in February, May saw another Big Book Crit first, as it went online for the first time, so that aspiring creatives didn't miss out while studying from home.
Run in partnership with the Graeme Robertson Trust, the Big Book Crit aims to help aspiring creatives break into the advertising and marketing industry.
We had planned to run our usual face-to-face events in Edinburgh, Manchester, Leeds, Bristol, Norwich & London, but coronavirus put the breaks on that, until at least the next round in the autumn. The question was, would we completely cancel spring 2020's round of crits, and leave students without the chance of getting their work in front of industry experts? Not a chance!
We decided to run one-on-one sessions online, and our creative contacts were in full support, with 79 industry experts from across the UK, including Creative Directors, Art Directors, Heads of Copy, Designers and more, volunteering their time to critique students' work.
We then went out to our university contacts, asking them to share the unique opportunity with their students. We asked each student what they were studying and their area of expertise when they signed up, to ensure we paired them with the most suitable industry expert, so that they got the most out of their time together.
Over the month, 120 virtual crits took place, providing aspiring creatives with honest and constructive feedback on their work.
The Big Book Crit allows students to get feedback on their work from someone outside their university, who's able to look at it with a fresh pair of eyes. Emily Geraghty, a Graphic Design student at Edinburgh Napier University, told us "it was a great experience to be able to discuss and present my work to a professional, to gain another insight and opinion and to then be able to develop and push my work further."
During lockdown, final year students in particular have found themselves drifting towards the end of their university/college life without the face to face tutoring or HR advice needed to properly prepare themselves for an uncertain future of work.
Abbie Hughes, a recent Creative Advertising graduate from Leeds Arts University, told us "it was SO beneficial to my work and was the next best thing, if better to book crits in person. I was able to arrange a convenient time from the comfort of my own bedroom and make brilliant professional connections, which I wouldn't have got in person, let alone how much money I've saved from travelling to major cities such as Manchester/ London." She used the feedback she received to amend her work before submitting it for the End of Year University show.
We'd like to say a massive thank you to the 79 industry professionals who gave up their time to give advice to the students. One of them, Alex Jeffery, Director of Creative Nation Ltd said, "I very much enjoyed my time with the students. I believe that it is vitally important that we share our knowledge and experience with students entering the creative fields, to create a welcoming and resilient creative sector."
Running the event online did mean students met less professionals, but it allowed for a longer, deep dive into their work with a specific creative who specialises in their area of expertise.
.
Are you an aspiring creative looking to break into the industry? Join our mailing list by clicking here to ensure you're amongst the first to know when the dates are scheduled for our next Big Book Crits, which will be in the autumn. We are planning to run a mixture of one-on-one online crits along with some face-to-face events.
Hear more from the DMA