Coronavirus: New Consumer Trends - Will They Last?
09 Jun 2020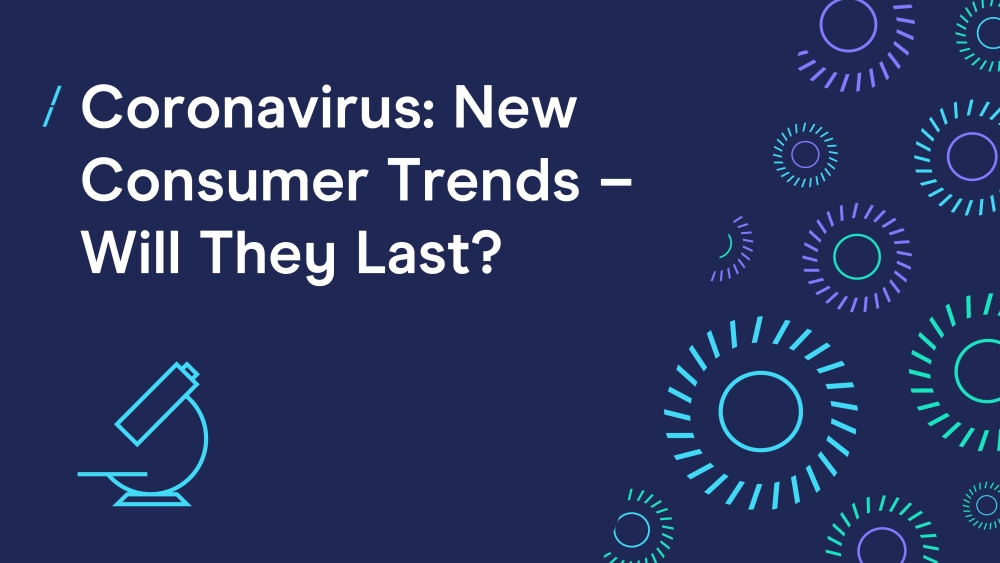 We are living in extremely sensitive times. During these months of uncertainty, life has consistently changed and the way how customers choose their brands has changed too.

So what are the new emerging norms in behavior that will last beyond the current conditions we find ourselves in?

Since March 2020, Rare, with its Coronavirus omnibus research and COVID-19 Brand Perception Tracker has been tracking people's feelings, opinions and perceptions during the pandemic.
Both studies aim to identify change, within and between customer groups, in terms of intentions and habits towards sectors, products and activities. The results provide insight to understand not just what people are doing during the pandemic, but how their lives may be different once some form of normalcy returns.

In this article we look at data collected between May 22nd and 27th, a time when 8.4 million of UK employees have been furloughed. Also, a week rich in news for UK consumers as they learn schools and shops will reopen as well as new rules for social congregations.
News that will give brands an opportunity to experiment with their messaging and customer experience which require a rethinking of solutions to address new shopping restrictions and habits.

How is the UK coping?
Looking at the level of concern among UK adults, compared to the previous week, the number of people who do not feel at all concerned increased (from 9% to 13%) whereas very concerned Brits decreased in number (from 30% to 26%) - leaving the group of those 'somewhat concerned' (39%) and 'extremely concerned' (22%) unvaried.
In general, 1 in 5 seem to be feeling content (19%). However, family with children seem to be more worried (41% vs 36% of the UK population) about the pandemic.
Could this sentiment be related to the management of their family members during these challenging months? The research asks just that question and the results show mixed feelings with 65% of the parents not supporting reopening of schools, with many feeling worried (54%) and angry (12%). On the other hand, more than half of parents (53%) said that balancing work and home life has become somewhat/very difficult. In particular, they seem to have found home schooling particularly stressful (47%) and they would have expected further support from schools (36%).

Back to human contact
Most people feel a sense of community towards their family (69%), towards their friends (62%) and, also, towards their local community (51%) – the latest is stronger than what it was a week prior.
Moreover, 'Family' (40%) and 'Friends' (25%) were the words respondents used more when asked what they were looking forward the most at the end of the lockdown.
However, compared to previous weeks, words like 'holiday & travel' (8%) and 'work' (5%) have slightly increased - maybe a sign that people are starting to re-imagine and reconsider their 'life as usual'? Indeed, 47% would consider travelling only inside the UK and 15% dreamed while looking at holidays online at least once during the past week.

…but without forgetting to keep a safe distance
The survey also asked consumers to imagine the world once restrictions are lifted and what distance would be acceptable between them and the person next to them?
The majority (44%) would be happy with what the rules suggested them as the correct distance, two meters. However, the same number of people (28%) claimed they would be comfortable with less than two meters as did those who indicated a distance over two meters.
In other words, distance rules seem to be already part of the common etiquette.
For brands, this is food for thought when rethinking customer experience and services.
A great example is Lidl's WhatsApp chatbox, which informs customers when stores are at their quietest to avoid anxiety and, ultimately, the virus spreading.

What will last?
With more time on their hands, Brits have found themselves discovering new interests or exploring existing ones further. But what is going to happen as life seems to return to normal? Will people abandon their cookery books, decoupage and yoga mats? Or will they stick with what kept them busy during the lockdown?
Three areas that the findings highlighted as a potential future opportunity for brands and businesses include:
Exercise: 55% of people will keep exercising as they did in the last few months
DIY: 52% said their home management and DIY will not change
Retail: 48% of customers will not stop spending in retail

For further insights and an overview of sectors, visit Rare.
---
You can also find out more about how the data and marketing industry is coping with the current conditions from the DMA's own 'Coronavirus: The Impacts on Business' tracker research.
Hear more from the DMA