2021 Silver Travel and Leisure
08 Dec 2021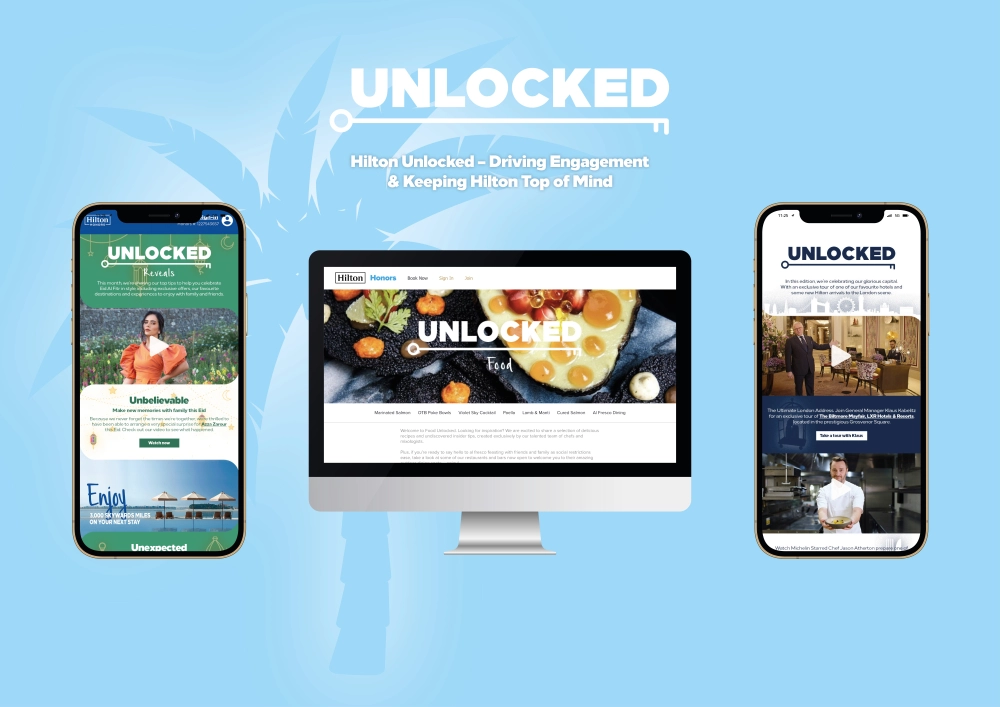 Agency: Red Brick Road
Client: Hilton
Campaign Name: Hilton Unlocked - Driving Engagement, keeping Hilton top of mind & keeping our member relationships active.
Campaign Overview
Against the backdrop of a global pandemic Hilton needed to engage with Honors members, so when they were ready and able to travel again the brand was top of mind for their next stay.
Strategy
Communicating relevant and interesting content to existing Hilton Honors members became a strategic focus.
While competitors lent heavily on wanderlust and future travel plans, few were focusing on how they could add value to their audiences' lives by engaging with customers who were unwilling or unable to travel.
Members were given an insight into what makes Hilton tick, bringing hospitality into their homes through exclusive, bespoke content.
The strategic platform, 'Hilton shares its secrets' was born.
Audience data insight was mapped against key internal and external moments, developing a yearly and monthly content strategy, tailored to Hilton's four key markets.
This laddered up to the overarching Hilton Honors brand positioning to ensure communications were relevant, different and true to the Hilton brand.
Creativity
Hilton Unlocked was created as a members-only, bi-monthly email programme, showcasing exclusive content to engage and inspire them.
Content pillars shone a light on specific themes.
'Unlocked' was a versatile device for premium content. 'Unheard' allowed Hilton to share its best-kept secrets.
'Unbelievable' lent itself to exclusive partnership competitions and experiences.
'Untold' allowed the brand to reveal latest news to members and give them early access to new openings.
Specific themes and creative templates were devised for each market and rolled out using a full content calendar.
Leaning into audience mindsets and topical moments, themes were built around external events e.g. Eid content for the Middle East, and a 'Summer of sports' special during Euro 2020.
Bespoke video content aligned with each theme and content pillar, tapping into the global network of hotels to share behind-the-scenes looks at interior designs, cooking masterclasses with renowned chefs and cocktail classes with mixologists.
A Hilton Unlocked landing page acted as a content hub for members to explore all of the exciting content.
Results
Key results include:
• Open rates - UK 21.7%, EU 22.7%, KSA 22.9%, UAE 18.0%
• Exceeded CTO target benchmarks
• Engagement with 1 in 5 disengaged customers
• Clicks to unsubscribe reduced by 20 points
• Driving 'active' behaviours - over 30% of elites and over 50% high-value members
Although not intended as a stay driver, the campaign had a positive impact on bookings, with a higher proportion of high-value members securing future stays.
Content was amplified across social channels, reaching an audience of 1.5m with organic content.
With hotels reopening, the success of Hilton Unlocked has allowed the brand to shift focus to driving occupancy, reactivating past guest relationships to drive near-term bookings; actively engaging members between stays; and focussing on creating timely, relevant communications.
The Team
Hilton - Kate Dixon, Director Enterprise and Hilton Honors Brand Marketing - Nicola Papworth, Senior Manager Enterprise and Hilton Honors Marketing Strategy
Red Brick Road - Grace Cassidy, Senior Account Director - Caroline Hickey, Senior Account Manager - Darina Selley, Account Manager
Contributors
HeeHaw