2021 Silver Best Use of Marketing Automation
08 Dec 2021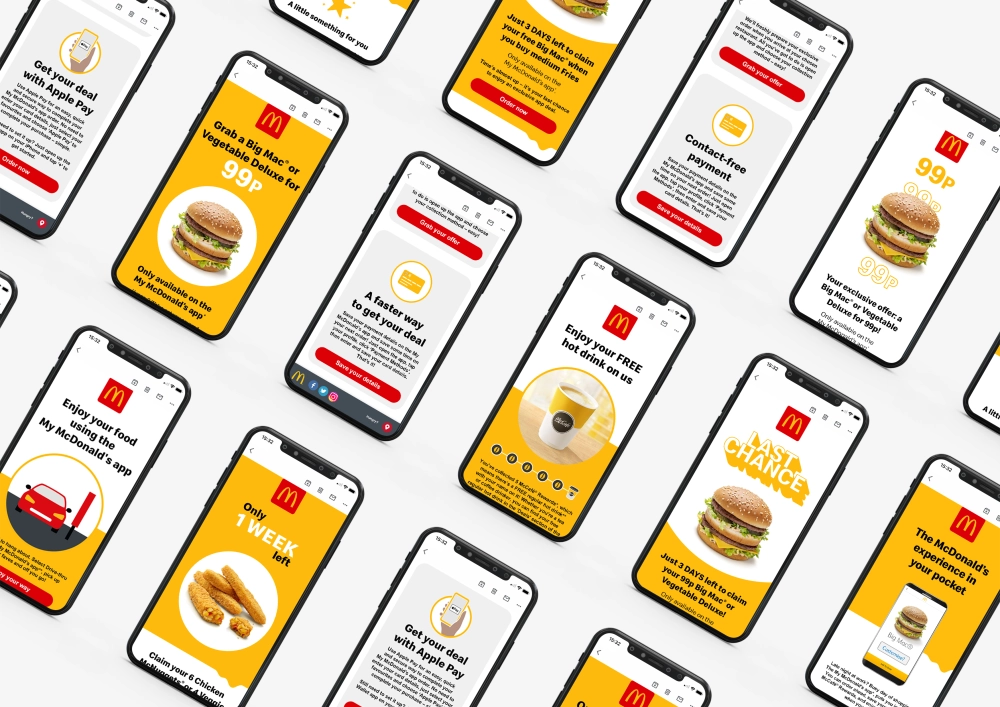 Agency: Armadillo
Client: McDonald's Restaurants UK
Campaign Name: McDonald's: Feel-Good Customer Journeys
Campaign Overview
McDonald's wanted to cement the digital habits of its most valuable customers - establishing the My McDonald's app as their channel of choice.
Strategy
Many customers who registered on the app were ordering only once, or not all. Accelerating adoption of the app was a top priority during lockdowns.
First data insight was unlocked. A segmentation placed customers into one of 14 groups, depending on recency, frequency, spend and behaviours such as use of offers.
By analysing customer movement between segments over time, McDonald's could quantify the revenue potential of increasing retention.
Next came mapping of eight customer journeys, each detailed with a specific insight-driven content strategy playing out across email and push channels.
For example, new customers received a 'nursery journey', getting them comfortable with the app and all of its benefits to maximise repeat ordering without having to incentivise. Frequent customers were nudged with cross-sell offers to get them using the app in different day parts, growing frequency and value further
Each journey ran automatically for up to 85 days.
Customers moved automatically to the next segment based on their behavioural response: a smart, real-time and responsive approach.
Creativity
This was a true collaboration between creative and MarTech teams.
And also a complex one, with 43 different emails all featuring dynamic content and 32 rich push notifications.
The creative job was to get the customer closer to what they love, simply and on-brand, making the next action a no-brainer.
A system of striking visual elements and language using the McDonald's brand brought the benefits of using the app to life.
Email headers used animation to either highlight app benefits or promote cross-sell offers, and to ensure sequential emails maintained the fine balance between creating recognition and avoiding monotony.
Interactivity allowed customers to skim content for top-line benefits or dig deeper for more information.
Using proprietary tracking pixels, the team could see which information piqued interest and optimise future content.
The creativity involved customising the Adobe platform with a bespoke workflow and custom API to enable a rolling 24-hour customer segment migration and measurement of incremental behaviour against control that the success of the programme was built upon.
Results
More engaged customers: the programme achieved 62% improvement in engagement compared to the average for campaigns to app users overall.
Better customer retention: After six months, 7.4% more customers have stayed active overall; where journeys were targeted at one-time-only users this rose to 15.2%.
Increased revenue: 10% increase in revenue per customer against the control.
ROI for the strategy reached 50:1 and incremental revenue continues to tick up.
Improved efficiency: while revenue increases, costs did not.
Adobe Campaign automation delivers more than 1 million comms per week while enabling teams to focus on other opportunities.
The modular content approach also allows McDonald's to adapt comms quickly and efficiently; for example, swapping product modules affected by market-wide supply chain issues
The Team
Armadillo - Jo Penn, Client Partner - Rob Pellow, Innovation Director - Hannah Waters, Creative Director - Luke Collins, Campaign Planner - Yusuf Muhammad, Principle Campaign Manager - Emily Sowden, Copywriter - Steph Dearing, Developer - Amy Hurd, Senior Campaign Manager - Jim Green, Head Of Analysis - Chris Quenon, Designer - Nicholas Blake-Steele, Technology Director