2021 Gold Utilities and Telecommunications
08 Dec 2021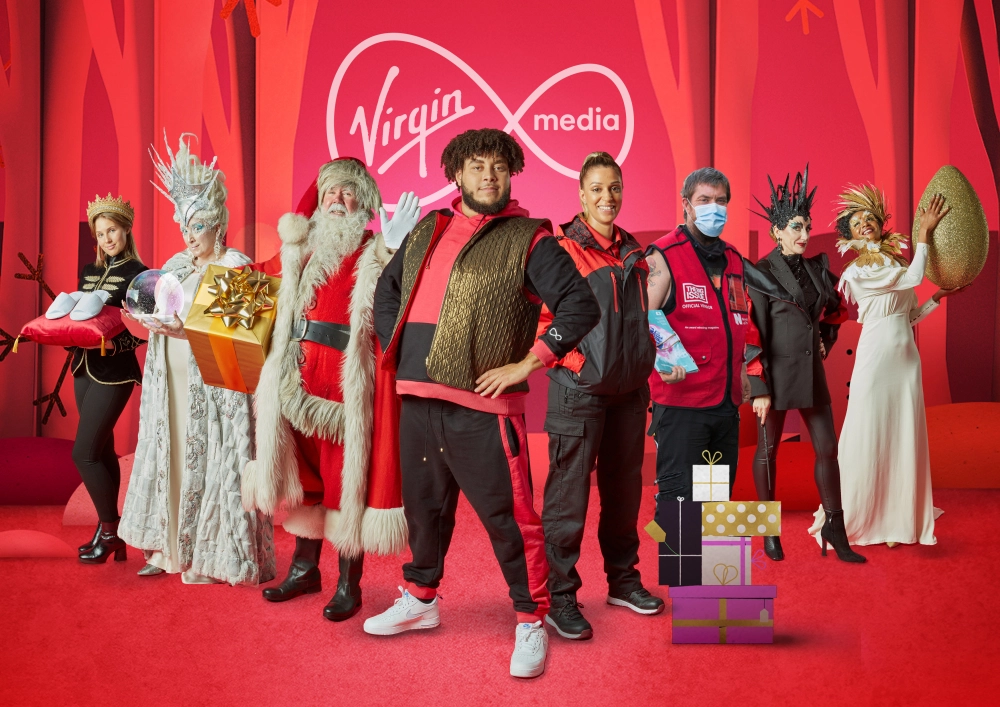 Agency: RAPP
Client: Virgin Media
Campaign Name: Breaking the Great British Smile Drought
Campaign Overview
In 2020, smiles were at an all-time low and the nation faced an isolated, unhappy Christmas.
How could Virgin Media put a smile on its customers' faces, reminding them how to their keep communities connected?
Strategy
Putting a smile on customers' faces isn't just nice to do - it's proven to increase NPS and ultimately convert into retained revenue. For Christmas, RAPP and Virgin Media wanted to pull out all the stops.
They used the ingredients that worked best from previous activity, supercharged with some much-needed magic.
Cue 25 days of prizes, charity giving and heart-warming experiences that put the 'Oh-yes-we-do' into a Christmas that was too full of 'Oh-no-you-won't'.
Creativity
The beloved Christmas panto is a tradition that brings communities together. With theatres closed, the idea was to bring joy into homes instead.
The star of each daily performance was a gift designed for sharing, tailored for each customer through a dedicated concierge service. From a caveful of goodies to castle breaks, each giveaway connected customers with people who matter. The campaign was rolled out across millions of TVs, inboxes and even a virtual grotto.
With thousands of pantos cancelled, the brand collaborated with struggling actors to give iconic characters a Virgin twist - and doubled down on Christmas cheer through lead performances from charismatic grime artist Big Zuu, and a charming, real-life Virgin technician called Lauren.
Theatregoers are usually asked for charity donations after a panto, so the initiative included virtual places to work with charities. Meanwhile, Big Issue vendors needed extra support after incomes vanished; the team devised Twitter Street to offer a virtual place for donations. Finally, working with Scope, a virtual Santa's Grotto was created to bring additional joy to children.
Results
By sprinkling joy and keeping customers and communities connected, RAPP and the brand increased NPS by 2.6 points. For a 'show-stopping' encore, this delivered £1.3M in retained revenue.
Customers kept cheering and laughing from start to finish, with more than 70 million impressions - akin to every Virgin Media customer watching the panto 13 times; double the previous year's success, with improved UX playing a major role.
Additionally:
•
409,000 signed up for their daily panto fix (10% more than 2019)
•
Email open rates were 53%
•
310 winners shared excitement with friends and family
•
250 Big Issue vendors were supported by daily donations
•
Media coverage reached millions through 21 broadcast interviews, plus 79 pieces of national and local press coverage
The Team
RAPP - Al Mackie, Chief Creative - Jason Cascarina, Deputy Executive Creative Director - Vicky Gelling, Managing Partner - Alex Jardine, Acount Director - Kit Rowcliffe, Senior Account Manager - Adam Rolfe, Creative Director - Matt Mitchell, Senior Copywriter - Matt Sceccombe, Senior Art Director - Rachel Stafford, Senior Copywriter - Alex Simms, Junior Art Director - Sarah Casanavas, Senior Project Manager - Chiara Trecchi, Senior Producer - Tristan Povey, Senior Director - Oz Osborne, Head of 3D and Motion Graphics - Miles Niblett, Designer - Charlie Ross, Designer - Chris Myers, Senior Copywriter - Caroline Parkes, Chief Experience Officer - Matt Davis, Strategy Director - Chloe McMahon, Strategy Director - Russ Groombridge, Data Strategy Partner - Steve Nicolaou, Experience Architect - Matt Gardner-Lewis, Senior Account Director - Sam Milburn, Junior Copywriter - Kinga Wawrzyniak, Junior Art Director - Jimmy McMorrow, Senior Account Director -Russ Tams, Designer - Jess DiMaio, Strategist - Hannah Sheperd, Head of Customer Marketing
Virgin Media - Bijal Parmar, Senior Marketing Manager - Amanda Jones, Campaign Manager - Maya Lekkas, Campaign Executive - Matt Hill, Creative Director - Mark Potts, Creative Director - Stephanie Jones, Senior Creative Manager - Kelly Mfuk-Tull, Senior Brand Manager

LINNEY - Lindsey Palmer, Producer - Gareth Harbuz, Head of 3D and Motion Design - Marcus Liversedge, Director - Matt Glen, Director of Photography
Destin8 - Claire Smith, Director and Event Producer - Leanne Wilson, Senior Project Manager - Gabby Pugh, Senior Project Manager

IGT - Amy Wilson - Zishan Haider
Redwood - Jo Wilson - Justin Hyde
Contributors
ITG, Destin8, Linney and Redwood