2021 Gold Retail and E-commerce
08 Dec 2021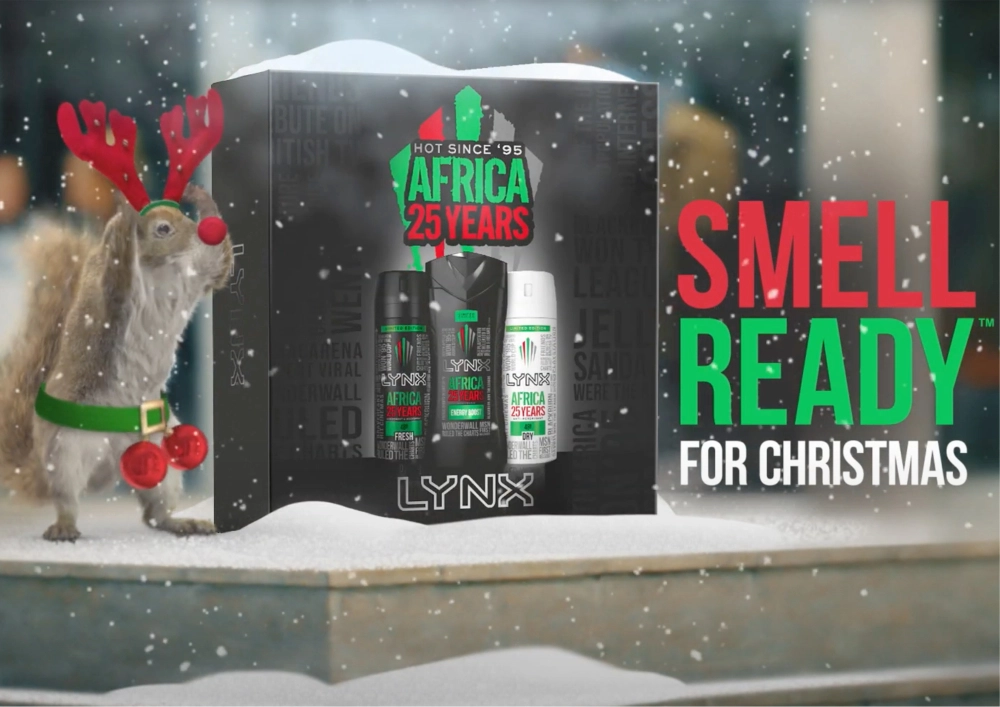 Agency: OLIVER / U-Studio
Client: Unilever
Campaign Name: LynXmas, Smell Ready for Christmas
Campaign Overview
A failure to recruit new users to the male deodorants category plus a growing competitive set had eroded Lynx's value and volume share, along with its brand power.
The task was to increase consideration and purchase of Lynx Africa among Gen Z men by celebrating the iconic fragrance's 25th anniversary.
Strategy
The power of fragrance to trigger memories is widely accepted and believed to have a stronger connection to memory than sight.
But people wear fragrances for a variety of reasons.
The primary one is to protect against body odour and feel attractive to ourselves, our social circles and potential sexual partners.
A resurgence of 90s trends in social and wider culture in had made the past more relevant than ever, with the chance to look back to times when things were more fun, and opportunities more appealing, would be something to relish.
Conversations around Lynx Africa made explicit mention of the fond memories of time spent at school. The scent of Lynx Africa wasn't just another fragrance: it was a piece of cultural capital that triggered a strong and positive emotional response.
In keeping with this nostalgic theme, Unilever decided to reinvent the timeless story of attraction for the modern era, giving Lynx Africa a starring role and introducing a healthy dose of Gen Z's progressiveness, energy and humour: Lynx Africa isn't just a fragrance, it's your very own time machine.
Creativity
With social listening helping community managers identify reaction-worthy brand mentions and hashtags, Unilever seeded conversation-starting content to the right people at the right time.
Pre-armed with a suite of GIFs and illustrated stickers, the team jumped into 2,000+ individual conversations and saw a +200bps increase in positive sentiment.
As media outlets wondered how Lynx Africa felt about becoming a Christmas meme, the campaign played up to the role by launching the LOL (Lack of Lynx) Hotline.
With real-time reactions to trends, memes and mentions, #LynxAfrica trended on Twitter's Top 3 for more than eight hours on the day, and the LOL Hotline sold out within 30 minutes.
With Lynx the only brand actively tweeting on the day itself, social listening again proved crucial.
After an image featuring a Lynx Africa gift set with some intimate items in the background surfaced, a combination of ironic copy and 'just-enough' censorship set feeds ablaze.
Christmas Day also saw the launch of a Lynx 'Admin' persona. Bringing to life and humanising the brand in the process, the more personal interactions 'Admin' had with the user audience delivered 48,000 engagements and a 15% engagement rate.
Results
Lynx Africa gift sets achieved a 48% share of the gifting category in December (+516bps year on year).
In what became the brand's highest-performing Christmas campaign ever, it delivered 42 million total impressions - 4.2 million (+349% year on year) organic - 219,400 organic engagements (+776% year on year) and 13,000 organic brand mentions.
The Christmas gift set re-post alone delivered 33,400+ organic impressions (against a Lynx average of 6,100) and an organic engagement rate of 22% (against a 0.7% average).
Other results included:
•
Increased value share to 13.1% (+240bps)
•
Increased unit share to 10.2% (+200bps)
•
Increased penetration to 11.6% (+100bps), even as the male deodorants category declined
The Team
OLIVER/U-Studio - Rod Sobral, Global Chief Creative Officer - Chloe McCloskey, Global Head of Content and Community - Lewis Galloway, Global Strategy Director - Joe Fletcher, Creative Copy Director - Milan Desai, Creative Art Director - Ed Edwards, Creative Director - Gavin Langley, Editor - Ed Calderhead, Senior Content and Community Manager - Alex Varela, Head of Design - Alex House, Senior Designer - Jonathan Day, Senior Copy Writer - Gemma Poesaste, Group Account Director - Jonny Collin, Account Director - Andy Gulliman, Executive TVC Producer
Unilever - Alessandro D'Amico, Axe Global Brand Manager - Jamie Brooks, Lynx Brand Manager - Mary Carmen Gasco-Buisson, Global Brand Vice President (Axe) - Caroline Gregory, Global Brand Director (Axe)