2021 Gold Financial Services
08 Dec 2021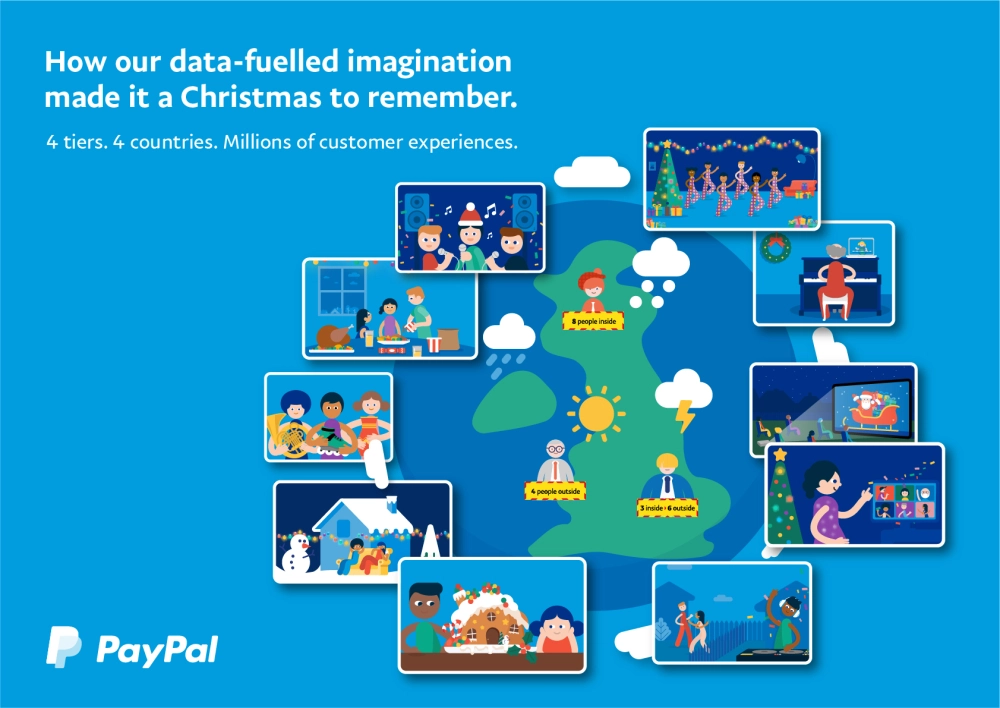 Agency: RAPP
Client: PayPal
Campaign Name: How our data-fuelled imagination made it a Christmas to remember
Campaign Overview
The Christmas trading period is usually a well-oiled machine. But in 2020 usual rules did not apply. Travel, parties, gifting, donating - everything was different.
The brief was to maximise transactions by positioning PayPal as the brand by the side of every customer navigating an uncertain, alternative, unusual Christmas.
Strategy
Instead of a Christmas star, PayPal followed the data.
Social listening, search-trend analysis and 'cultural AI' helped find and predict new customer behaviours.
The strategy was to show new ways to enjoy Christmas with PayPal and inspire more customers to find joy amid the Covid chaos.
RAPP noted what people were discussing on social channels and searching for online.
More than 500,000 data signals were examined daily from news items, videos, commentaries, investment trackers, academic publications, forums, newsletters and other sources.
The AI tool helped sift through the noise to find and predict what people wanted and needed. Some ingenious people were finding a bright side to every Covid Christmas twist and turn.
Interpreting the data, PayPal kept on top of how real people were making it a festive season to remember.
Creativity
There were lots of things people were happy to do differently, so the creative solution celebrated the holiday-season hacks that might inspire others to embrace new traditions and fresh, even better ways to enjoy it.
PayPal products and ideas helped them refresh old traditions and create new ones. Getting into the spirit meant a creatively inspired platform that brought fun and cheer:
• The chance to order all the trimmings with PayPal – and spend less time stirring the gravy and more time enjoying yourselves
• For people wanting to dress down as they tuck into the turkey on Christmas day - this year you can opt for loungewear with elasticated waistbands and pay securely with PayPal checkout
• For those who can't go to a carol concert - buy now, pay later for a karaoke machine and belt out the Christmas classics at home
The campaign was devised in an upbeat way with charm to beat lockdown blues and give people a merry festive period.
Results
The campaign drove 10 million incremental transactions, £10.4m incremental transaction revenue and £15.2m total incremental revenue.
In the core markets of UK, US and Germany PayPal powered 6.8 million incremental transactions and £9.8m total incremental revenue.
Brand consideration and preference among a target segment of digital natives was positively impacted: the UK segment saw the most dramatic consideration turnaround; from -8 points decline between August and November 2020 to +2 points by January 2021.
The 'Make it One to Remember' film connected emotionally with consumers and generated +32% points more positive sentiment than general PayPal activity.
The film was the most popular on PayPal's YouTube channel, generating 94% positive comments. AdAge ranked PayPal number 2 in its list of 2020 holiday ads
The Team
RAPP - Al Mackie, Chief Creative Officer - Jason Cascarina, Deputy Executive Creative Director - Andrew Riddle, Managing Partner - Emma Wright, Senior Project Manager - Marytn Jenkin, Senior Account Manager - Linda Gray, Senior Project Manager - Charlie Carne, Senior Account Manager - Ben Phillips, Account Director - Julie Adams Head of Copy - Simon Cheshire, Senior Designer - Katie Carruthers, Creative Director - Martin Lythgoe - Jeffrey Osborne - Olivia Wagna - Stephanie Hottlet, Head of Production - Natalie Ganner, Creative Services Manager - Shiona McDougall, Global Chief Strategy Officer - Jamie Barnett, Senior Strategist - Adam Fulford - Camilla Costigliolo, Designer - Rafi Stone, Creative - Nick Houghton, Creative
Tongal - Stephen Iwanyk, Director of Production - Alexandra Detillo, Producer - Caitlin Lowther, Account Director - Kelsey Taylor, Director
Contributors
Tongal and Creative Ramp