2021 Gold Best Data Storytelling
08 Dec 2021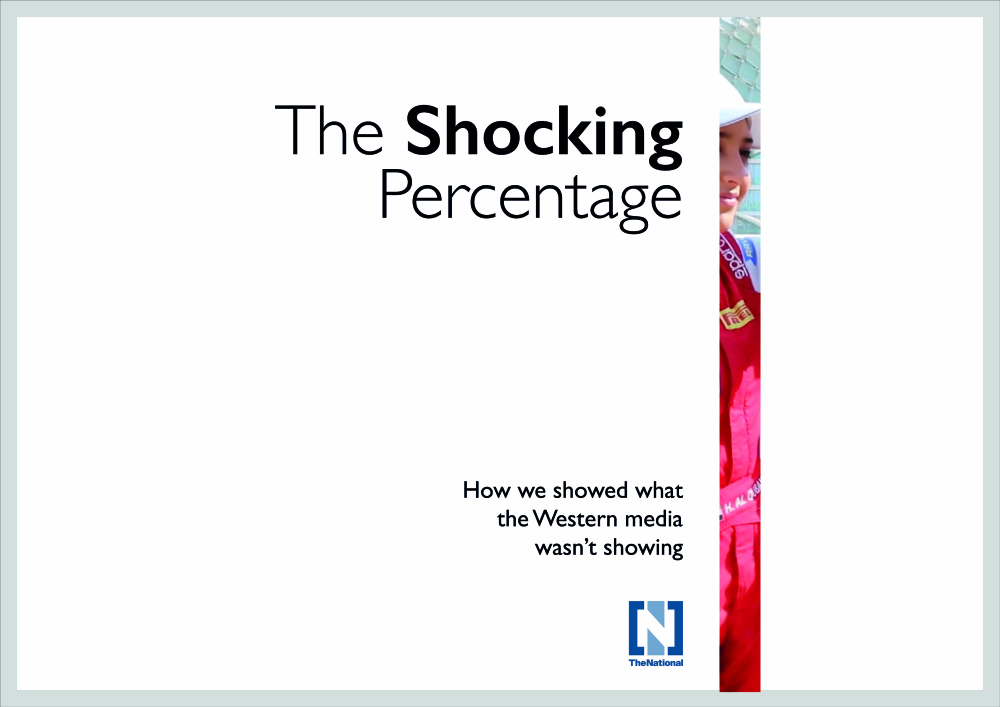 Agency: MRM
Client: The National
Campaign Name: The National: The Middle East Explained
Campaign Overview
The Western press often neglects positive Middle Eastern stories, meaning we're not getting the full picture about the region. This fuels racism and insecurity.
The National, a leading Middle Eastern news source, wanted to relaunch in the UK and US to create a clear, unbiased view of the region.
Strategy
To quantify the scale of the problem the media outlet created a 'Ratio Engine' using base keyword analysis data sourced from a global listening platform over a rolling 30-day period.
The algorithm counted all the stories written by online news brands about the Middle East - published both globally and in that region.
It focused on eight varied and positive topic areas, such as Women in Innovation and Business, Sports, Space Exploration and Renewable Energy.
The data showed that, on average, only 1% of all positive news stories from the Middle East are reported in Western media.
The highest was 7% for Arts and Culture, and Peace & Prosperity.
The data was used to tell a story, to give a curious, intelligent audience a glimpse of what they were missing - in a logical, well-argued way - and show them where they could get the full picture about the Middle East.
Creativity
Using a simple visual device, The National used live data to show exactly how much of a positive story people were seeing - or not seeing.
It created a film that gave a glimpse of a story about the Middle East - just enough to sharpen curiosity.
The twist was that the amount of the story seen was determined by exactly how much coverage the Western press was giving it. For example, in the case of space exploration this was just 1%.
This created a striking visual presence. The campaign drew in the audience and created a rich, engaging, emotive story around cold hard, logical facts.
The listening platform allowed The National to use the latest statistics for online ads - so people could see in real-time how much traction a Middle Eastern story was getting.
The campaign wasn't simply about telling people what they were missing. It also attracted new readers and told people where they could get all the information they needed to form an intelligent, balanced opinion.
Results
The National reached over 16 million people in the UK alone, many of whom saw the Middle East largely as a place of conflict rather than the vibrant region it is.
The campaign highlighted the contribution women make to culture and showed the Middle East is actively involved in positive, progressive movements like renewable energy.
Hundreds of thousands of people across the UK and US started reading The National regularly - helping to tackle racism and political insecurity by ensuring more of us understood this culturally diverse, historically rich part of the world.
The Team
MRM - Nicky Bullard, Chairwomen & CCO - John Treacy, Executive Creative Director - Michael Poole, Associate Creative Director - Andrew Pogson, Associate Creative Director - Magda Gosek-Kyprianou, Art Director - Gavin Daniel, Copywriter - David Hunt, Editor - Chris Pearce, CEO - Mike Krzyzanowski, Digital Planning Director - Karim Slim, Global Managing Partner - Charles Eddy, Business Director - Varsha Nursimloo, Senior Account Director - Dexter Wong, Senior Account Manager - Richard Anthony, Freelance Editor
The National News - Mireille Puskulian, Head of Marketing & Communications - Duaa Zietoun, Marketing Lead