2021 Bronze Sports
08 Dec 2021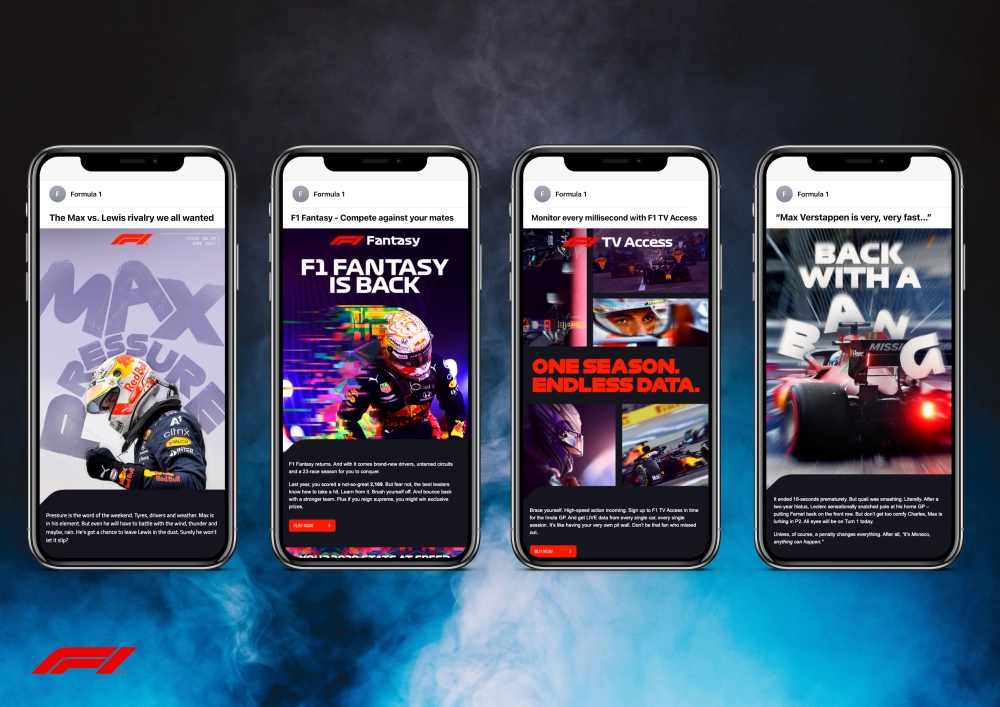 Agency: Ogilvy UK
Client: Formula 1
Campaign Name: Putting Formula 1 back on track
Campaign Overview
The pandemic created huge challenges for F1. It not only reduced revenues but millions of fans also missed out on the emotional high of visiting a Grand Prix.
For 2021, the brief was to replace the engagement gap and drive sign-ups for at-home experiences.
Strategy
With little chance to attend races, the programme invited fans to experiences that ignited their passions, priming them to buy into the season and subscribe to F1 TV. Fans do not see themselves as customers, so the programme needed to be an entertainment service.
The experiences were delivered direct to fans, embracing hyper-responsive email newsletters and journeys, push notifications and website overlays. Each race became the next episode in F1 TV's 'unmissable drama' with drivers, managers and circuits as the characters.
Sign-ups for experiences grew the database, turning unknowns into fans to be efficiently target with relevant offers. F1 Fantasy gamers, known buyers of F1 TV, were given personalised data on performance, challenging passive viewers into becoming more actively involved players.
Creativity
Fans couldn't get an autograph but could be invited to virtual driver 'meet and greets'.
Fans in the Americas, with inconvenient time zones, signed up for 'F1 Wake Up Call', where drivers recorded calls to get them up in time for the race. Storylines were built with new drivers, car reveals and F1 Testing on F1 TV.
Emails on race weekends became interactive briefings, including replicas of official programmes, the starting grid, circuit maps to orientate the viewers, fan polls and live countdowns to start times.
Embedded video, podcast audio and statistics set up what to watch. The multi-screen features of F1 TV became an at-home pit wall, and its shows a backstage pass inside the F1 Paddock.
The latest news, experiences and live reminders were pushed with mobile notifications prompting usage and appointment-to-view.
A 2021 design remixed trackside content with front cover style layouts, turbocharged grammar and bold typography for a curated, premium feel.
F1 Sprint also launched, branding the new Saturday format as 'adding jeopardy and drama to your F1 TV race weekend'.
Results
The focus was on selling F1 TV subscriptions to fans on the database.
After four months of racing, the initiative exceeded total F1 TV database sales in 2020 by 30%. Some 47% of new F1 TV subscribers in 2021 were fans on the database.
The F1 TV season launch campaign exceeded sales target by 60%.
Fanbase engagement grew: year-on-year email opens over the reporting period increased by 44% and email clicks by 28%. Fans stay on F1.com 20% longer than an average at 2:55 mins.
F1 Fantasy players have doubled since 2020, with a 55% increase in retention from the existing base.
Overall in 2021 an ROI of 2:1 was delivered, with a net profit 200% from F1 TV growth.
The Team
Ogilvy UK - Jackson Russ, Managing Partner - Coby Walter, Programme Director - George Stride, Account Director - Jemma Roback, Account Manager - Harry Scott, Account Manager - Martin Delamere, Content and Editorial Planning Lead - Frank Duck, Data Strategy Director - Jack Grimmer, Campaign Manager - Duncan Butt, Campaign Manager - Dannii Lovell, Campaign Manager - Angus George, Executive Creative Director - Johnny Watters, Executive Creative Director - Sam Hinckley, Creative - Chris Lawlor, Creative - James Roberts, Creative - Ben Evenett, Creative - Eva Steiner, Creative - Alex Nash, Creative - Francesca Lordan, Creative - Josh Wheatley, Creative - Vian Zahid, Creative - Sam Cork, Creative - Will Whittington, Designer - Jojo Wickham, Designer - Taylor Bates, Designer - Joe Glover, Designer - Dom Flaherty, Designer - Dani Vazquez, Designer - Amber Maxwell, Designer - Laurence Blake, Designer