2019 Gold Best Writing
04 Dec 2019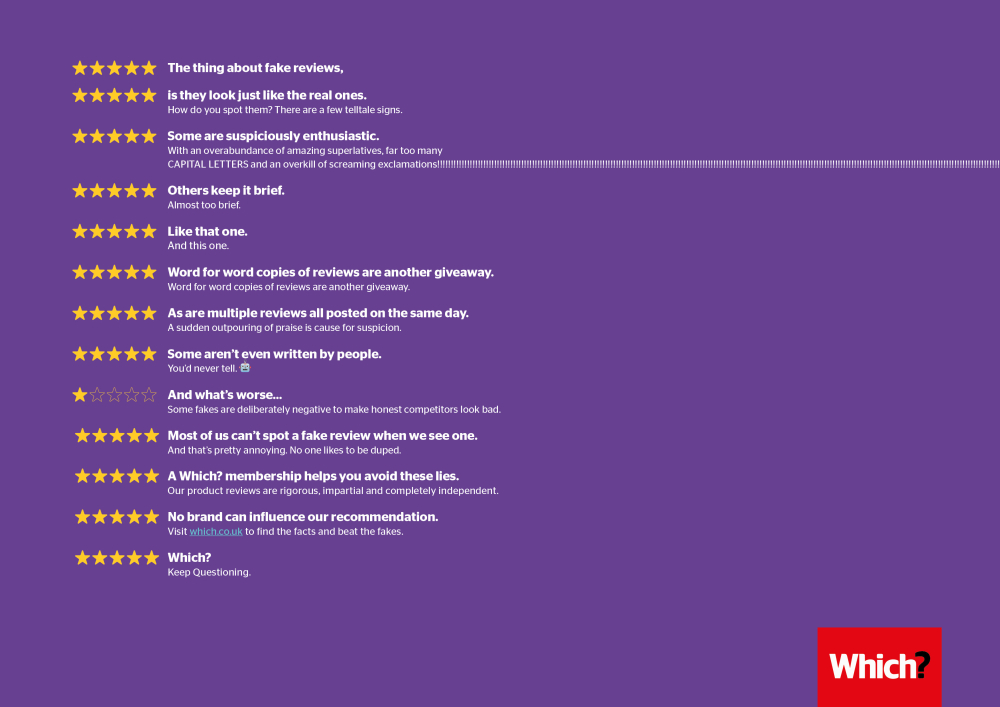 Agency: Grey London
Client: Which?
Campaign Name: From Kettle reviews to fake news: the reinvention of Which?
Campaign Overview
Which? was founded as a paid-for product reviews magazine in 1957. Some 60 years later its ageing membership base was in decline. Online reviews are available everywhere, and free.
The challenge: how to attract a younger generation to pay for something they thought they could get for nothing?
Strategy
2017 saw misinformation go mainstream.
Grey identified free online reviews were not immune: fake reviews were a real problem.
In comparison, Which? reviews are both rigorous and impartial. So Grey positioned the brand in opposition to a cultural problem: the misinformation of fake reviews.
Which? membership was in decline. This was despite its reviews being impartial, rigorous and deep.
But research revealed people didn't just value Amazon reviews because they don't need to pay for them. They liked them because they were written by people "like them" and were "a more honest view".
The campaign turned the private, unspoken problem of fake reviews into a huge public issue.
Creativity
The initiative exposed the tactics of fake reviewers.
The idea was to make fake reviews a public concern, without making people feel naive for falling for them.
Grey wanted people to feel smarter because of Which?, but the agency couldn't educate people about the problem unless they too knew it inside out.
The first stage was to discover the tactics fake reviewers use to dupe consumers. Reviews are huge in number, including many copied and pasted from other reviews.
If people were being besieged by misinformation in the form of fake reviews, knowing the tactics of fake reviewers could be their countermeasure.
By demonstrating the tactics through writing, Grey and Which? could help people more easily identify the problem for themselves.
The copy was thought-provoking and witty, entertaining in order to educate. It was a Which? "review of fake reviews".
Results
Brand search rose by +45% and display click-through increased by +223%.
The campaign generated a record +13% uplift in sign-ups, while cost per sign-up was down by 3.4%. Conversion from the website increased by +30% from a new, younger generation of consumers.
People believed Which? had an "important message" that "educated viewers".
All of this was achieved despite the campaign going live in the run-up to Black Friday and Christmas, when Amazon spent 65 times more than Which?
The significant increase in sign-ups showed the brand had found a new, modern role in consumers' lives.
By connecting kettle reviews to fake news, Which? had become a lighthouse in a world mired by misinformation.
The Team
Bhavin Pabari, Planning Director, Grey London - Gilliam Caldwell-Dunn, Planner, Grey London - Nathan Gainford, Managing Partner, Grey London - Ryan Lacey, Business Director, Grey London - Eldar Chen, Account Manager, Grey London - Marc Owens, Creative, Grey London - Matt Tassell, Creative, Grey London - Nick Rowland, Creative Director, Grey London - Sarah Threadgould, Group Marketing Director, Which? - Laura Money, Senior Brand Manager, Which? - Michael Moruzzi, Head of Marketing Planning, Which?
Hear more from the DMA