2019 Gold Best Creative Solution
04 Dec 2019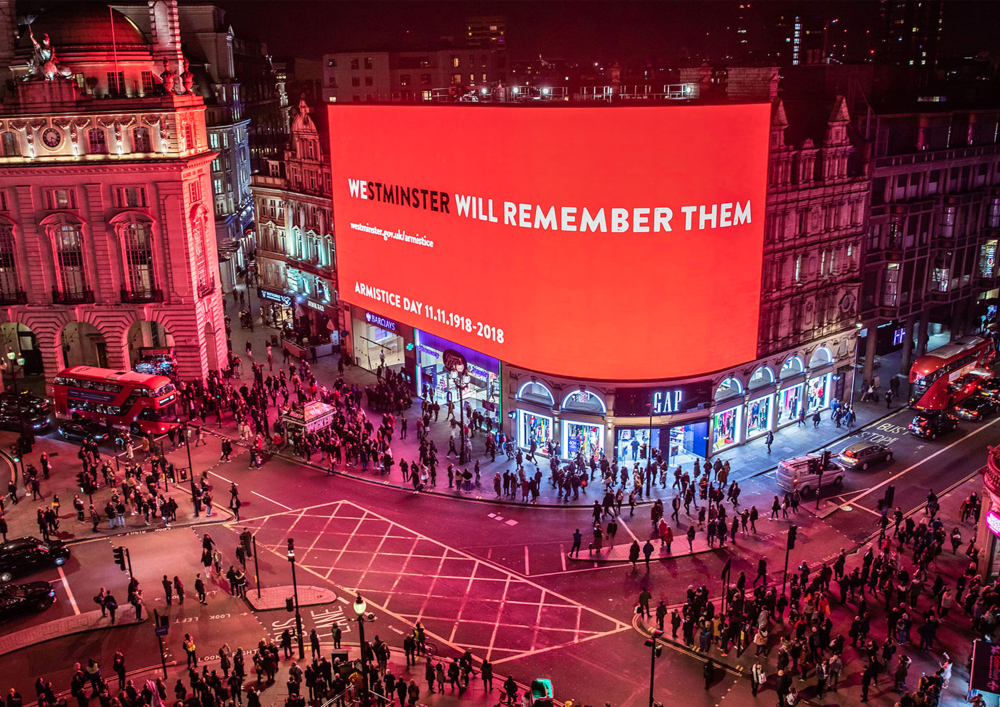 Agency: TMW Unlimited
Client: Westminster City Council
Campaign Name: Armistice Day
Campaign Overview
For the 2018 centenary, Westminster Council wanted to create an occasion that would resonate in London and beyond.
Strategy
Research showed that Remembrance weekend is losing meaning among younger generations. Some even see it as a celebration of war. The centenary was an opportunity to restore meaning and create empathy.
100 years after the end of the First World War, which claimed the lives of one million British servicepeople, TMW's experience highlighted the human cost of the war.
Collective spirit was the key concept. In November 1918, when news of the Armistice broke, Londoners spontaneously gathered in Piccadilly Circus, so this became the activity's focal point.
In a world first, TMW took over Piccadilly's iconic digital ad screens for an hour, persuading passers-by to reappraise the Armistice.
Creativity
The idea was driven by a startling realisation: that it would take 10 days, 19 hours and four minutes for all of the British and Commonwealth soldiers who died in the First World War to march past in single file. It became the metronomic heart of the activity - behind every pair of boots was a real story.
At evening rush hour on November 9, the screens were filled with relentless marching boots - each pair representing a soldier who died. Meanwhile, 11 ex-servicepeople told their stories.
Design was crucial, with Piccadilly bathed in a stark red background. The normally silent screens were fitted with a complex sound system so the marching boots echoed.
As the last pair marched off screen it faded to black. A two-minute silence was followed by a lone bugler sounding the Last Post.
Results
Crowds of people paused to watch the screens and there was an outpouring of emotion on social media.
There was a combined reach of nearly 400 million and radio added another 27.9 million.
The reaction of passers-by and guests, including representatives of the military and veterans, was deeply moving.
The Team
Graeme Noble, Chief Creative Officer, TMW Unlimited - Mark Urey, Creative Director/Art Director, TMW Unlimited - Phil Rhodes, Creative Director/Copywriter, TMW Unlimited - Rob Meiklejohn, Senior Planner, TMW Unlimited - Taryn Payne, Business Director, TMW Unlimited - Chris Moore, Motion Designer, TMW Unlimited - Thomas Rees-Kaye, Videographer/Motion Design, TMW Unlimited - Lloyd Francis, Head of Motion, TMW Unlimited - Felicity Hall, Designer, TMW Unlimited - Tracy Woodford, Producer, TMW Unlimited - Millie Graham-Campbell, Head of Creative Production, TMW Unlimited - Claire Appleby, Marketing Manager, Westminster City Council
Contributors
Ocean Outdoor
Hear more from the DMA