2018 Silver Automotive
14 Dec 2018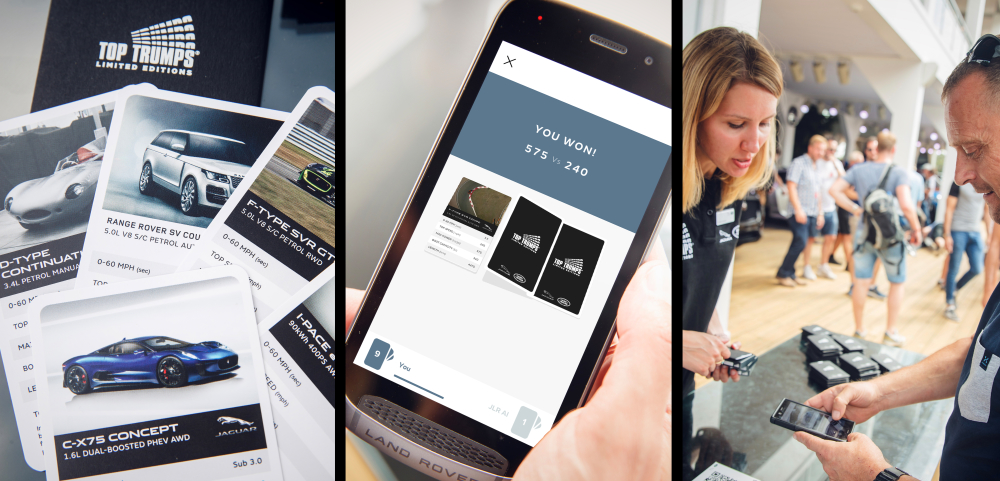 Agency: Spark44
Client: Jaguar Land Rover
Campaign name: World's First Digital Car Top Trumps App
Campaign overview
Boosting engagement with the world's first digital Top Trumps car experience
The brief
To more than double data capture at Goodwood Festival of Speed by increasing engagement of visitors with Jaguar Land Rover
Strategy
Simple data strategies don't work in a post-GDPR world. Jaguar Land Rover required a way to enthuse motorists to share their personal details and that meant reframing comms as a clear value exchange. Insight showed 40-somethings' car brand love starts with playing Top Trumps as a child.
Jaguar Land Rover and Spark44 resolved to resurface this youthful passion at Goodwood to maximise engagement. The key was to entertain them while they got fed up queueing at the event. And the answer was recreating Top Trumps as a downloadable game to counteract the boredom.
Creativity
The world's first digital car Top Trumps gaming app, Jaguar Land Rover Top Trumps, was created. The app captured data, showcased the brand's range, gave people the chance to book a test drive or find out more about a car, and offered prizes including a desirable, limited-edition physical pack available at the stand.
The game itself was tied to Goodwood, reflecting both the event and Jaguar Land Rover's quality. The Top Trumps cards were modern and dynamic, incorporating sound, movement and trivia. Players could face off against each other to win a place on a leaderboard. Additional points were also available to anyone finding QR codes hidden on vehicles.
Interest in the app was drummed up with promotion by Goodwood organisers and through Jaguar Land Rover's owned media channels. Players were asked to submit personal details to play, enabling datacapture without stand staff having
Results
Total data capture leapt from 1.34% at Goodwood 2017 to 3.65% this year, exceeding the target of 3%, solely
attributed to the Top Trumps idea. The additional chance to grab a limitededition pack increased data capture at the Jaguar Land Rover stand by 172%.
Nearly 5,000 people have downloaded the app, with more than 15% of them still engaging post-Goodwood.
Furthermore, the app has achieved an average rating of 4.75 out of 5 stars across App Store and Google Play.
Team
Spark44 - Jeremy Tracy, Senior Account Director - Chris Newby, Business Director - Eric Gruber, Account Manager - Fiona Pilgrim, Account Manager - Richard Pittham, Creative Director - Matt Statham, Creative Director - Chris McDonald, Creative Director - Brian Fraser, Chief Creative Officer - Tom Walsh, Designer - Jake Scully, Design Director - Kate Turner, Designer - Elias Poveda, UX Architect - John Gibbard, UX Director - Tom Beavington, Project Director - Nick Swallows, Copywriter - Liz Wolstenholme, Strategy Director, Kevin Kelly, Comms Strategist - Hilary Beckrich, Creative Resource Manager - Simon Hodges, Studio Manager - Danny Divina, Artworker - Dan Good, Film Editor - Elizabeth Newton, Assistant Producer - Maggie Blundell, Senior Producer
Jaguar Land Rover - Mark Beesly, Digital & CRM Senior Manager - Phill Haines, CRM Manager - Linda Cuncule, CRM Executive - Nick Edmonds, CRM Executive - Matt Ellis, Product Analyst - Kara Bowman, UK Events Manager
Winning Moves - Daniel Simmonds, Digital Manager - Lisa Wu, Mid-Level Product Developer - Carl Cliss, Partnerships and Promotions Director - Richard Burwood, Print Director
Mi - Adam Dickinson, Product & Development Director -Jordan Armitage, Art Director - Gareth Thatcher, Technical Director
Edit - Helen Daw, Account Director - Kate Lovegrove, Senior Account Manager
The Events Business - Ben Milton, Events Manager - Katie Atkin, Events Manager
Contributors
Winning Moves, Mi, Edit, TEB and Dentsu
Hear more from the DMA