2018 Gold Best writing
12 Dec 2018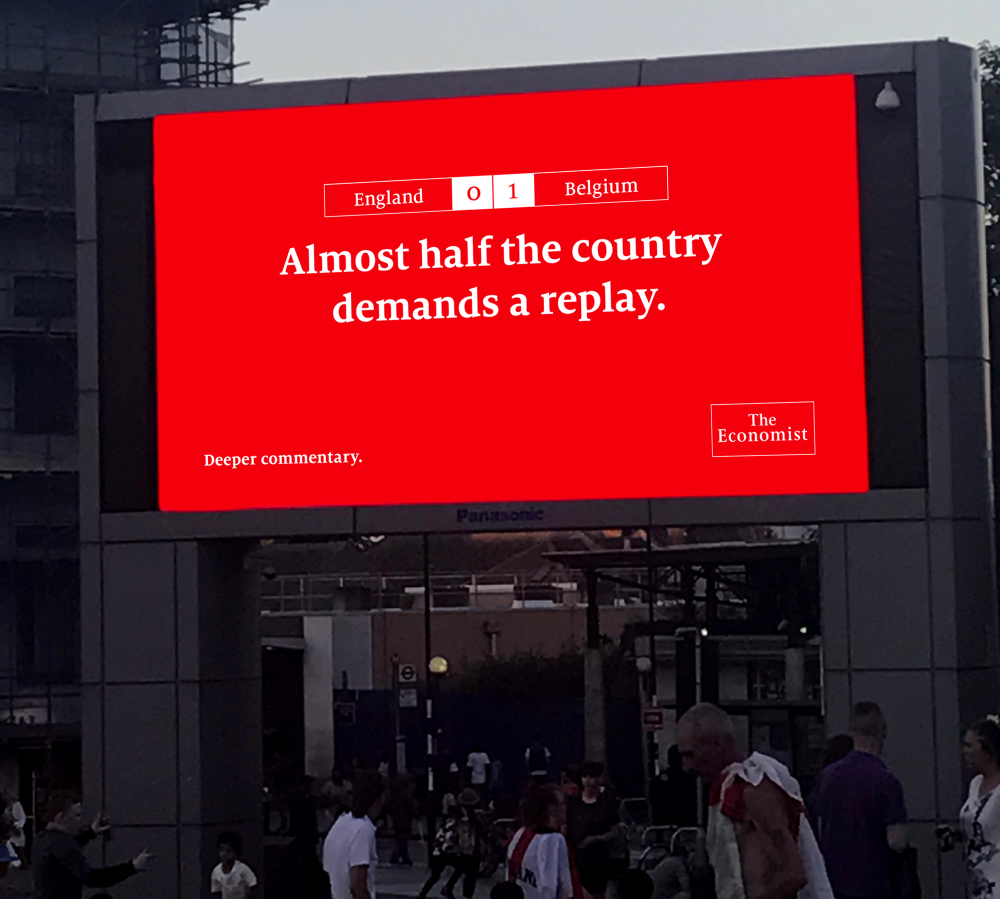 Agency: Proximity London
Client: The Economist
Campaign name: The Economist World Cup
Campaign overview
A unique perspective on the beautiful game
The brief
The World Cup fuels billions of passionate online interactions.
But the noise is as much a challenge as an opportunity, particularly for a brand like The Economist.
Without a reputation for traditional sports coverage, they needed a fresh angle to gain cut-through.
Strategy
The Economist identified the World Cup as a unique opportunity to place the brand at the heart of a major global event.
To find a fresh angle, The Economist sought to unlock a tension that made them relevant in order to build brand awareness among an unfamiliar audience.
During the World Cup, while the rest of the world was giving a hot-take on the football, they would offer a twist on the expected to offer a genuinely deeper insight.
The Economist gave their unique global perspective on what was really going on in each of the participating nations, the minute the matches finished.
With nations like South Korea, Saudi Arabia and Iran taking part, who better than The Economist to offer 'Deeper Commentary' during one of the most politicised World Cups in recent times?
Creativity
2018's tournament was a gift, potentially the most politically-charged in decades.
At relevant stages in the tournament, The Economist selected the most intriguing match-ups, politically speaking.
Then, they reacted in real-time with thought-provoking digital ads about the stories of the nations involved – beyond the football.
From Russia's dubious use of social media, to Nigeria's impressive advances in solar energy, The Economist popped up across websites, on social media and on big outdoor screens to offer the kind of punditry only The Economist could provide.
They created a series of headlines for each match, based around different outcomes.
The scoreline was piped-in in real-time to help dynamically assemble ads from the appropriate headline with the official score.
Provocative headlines linked through to compelling content, relevant to the nations involved in each match.
Results
Diving into the fray of social media at a time of major media spend from some of the world's biggest brands was a gamble, but the calculated risk paid off.
Intriguing headlines cut-through the standard football noise and reached a total of thirty-three million people.
The campaign inspired 1.4 million clicks, driving people out of the online conversation and toward engaging with considered editorial from The Economist team.
As a result, the campaign achieved a CTR of 4.24% which far surpassed any previous brand benchmarks for social media activity.
Campaign video
Team
Proximity London - Prena Amin, Account Director - Lloyd Nicholls, Project Manager - Proximity London, Matt Linett, Strategy Lead - Jason Cascarina, Deputy Executive Creative Director - Ben Sawyer, Writer - Robert Morris, Art Director - John Treacy, Executive Creative Director - Mitch Bellach, Design - Matt Brocklesby, Project Management - Tom Powell, Writer
The Economist - Mark Beard, SVP, Global Acquisition - Tom McCave, Director, Global Audience Prospecting & CEMEA Circulation - Ryan Gillett, Marketing Manager - Global Audience Development - Rocio Serrano Martinez, Marketing Manager - Jocelyn Soares, Digital Marketing - Audience Development - Eleni Barr, Marketing Executive - Global Audience Development - Diane Curtaz, Marketing Manager - Global Audience Conversion
Hear more from the DMA