2018 Gold Best use of the moving image or audio
12 Dec 2018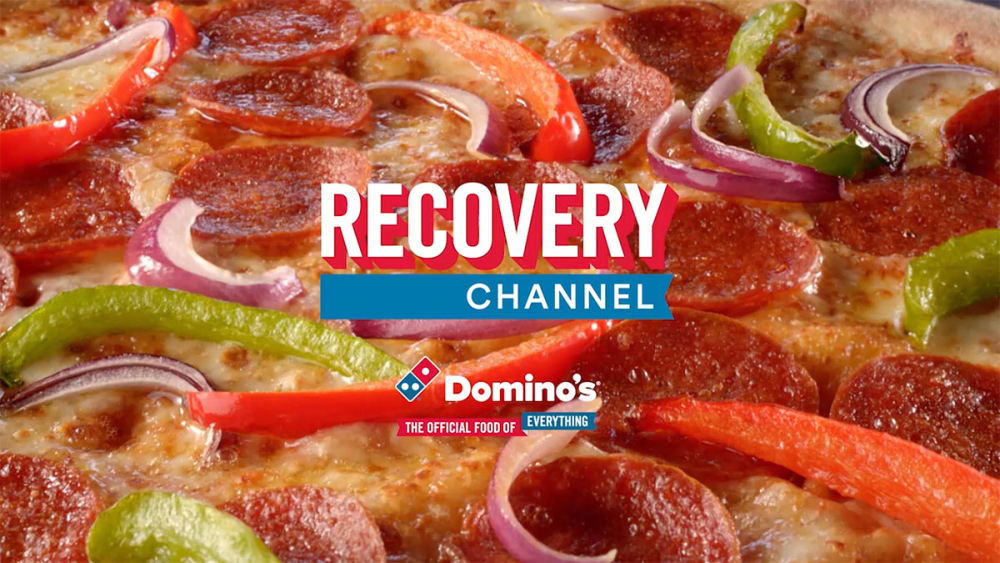 Agency: VCCPme
Client: Domino's Pizza
Campaign name: Domino's New Years Day recovery channel
Campaign overview
Recovery mode - pizza-style - on New Year's Day
The brief
New Year's Day is the most important day for takeaways.
And for Domino's Pizza, grabbing on to this momentum would be absolutely key.
Strategy
The campaign sought to win the hearts and minds of a hungover audience – on a day where all takeaway brands scream: 'Buy it now'.
New Year's Day is the biggest salesdriving day for Domino's Pizza, with the brand expecting to make 350,000 pizzas – eight pizzas a second.
But it's a tricky time to gain cut-through because people are blurry-eyed, and their attention is pulled all over.
Maintaining momentum during such a business-critical period would require clever marketing.
Instead of the same old advertising and the same old clichés, VCCPme and Domino's Pizza launched a pop-up 24-hour TV channel full of content people would truly want in their time of need.
Creativity
The Recovery Channel was a 24-hour takeover of Sky channel 539.
A one-stop-shop for the most soothing, relaxing content imaginable – no brainpower required.
Each programme was designed to help people recover: sleepy puppies, a crackling fireplace, a babbling stream, some cute sloths, and relaxing aquariums.
It was integrated across YouTube, Instagram, TV (Virgin, Freesat), bolstered and amplified on Spotify, Facebook, Twitter, cajoled along by influencers, promoted via e-mail, pushed, featured paid search, an app was developed, and the channel featured heavily in on-site promotion.
People could tune in whatever way was easiest for them: TV, laptop, or on their phones.
Results
Rather than the budget-busting spend of a one-off media buy, VCCPme and Domino's Pizza took over an entire channel for the same cost as a single, 30-second spot on New Year's Day.
The campaign bought just over nine million impressions – split across Facebook, Instagram Stories, Twitter, Spotify ads, and influencers.
As soon as people started talking, the total impressions shot towards 100million, with 85million impressions direct from social buzz and chatter.
The rest came from press coverage, both on-site and on social.
Those impressions soon turned into action; website traffic quadrupled to 387.4% and app opens to 110% against the daily average.
That action also got the tills ringing, with the campaign driving a 19.3% YoY increase in online sales.
And crucially, the work helped many of the hungover masses through a particularly tough day.
Campaign video
Team
VCCP - Gavin Mackie, Planning - Jake Fisk, Creative and Design - Danny Latham-Symes, Creative and Design - Sophie Clark, Creative and Design - Michael Quinn, Creative and Design - Matt Lever, Creative and Design - Ali Augur, Creative and Design - Kirk Mechen, Production and Post Production - Rebecca Freeman, Production and Post Production - Dan Tagoe, Production and Post Production - Emily Vizard, Production and Post Production - Bianca Eglinton, Editorial -Laura di Simone, Editorial - Gethin James, Planning - Jemma James, Planning - Elisa Barnard, PR - Alex Dalman, Account Management - Jess Aspinall, Account Management - Laura Betts, Account Management - Pete Grenfell, Account Management - Sophie Maunder, Account Management - Julian Douglas, Account Management - Charles Vallance, Account Management
Domino's - Ben Brassett, Digital Brand Manager
Hear more from the DMA