2018 Gold Best customer journey
12 Dec 2018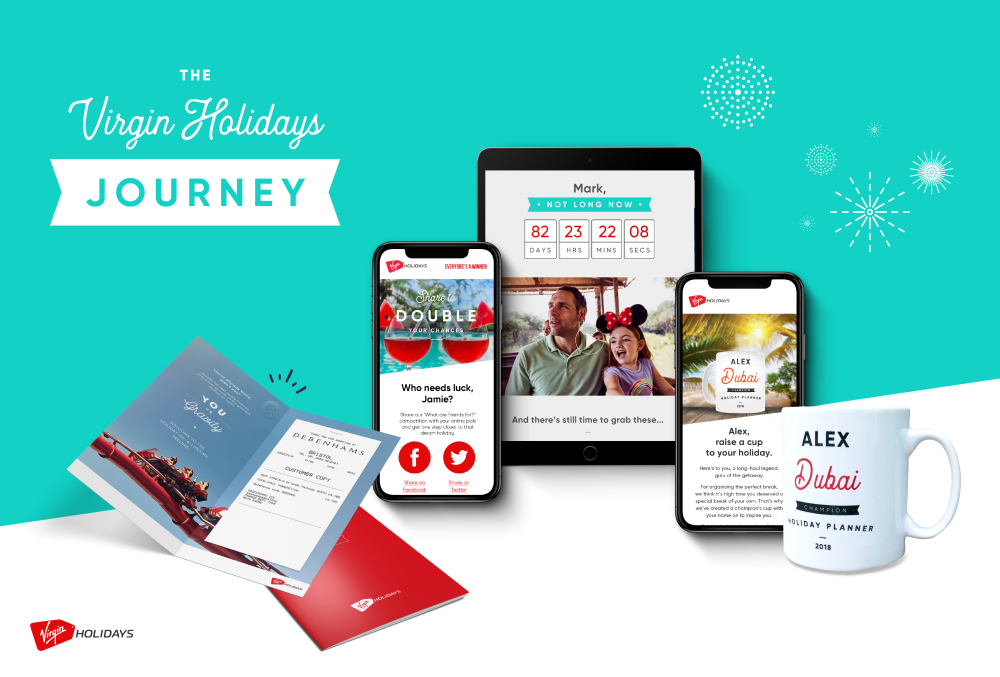 Agency: Proximity London
Client: Virgin Holidays
Campaign name: Virgin Holidays Customer Journey
Campaign overview
Less head, more heart
The brief
Virgin Holidays were growing in size but stagnant in profit.
A brand famous for its obsession with its customers was competing on prices and forgetting about creating great customer sales experiences.
To grow again it was time to turn things around.
Strategy
Virgin Holidays had a big problem.
Despite £600 million in revenue they were only making a £3 million profit.
They were competing on offers with much bigger travel groups such as Tui and Thomas Cook.
The strategy aim shifted from focus on the head, to focus on the heart.
Across a three-year booking cycle, the work analysed thousands of touchpoints, across countless trading channels, with a huge variance in buying intent, and discovered three key mood states to target.
1. The dreaming state: Holiday research; seeking that holiday high.
2. The anticipation state: Pre-travel anxiety and excitement; managing the holiday high.
3. The reminiscing state: The returning home holiday blues; keeping the holiday high.
The strategy called for mood-enhancing comms to be delivered across the three attitude states, and at 43 different touchpoints.
Creativity
The mood-focused comms contained three key ingredients; craft, code and timing.
Dreaming: Virgin Holidays ensured that researching and booking a holiday was never a chore by gamifying interactions and utilising variable rewards.
Anticipation: To manage the holiday high, the 'Ready to Travel Programme' was born.
Powered by sharable booking celebrations and holiday countdowns with personalised
itineraries, even dry payment schedules became roller-coasters, and airport stress was relieved with a perfectly-timed stepby-step airport guide.
Reminiscing: To keep the holiday high going, users received highly personalised
ideas across a 60-day potential rebooking period.
'Miss-you-already' postcards were waiting on people's doorsteps when they returned,
and the holiday planner received a personalised mug.
An email campaign implemented individual send times and behavioural triggers, and
Phrasee harnessed AI to create optimised subject lines and boost open rates.
Results
Changing the mindset to serve customers' emotional needs not only hugely enhanced the customer experience but also Virgin Holidays' profits.
They experienced a huge 58% email revenue increase, equating to 14.5million, and engagement rates shot up by an astounding 92%.
Pre-departure customer survey scores were up 25%, to a high of 8.7/10, while customer self-serve jumped up 7%, saving a massive 58,800 minutes of call centre time. Upsell also increased 11%, totalling £3.3million in revenue.
The campaign directly contributed to a 10% increase in loyalty in 2018.
Meanwhile revenue from CRM soared up 84%, and overall R.O.I. hit £39.6:1.
It all came together to produce a year of the cross-channel programming that quadrupled Virgin Holidays' profit from £3million to £14.5 million.
Campaign video
Team
Proximity London - Alexandra Dyer, Senior Account Director - Hannah Watters, Senior Planner - Sarah Blackman, Strategy Lead - Jodie Armstrong-Downes, Strategy Director - Paul Dellow, User Experience Lead - Neil Williamson, Art Director - Proximity London, Alex Buchanan-Dunlop, Creative Copywriter - John Treacy, Executive Creative Director - Elsie Hoskin, Design - Reechana Taylor, Account Manager - Simon Warren, Data Planner
Virgin Holidays - Liam Savage, Marketing Executive - Charlotte Pink, Marketing Executive - Saul Lopes, Head of CRM and Loyalty
Contributors
Movable Ink
Hear more from the DMA