2017 Silver Best use of mail
04 Dec 2017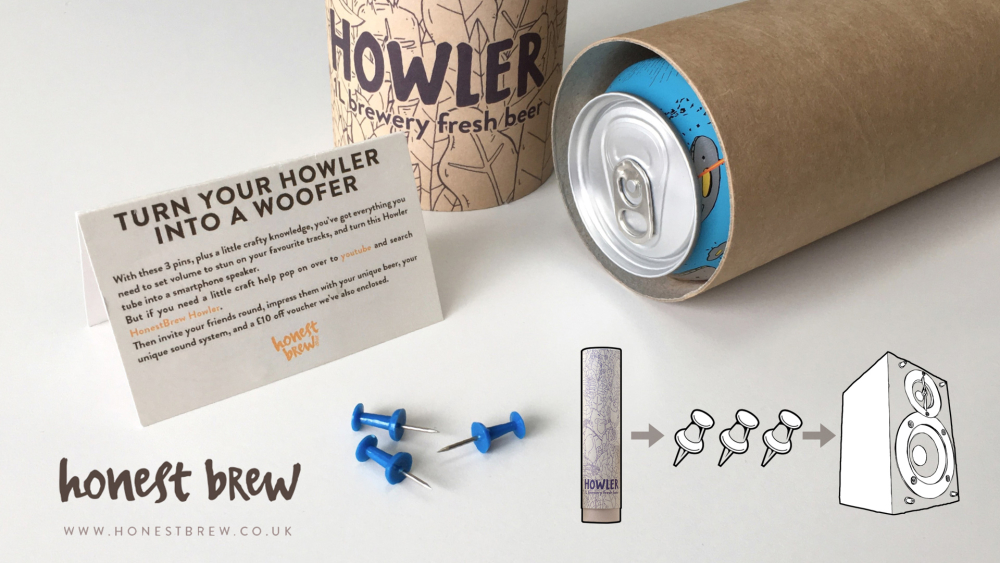 OLIVER
Client: Honest Brew
The 'Howler Woofer Challenge'
Campaign overview
Honest Brew deliver craft beers from around the world in a tube they call 'The Howler'.
With this in mind, they needed to recruit new customers in a crafty new way, that didn't cost the earth.
Strategy
Honest Brew's reputation and success in attracting new subscribers is built on recommendations and word of mouth.
So OLIVER focused on using existing members to introduce the brand to their mates. This also helped the team overcome their small marketing budget, which didn't allow for traditional advertising or mass marketing.
The strategy was to set existing customers a crafty challenge. Something they could puzzle over with a mate - over a beer - as a way of introducing them to the Honest Brew brand.
Creating a challenge allowed OLIVER to put across the brand's tone of voice, the playful start up entrepreneurial spirit, and the craft aspect of Honest Brew all for very little cost.
Creativity
The 'Howler' is a clever use of a standard postal tube, which Honest Brew have decorated and modified to send out three craft beer cans in.
The team built on this insight by creating an alternative use for them with their 'Turn your Howler into a Woofer' concept.
Sending out three pins as a piece of Direct Mail grabbed people's attention, and the challenge made it intriguing. While the whole experience was made even richer by the short film that gave those stumped by the challenge, the crafty answer.
To top it off, they included a welcome voucher to give to a friend, so they could try the beer delivery service themselves.
The charm of the idea was very much in its tone of voice and homemade 'honest' feel. OLIVER even decided to use the founders of the brand, in the 'how to' film.
Results
Honest Brew achieved a 23% redemption rate on the welcome vouchers they sent out with each pack of pins, against a target of 5%.
New customer sign up increased 17% in the three months the campaign mailed.
Team
Brian Cooper (Chief Creative Officer) OLIVER - Magnus Thorne (Creative Director / Writer) OLIVER - Paul Turner (Creative Director / Art Director) OLIVER - Ian Gathard (Director / Producer) OLIVER Terry Baker (Editor) OLIVER - Anthony McGRegor-Clarke (Producer / DOP) OLIVER
Contributors
Dr Lewis Thorne Best Boy
Hear more from the DMA