2017 Silver Best use of email
04 Dec 2017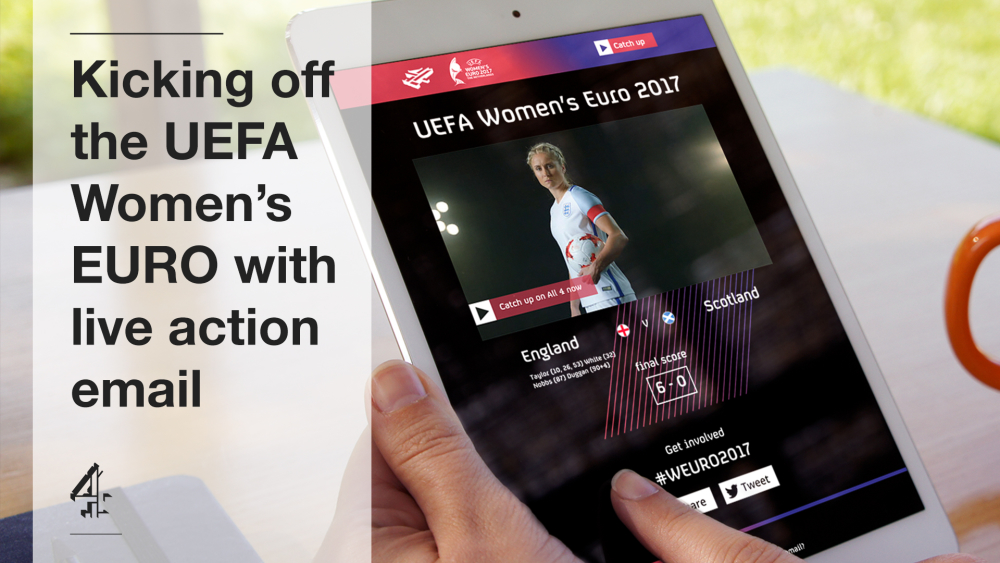 CACI
Client:Channel 4
Kicking off the UEFA Women's EUROs
Campaign overview
Channel 4 wanted to promote the England vs Scotland game as the national highlight of the UEFA Women's Championship.
The objective was to create a timely email, to drive more views for the live TV broadcast and on All 4.
Strategy
The aim was to only send the email to those who were most likely engage with it. By querying tracking logs in Adobe Campaign, CACI selected all subscribers who had engaged with email in the previous three months.
This audience selection was supplemented with those who had viewed two of Channel 4's other biggest sporting events, the Paralympics and Formula 1, to target fans of other sports.
Timing was crucial, and this approach also ensured that the overall volume of recipients remained high, but excluded a large proportion of the base who were unengaged with email. This allowed CACI to send the campaign less than three hours before kick-off.
Finally, with the insight that the majority of openers are on iOS devices, the team decided to build a bespoke email using two pioneering HTML techniques, to provide subscribers with the best possible email experience.
Creativity
The bespoke email created by the team included a 'faux-video', which takes still frames and uses CSS animation to bring the images to life.
CACI were also able to overlay the CTA on this innovative prototype, a tactic that cannot be achieved with gifs or standard video.
Pre-game, there was a PHP kick-off countdown timer with all CTAs labelled 'watch from 7pm'.
At kick off, the timer changed to an image CTA, directing recipients to watch on All 4. Information about goal scorers, goal time and match score were all manually updated using externally hosted CSS style sheets. These changes were real-time, so when the recipient clicked back into the email, the score was accurate.

CACI also included social media tags to share the email to create further engagement, including the already-trending #WEUROS, to catch the eye of those active on social networks.
Results
There was an 81% conversion rate on those clicking through from the email to view the match, and a 35% uplift on control.
Compared to the standard email, the bespoke email triggered a 4% uplift in opens per recipient in the pre-game time frame. As the standard email did not contain the countdown timer, CACI believe it had a positive effect on engagement building tension pre-match and encouraging re-opens. The faux-video generated 18% of all clicks in the email and was the leading CTA.
Changing the catch-up CTA also had a positive impact on recipient behaviour, with a 10% uplift in clicks per recipient compared to the standard email.
Team
Andrea Tocchini (Viewer Engagement Executive) C4 - Charlie Palmer (Managing Editor- All 4) C4 - Richard Lomas (Senior Analyst Consumer Insight) C4 - Nick Glover (Campaign executive) CACI - Kristian Robinson (Senior Email Developer) CACI - Hannah Mills (CRM project manager) CACI - Steph Jones (Senior Digital Designer) CACI - Matt Slaymaker (Lead Email Developer) CACI - Fraser Rallison (Campaign Executive) CACI - William Deamer (Campaign Executive) CACI - Stephen Derbyshire (Director, Customer Engagement & Campaigning) CACI
Hear more from the DMA