2017 Bronze Retail
04 Dec 2017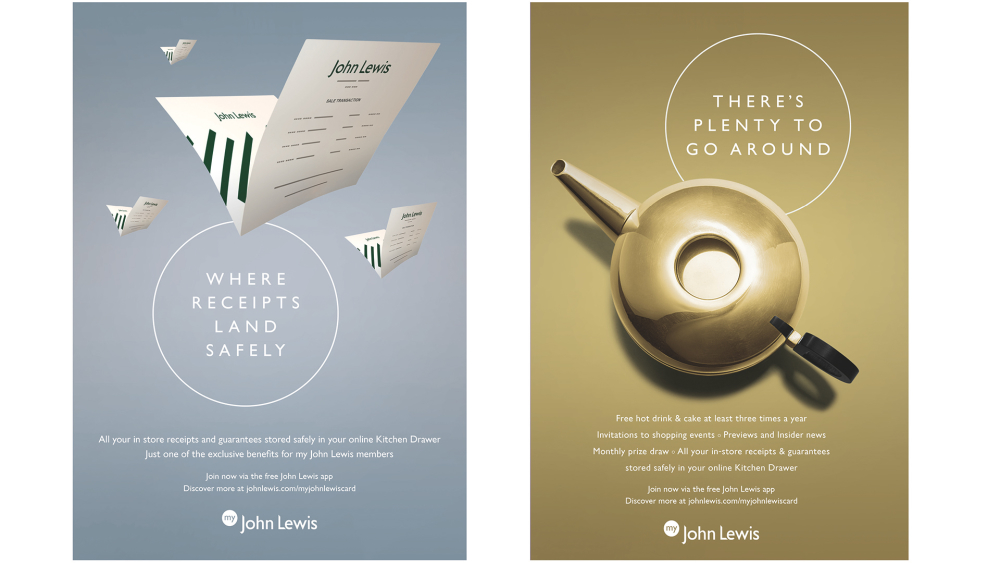 Proximity London
Client: John Lewis
my John Lewis
Campaign overview
John Lewis' loyalty scheme needed to move to the next level.
The brief was to deliver a truly personalised, customer focused rewards programme, bringing customers closer to the brand.
Strategy
Four years ago, John Lewis launched my John Lewis with great success, thanks to the wide appeal of free tea and cake, as well as surprise and delight rewards, exclusive in-store events, followed by the useful online 'Kitchen Drawer' that stores receipts and makes shopping easier.
The vision was always to ensure members were receiving treats and inspiration tailored to them.
So Proximity London evolved the programme to encompass increasingly personalised inspiration and meaningful incentives.
The more data the programme accrued, the more predictive models were used to decide which messages and treats are served, with each model now based on 1,200 variables.
From regular rewards mailings, new label launches, exclusive Christmas advert previews, early clearance access and local John Lewis store events, members would receive a personal journey, based on their previous and predicted shopping behaviour.
Creativity
Proximity London took an inspiring new creative approach for the programme communications, which would deliver members a more personal and intimate view of the brand. A view the non-members don't get to see.
The team overhauled the design of the regular touchpoints, from rich and tactile event invitations to beautifully crafted quarterly rewards packs.

Inspiration for the new product photography came from the world of high end editorial. The shots were cropped, so that members were tempted in with just a detail, and the pages of the packs were filled with carefully curated inspiration, as well as featuring the eagerly anticipated rewards, making it more of a mini bespoke magazine.
The members-only publication 'Insider news' was migrated online making it more immediate and accessible, and the content evolved from an enhanced product catalogue, to tying in more closely to the seasonal marketing campaigns in store.
Results
Succeeding in getting closer to members and bringing them closer to John Lewis, the team's enriched communications programme has increased incremental sales by 15% in the last financial year, delivering significant revenue growth.
The loyalty email communications achieve 40%+ open rates - double the industry average.
Team
Brian Eagle (Head of Design) Proximity London - Lionel Cull (Senior Designer) Proximity London - Rachel Seymour (Designer) Proximity London - John Treacy (Executive Creative Director) Proximity London - Andy Todd (Creative Partner) Proximity London - John Vinton (Creative Partner) Proximity London - Gemma Champ (Content Editor) Proximity London - Rebecca Fernando (Senior Account Manager) Proximity London - Chloe McMahon (Senior Planner) Proximity London - Meghan Thompson (Senior Data Planner) Proximity London
Contributors

adam&eveDDB
John Lewis
Christmas VR Animation
Hear more from the DMA