2017 Bronze Best use of email
04 Dec 2017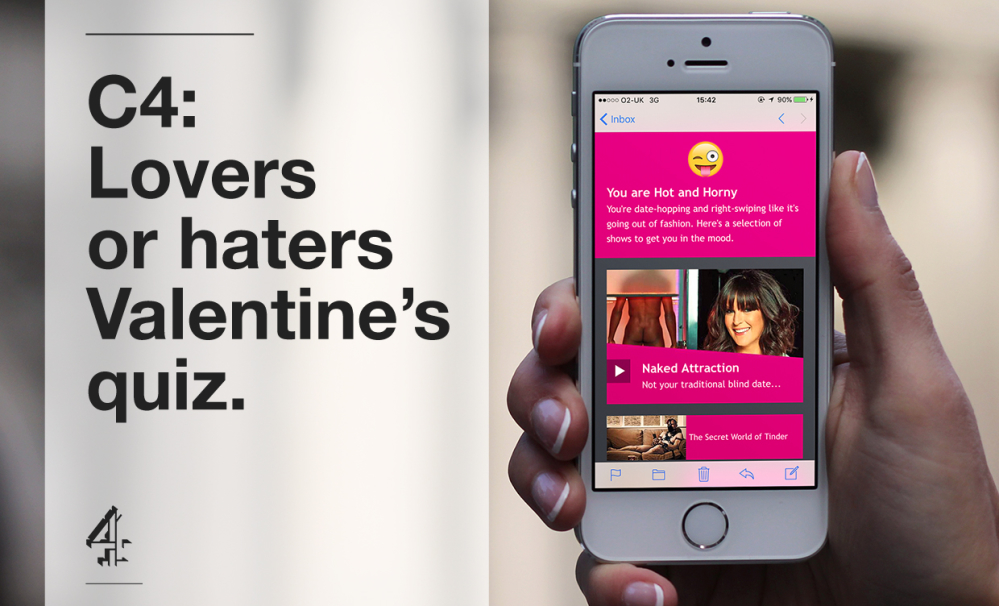 CACI
Client: Channel 4
Lovers and Haters Valentine's Quiz
Campaign overview
Channel 4 is a playful brand – and Valentine's Day is the perfect day for fun and games.
Driven by email featuring their best content, they created a contemporary, interactive quiz to increase viewer engagement and prompt views on All 4.
Strategy
Valentine's Day marketing is oversaturated so Channel 4 and CACI took a different, gamified approach with an interactive quiz, housed in an email.
The quiz encouraged recipients to engage more than a standard email newsletter would, and allowed Channel 4 to showcase a wider array of All 4's content.
It also gave recipients control to decide what they would like to watch, via quiz choices.
The email included a range of shows, and each show had high fan segmentation across all of Channel 4's taste segments.
The content would appeal to as much of the opt-in base as possible, and the power to choose was ultimately in the hand (or click) of the recipient.
The target base also included recipients who had not been active in the last 12 months, so the email acted to remind them of the vast library of content on offer.
Creativity
There is a lot of digital noise around Valentine's Day.
And a lot of the focus is on the romantics amongst us.
To help achieve cut-through, Channel 4 settled on a gamified email featuring just three questions written to appeal to Valentine's lovers and haters, with the aim of showcasing All 4 content.
Using bold, witty copywriting – complemented with emojis – the quiz was also presented clearly, minimising audience drop-off.
Although 86% of Channel 4 subscribers open email on mobile, a fall-back version of the quiz was created to ensure a good experience for all users.
Results
A total of 13,112 recipients who received the email went on to view a show on All 4 in the following 36-hour period.
The quiz format enabled Channel 4 and CACI to offer a broader range of content than a standard email, and in turn allowed larger audience capture.
And targeting a wide range of recipients to allow users control over their own content choices proved a successful strategy in engaging more viewers.
Compared to the control, there was a 17% uplift in viewers as result of this email, translating into an incremental volume of 1,910.
By combining bold and on-brand copy, a fun interactive design and a great experience for all openers on a range of devices, Channel 4 hit their target of increasing programme views on the All 4 site.
Team
Andrea Tocchini (Viewer Engagement Executive) C4 - Louise Baker (Viewer Engagement Executive) C4 - Charlie Palmer (Managing Editor - All 4) C4 - Natasha Bedford (Senior CRM Manager) C4 - Nick Glover (Campaign Executive) CACI - Steven Wicks (Project Manager) CACI - Steph Jones (Senior Digital Designer) CACI - Matt Slaymaker (Lead Email Developer) CACI - William Deamer (Campaign Executive) CACI - Mariana Lima (CRM Operations Manager) CACI - Hannah Mills (CRM Project Manager) CACI
Contributors
Hear more from the DMA