2016 Bronze Healthcare
06 Dec 2016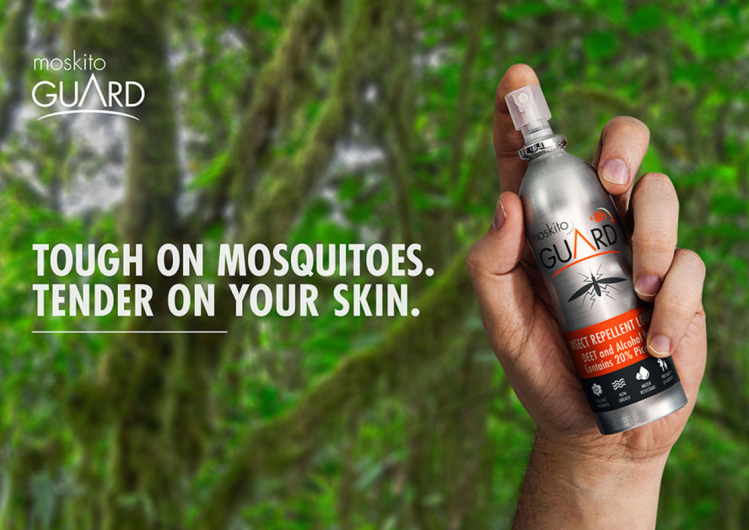 Agency Torpedo
Client Moskito Guard®
Campaign summary Finally, mosquito repellent that doesn't stink
Campaign overview
To complement their travel vaccine portfolio, Valneva acquired the UK distribution rights for Moskito Guard® - a DEET-free insect repellent as effective as DEET-based alternatives.
With no previous UK brand presence for the product, Valneva required a multi-channel campaign to create awareness and relevance in a challenging marketplace.
Strategy
DEET is a highly-effective repellent, but has a number of negative factors.
For example, it's unsuitable for pregnant women or small children, requires reapplication after swimming, has a strong odour and different strengths are needed for different locations.
Many people focus on product efficacy or brand name when buying repellents, ignoring the benefits in alternatives. This could have an impact on a consumers' holiday or lifestyle, but also puts them at risk of being bitten by a mosquito.
The resulting strategy aimed to generate awareness of vector-borne disease risk among all audiences, while reinforcing how Moskito Guard® can address consumers' broader desires.
This was achieved through a multi-channel campaign that targeted all relevant audiences through direct, digital, social and sales channels.
Creativity
Tough on mosquitoes. Tender on skin.
The work showed that the product is highly effective, with the active ingredient (20% Picaridin) demonstrating excellent repellent properties comparable, and often superior to, those of standard DEET.
It also contrasted the negative customer experience with DEET-based products with the core benefits of Moskito Guard®.
The product's intrinsic benefits, such as offering eight hours of protection, moisturising, water-resistantance and suitability for use by pregnant women - make it appealing for consumers.
An iconographic approach allowed for flexibility across various formats without compromising on consistency of message or appearance. The creative elements were built around the scientific evidence behind Moskito Guard® - and the fact it was distributed by a pharmaceutical company - which allowed Valneva to bring rigour and validity to the campaign.
Results
In the three months since campaign launch, Moskito Guard® received more than 3.8 million consumer and trade media impressions, including coverage in HELLO!, Daily Mail, Pharmacy Magazine and Training Matters.
Secured retailers increased to 22, with more than 500 nationwide outlets. Sales to retailers have increased by 2,458% and overall sales increased by 2,838%.
The campaign resulted in a period of growth in new markets, with trial product placements taking place in sectors such as Health and Beauty.
Team
Caroline Hole (Senior Account Manager) • Mark Haydon (Account Director) • Rich Porter (Senior Designer) • Garreth Bayliss (Designer) • Pete Cockram (UX Designer) • Richard Blagden (3D Designer) • Katie Nelson (Senior Web Developer) • Blue Hall (Motion Director) • Paul Tapping (Creative Director) • Clive Calmeyer (Technical Director) • Tracey Lord (Head of Client Services) • Joe Moore (Head of Creative) • Andrew Sin- clair-Pearson (Head of Digital)
Hear more from the DMA