The Hub is changing
21 Jun 2022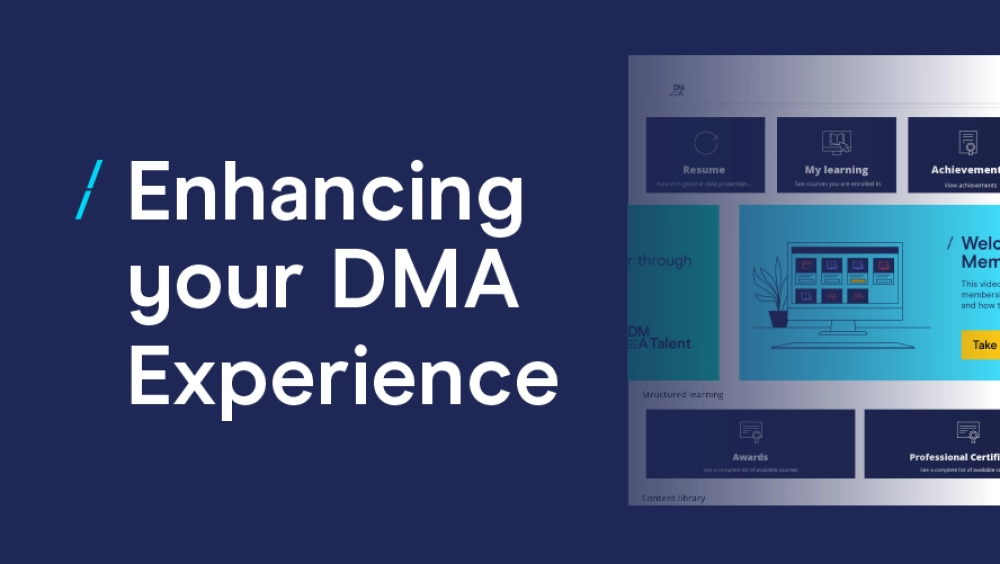 We reached out to DMA Members to gather opinions and insights on how we could make your online Hub a better environment for you to access, browse and benefit from.
Our plan to meet these requirements is now active, and over the next few weeks you'll begin to see the changes implemented.
Here's what we're going to do:
Your DMA Membership content in one place
The key change is moving all our Members to the Hub.
Many of you find it easier to navigate than the website, so we'll manage all of your Membership content onto the Hub; putting it all in one place.
You'll be able to find everything you need – learning and training, guidance and insight, news and view – via the Hub in a collected, ordered fashion.
Altogether a more rewarding browsing and Hub experience.
Access the membership hub here.
Smoother and smarter navigation
What does that mean for you?
A more user-friendly, common-sense content ecosystem that shows the subject areas that matter most to marketing practitioners.
In this new environment you can get to what you want more easily than in the previous iteration of the Hub.
Take a look at the category layout below:
Email marketing
Lessons, reports, best practice guides, webinars, all the latest insights, techniques, customer and practitioner-related takes on all things email to help you get the most out of this channel.
Social media
Practitioner-led insights and best practices, alongside best-in-class learning and training with guidance on engaging your customers to help you produce effective work across the whole gamut of tools and platforms available to marketers.
Everything you need to get instant results from delving deeper into the versatile and fast-evolving world of social media.
Digital and mobile marketing
Freshen up your skillsets with learning and training material that cover key online marketing practices, including mobile marketing, digital advertising and website strategy.
Offline marketing
Bring a new edge to how you communicate with your customers offline with applicable learning and training options such as the short study IDM Award in Direct Mail, and deeper learning options across IDM Diplomas.
Add to what you learn with real-world insights from lessons from across the Diploma environments - best practice guides that go into must-knows and how-to-dos to help you maximise impact across print, TV, radio, OOH and press.
Marketing and planning
Multichannel best practice to help your pinpoint your planning.
You'll find a Hub replete with the latest practitioner-led reports and research, marketing training materials that help supercharge your understanding of situation analysis, competitor analysis, objective setting, campaign briefing and the use of personas.
Marketing strategy
Sharpen your strategic thinking.
Use your Hub access to learn more about behavioural economics, audience segmentation, communications strategy, customer journeys.
There's content and learning focused on multichannel customer engagement; get new perspectives on CRM strategies; acquire skils to help you develop propositions and add more relevance to your persona profiles.
And as a DMA Member use your Hub access to get into the detail of and learn from the best with a world of DMA Award-winning case studies, including our Grand prix champions.
Marketing management
Can you become a more effective marketing manager?
Use the new-look Hub to study change management opportunities. Discover how to maximise your relationships with agencies and suppliers – and get the tools you need to manage your budgets more effectively, and boost your campaign performances.
Data and analysis
Learn from what you do - and get more out of your marketing outputs.
Tap into the latest expert-led techniques and approaches to data analysis, AI, using data in marketing campaigns, and access training opportunities across the DMA's Value of Data landscape, a campaign to reimagine the value of information for businesses and customers.
So that's learning, best practice, case-study content on themes such as marketing audits, advanced targeting, marketing measurement and much more besides.
Content and creative
Value your craft, boost your creative and enhance your content through the Hub.
A singular destination where we place learning and training related to the creative crafts (copywriting, design, art direction) – alongside snippet-sized insights and deep-dive report content that feature the expert-led opinions, attitudes and craft experience of our Great British Creativity Committee, and handpicked contributors.
Contact centre
Everything and all related to the activities of our Content Centre Council.
Learning and training, best practice, research and insight
Responsible marketing
Use your Hub access to benefit from the latest insights, guidance, learning and training related to the themes of responsible marketing.
Learn about people-first marketing, and understand our influence of and changes to the legislative environment we all work in. You'll find here regularly updated expert-advice on the GDPR, PECR, ICO, consent, cookies and making other evolving challenges you need to be aware of and able to adapt to.
Ethics and inclusion
Put people first, with confidence and assurance that you're doing things the right way.
Use your Hub access for insight and guidance around people-first policies and learn about recruitment and retention opportunities such as DMA Talent apprenticeship and new talent pathways, the latest on DEI, help for you and your teams to communicate effetctively and fairly with vulnerable consumers, and the latest communication strategies around the themes of sustainability. 
 Rate our content
All of our content will be up for voting.
Give us a score out of five for all of our learning content, reports webinars or case studies, and tell us what you liked (or didn't like).
We'll respond quickly to develop more of what you do like, and further improve what we have.
Keep learning, keep developing
Each piece of content you consume counts towards your professional development and your CPD points.
Your Hub will calculate the value of your learning in points, and at the end of the year you can apply for your professional development certificate.
And you'll be able to see your points build up in your My Learning section.
CPD development runs January to January and we will send DMA Members more details soon.
Hear more from the DMA