The DMA's 2021 Annual General Meeting
25 Oct 2021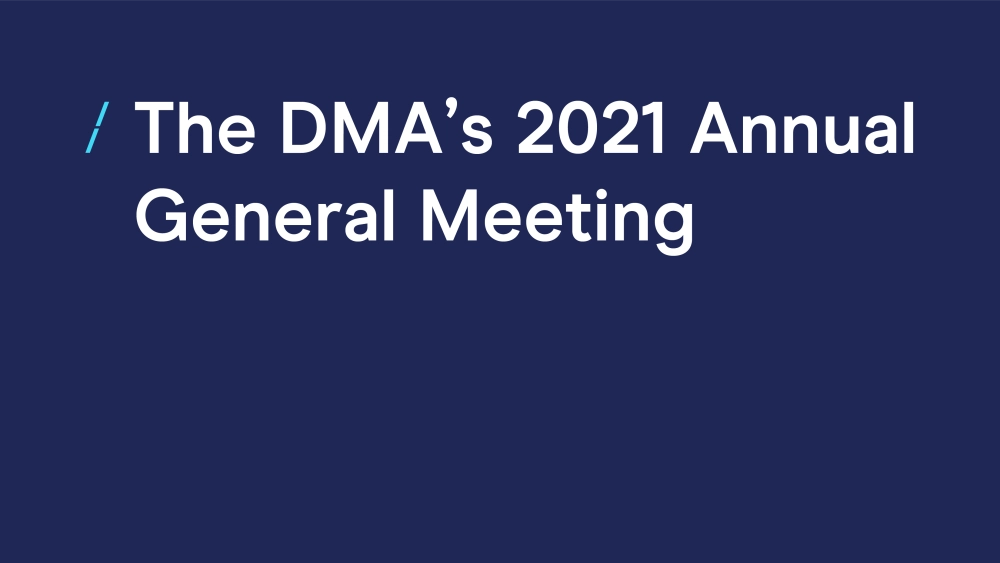 Company No. 02667995
DATA AND MARKETING ASSOCIATION LIMITED
(the "Company")
NOTICE
NOTICE is hereby given that the ANNUAL GENERAL MEETING of the Members of the Company will be held on Wednesday the 17 November 2021 at 9.45am via Zoom. Please find the link, here.
For the purpose of transacting the following ordinary business of the Company:
Resolution 1 (Ordinary)
That Barnes Roffe LLP be re-appointed as Auditors of the Company and that the Board be authorised to fix their remuneration.
By order of the Board:
DATA AND MARKETING ASSOCIATION LIMITED
Stephen Maher
Director
REGISTERED OFFICE
DMA House
70 Margaret Street
London
W1W 8SS
Dated 25 October 2021
Notes:
A Member entitled to attend and vote can join the AGM in person or send a proxy for someone else to vote on their behalf. A proxy does not need to be a member of the Company but must attend the meeting to represent a member who is entitled to attend and vote in the AGM.
Download your copy of the proxy form, here.
Hear more from the DMA