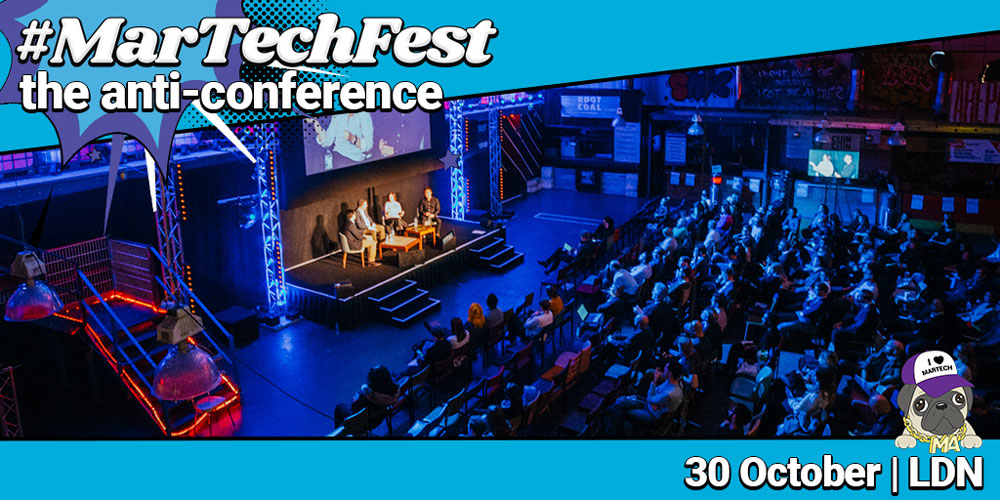 #MarTechFest - the anti-conference returns to London this October for one action-packed day of marketing technology.
Catch our very own Tim Bond, Head of Research and Insight as he takes the stage to discuss data and marketing in his session 'We Are not Normal - What You Need to Know About the Future of Customer Engagement'
Tim joins an impressive line-up of speakers from the likes of Vice, Twitter, Vodafone, Bauer and plenty more for a full-stack agenda.
Back for its third year, #MarTechFest promises a relaxed day of inspiring and informed sessions at one of London's quirkiest venues, there'll be beats all day, bars open from midday, tasty street food and an environment that endeavours to make marketing technology simple.
You'll join attendees from companies such as Swarovski, Waitrose, Mondelez, Argos, Sky Gaming & Betting, lastminute.com, Financial Times and loads more and take away the knowledge you need to:
Develop an integrated martech plan and road map wrapped around your business goals and customers. Build a plan that goes beyond platforms.
Identify the talent & skills required to power their plans
Build a complete marketing stack
Implement agile marketing methodologies & more
To read a blog form those at the Martech Alliance on getting and staying in control of your martech, click here.
Book your tickets, here – and use our code MTFDMA241 for access to exclusive discounts.
Hear more from the DMA