DMA Breakthrough Award Winner 2018
06 Dec 2018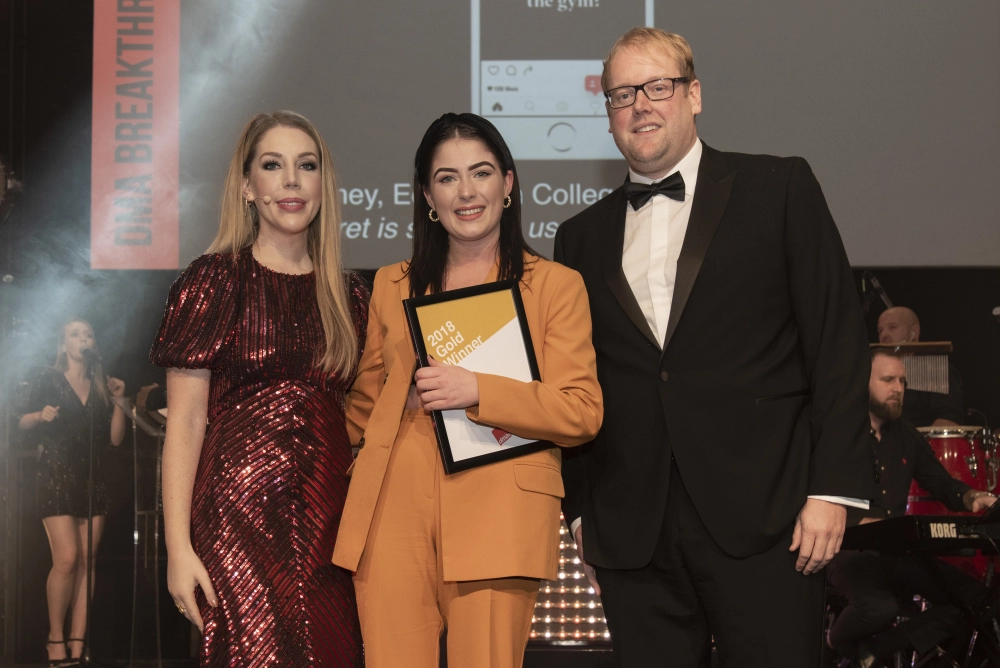 Every year, students battle it out for the chance to impress some of the biggest names in marketing by working on a creative brief for a real client.
Edinburgh College secured their first hat-trick at finalist stages with all 3 places filled by their students. They travelled down to London to pitch their ideas to a panel of GRT associates and, Head of Campaign Strategy and Planning and Head of Direct Line Marketing from Direct Line Group. After that, they put their glad rags on and headed for Old Billingsgate to find out where they'd placed.
The lights went down and Katherine Ryan took to the stage. It was time.
*Drum roll*
Gold place: Joy Mooney with her campaign 'Your secret is safe with us'
Joint Silver place: Natasha Ryan with 'Buddy the Black Box' and Blanca Jimenez with 'Two Audiences'. This was the first time a joint silver place has been awarded due to the exceptional standard of both entries!
Direct Line Group head of campaign strategy and planning Iain Agnew said that Mooney's 'Your secret is safe with us' pitch put the consumer first, while successfully managing to integrate her own vision.
He added: "We were incredibly impressed with how she kept everything in line with our tone of voice, so much so that we would even consider using elements of her work on other marketing campaigns. Her vision could even be applicable to a wider demographic."
Graham Robertson Trust joint chair Stephen Chandler added: "It was a magical, mature campaign that the judging panel all felt could win a professional industry award – this is how highly we value her work. We took a range of things into account, including: how well students communicated their campaign, their fulfilment of the brief and the creativity and quality of ideas. Joy ticked all those boxes and her approach was something we had not seen before, redefining the category in terms of exploring new creative territory."
The Breakthrough Award will return soon for 2019. If you're interested in sponsoring next year's award to explore ideas for a new campaign or are on the hunt for fresh talent, please get in touch.
Hear more from the DMA