Apple's iOS 14.5+ Protection of User Data and What It Means For Advertisers
15 Jul 2021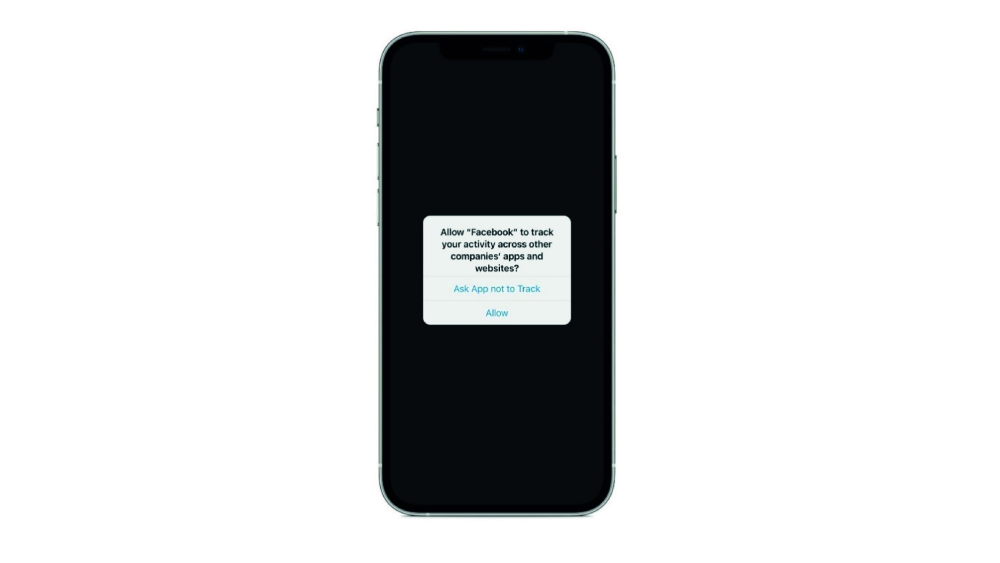 Apple's introduction of App Tracking Transparency (ATT) as part of their iOS 14.5 release in late April allowed users, on iPhone and iPad devices, to decide for themselves if they want to allow certain apps the rights to their user data; effectively limiting what is often referred to as IDFA (Identifier For Advertisers). ATT works by asking users (via a prompt) if they would like to allow an app to track their activity.
What Are The Impacts of iOS 14.5?
According to Tinuiti: currently, about 70% of iOS users share their IDFA with app publishers, after this change it's estimated that this number will drop to 10% to 15%. This will mean apps, such as Facebook, are going to lose the ability to identify and track audiences properly.
Prior to iOS 14.5 release, apps and 3rd parties had the ability to use an iPhone's IDFA and hold vast amounts of data on a user for the purposes of marketing to that user. For example, it would know if you were in the market for a new TV and target you specifically with TV products from different brands across the web and in apps.
For users this means less targeted ads, it will not mean less ads though as that ad space will still have inventory to sell to advertisers. But the user can take control of how their data is collected and used.
For advertisers iOS 14.5+ generates a lot of problems and questions; advertisers can no longer target effectively using audience lists (including remarketing lists) if they do not change how they do so, it becomes harder to determine which channel (or app or media partner) was responsible for driving the conversion and lastly the reporting of performance metrics will drop – meaning that advertisers will struggle to prove that their marketing activity is working as efficiently, but there are solutions to these problems.
Some media partners, such as Google, will probably feel the pinch of this privacy policy change by Apple a bit less due to their access to a lot of 1st party data – mainly via Google Analytics. Facebook is the biggest loser in all of this as it has relied on being able to use it's 3rd party trackers to determine success of Facebook marketing success for advertisers, and although it has a lot of 1st party data of its own, blockers to its trackers will mean conversion data will be hindered.
Can Advertisers Do Anything About These Changes?
There are things advertisers can do, although these solutions might not be as 'fulfilling' as what advertisers worked with originally (prior to iOS14.5). These solutions can either be offered by the media partner or by independent tech.
For example for App related marketing, Apple have introduced their own limited reporting of 'advertisement-driven app installations' called 'SkAdNetwork'. This will pass through limited data such as the source for the app-install but some argue it's Apple being allowed to mark its own homework. Independent tech from AppsFlyer and others however have also introduced probabilistic attribution products looking at the likelihood a conversion has been driven by a specific source.
Outside of the purely app based, many media partners are now moving towards probabilistic attribution too. Facebook have begun their Aggregated Events Measurement, which requires a validation of your URL and set up to eight events to track. Again the issue is the media partner is in the position to mark its own homework. However tech from independent companies such as Flashtalking too provide probabilistic attribution.
Attribution has been an important talking point for advertisers for a while now, but it is becoming an immediate need of attention, especially for those still focused on a last-click solution. The introduction of Apple's ATT and the adoption of a cookieless solution across web browsers, the tracking of audiences and conversions from a last-click perspective is quickly becoming obsolete.
Facebook and other tracking solution partners have recommended that click-conversions be reduced to a maximum of 7-days, with some even suggesting that 1-day click-conversion be recommended, further highlighting the need that some element of attribution will be needed to correlate advertising investment against online conversions.
The future is on the use of probabilistic and other attribution methods as well as 1st party data, such as a CRM database, which can help attribute value and insights.
Apple's Gameplan
Apple may be promoting its latest feature as being for the end-user's privacy but some also believe that Apple is playing a more shrewd tactic – Apple has already increased it's inventory on Apple Search Ads and some speculate that Apple is set to continue to grow it's advertising business in the future to become a bigger player in the media / advertiser world.
The future of advertising is changing. With less trackers and cookies, and more attribution and automation (enabled by AI and big data), advertisers will have to adopt to new technological requirements and become more strategical in planning rather than in implementation. Automation may simplify some areas, but the reality is that advertisers have to unite several operations internally and externally, such as CRM and CX with media partners, attribution partners and so on to truly plan an efficient and effect media plan that can achieve performance targets.
Does Google Have Any Future Plans?
Google recently announced that Android is looking to adopt their own version of ATT (they at least communicated this intention to app developers via email). This would limit what data advertisers get on their target audience. However, similar to some claims over Apple's plans, some claim that Google will use this opportunity to strengthen it's media offering via Google Ads and deeper integrations with Google Analytics 4 (GA4) and Firebase – effectively locking in advertising to the Google Marketing ecosystem.
Whether that picture comes into fruition is yet to be seen. However, it does show a prevailing trend of user-privacy across apps and the internet limiting abilities for advertisers to personalise ads to a target audience.
What are we doing?
M.i. Media is a planning and buying agency which already helps clients identify and overcome challenges such as Apple's ATT and the cookieless browsers with a mix of data and strategic planning. If you're interested in preparing your business for these challenges, find out how we can help accelerate your growth.
Hear more from the DMA