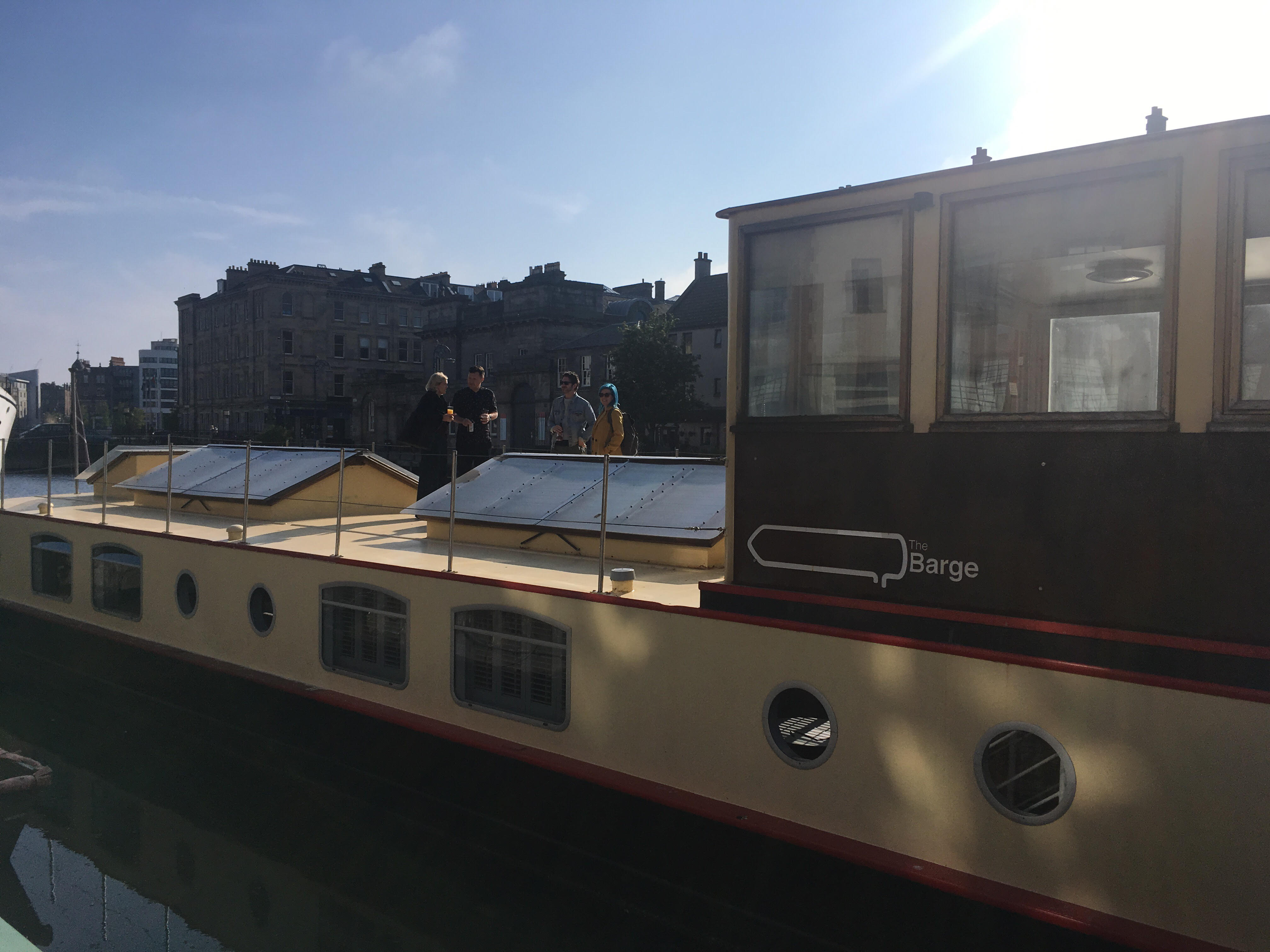 A barge full of copywriters, pizza and beer – what's the worst that could happen?
It's a question that Scottish agency, Leith set about answering as writers across the industry stepped aboard on the shores of Leith, for our latest Copywriting Club – Edinburgh.
Hosted by Leith agency, creative director, Phil Evans and creative copywriter, Brian Tonner, the evening was about one thing: writing with gusto - whatever the client, whatever the sector.
Drawing on their previous creative, working with the likes of IRN-BRU, Famous Grouse, the Scottish Government and the Royal Bank of Scotland, the agency have been creating bold ideas that work since 1984.
'Boldness outlasts everything' opened Phil, speaking on the importance of making your writing stand out 'and it isn't just for soft drinks or beer – big life-changing purchases should have that same sentiment behind them too'
Honing in on their work for IRN-BRU, the team shared the brief for IRN-BRU Xtra: mega tasty with no sugar. The thinking? That doesn't make sense, so neither should the ads.
'You can get away with negative - you just have to be clever about it' said creative copywriter, Brian on getting a good idea through to a client. Leith's 'It makes no sense' campaign for IRN-BRU picked up the Grand Prix prize at The Drum Roses Creative Awards 2017.
'Inspiration exists, but it has to find you working' continued Brian on the creative process 'And to be honest, I find that writing when you're a bit groggy can spark off some unusual trains of thought – so just always be writing'
More tips from Phil in the form of Leith's 18for18:
Try harder: 'There are no shortcuts to anywhere worth going'
Do your homework: 'Know your stuff – it'll show in your work'
It's always about the idea: 'Not even great writing can save a rubbish idea'
Be you: 'Write like someone who is comfortable in their own skin'
Be someone else: 'Adapting a character can be really helpful – think about specifics, colour and language'
Write and write, and write some more: 'This is how you discover, you might find you get a different angle on a different phrase'
Surprise: 'Delight your audience, they don't want the same old stuff either'
Reward: 'Audiences deserve to be charmed by words – let them have as much fun listening to your words as you do writing them'
Be specific: 'Vague doesn't work, it's the little details that really bring something to life'
Make stuff up: 'Who says there's rules?'
Forget formal: 'Speak like a human'
It's not about being clever: 'Just find a truth that's powerful'
…But be clever: 'Okay, so does it help'
Remember the rules then break them: 'You'd be surprised at what you can get away with'
Edit like mad: 'First drafts are called first drafts for a reason'
Do the opposite: 'Look at what everyone else is doing and go the other way'
Show people: 'Don't seek praise – seek criticism'
Steal someone else's words: 'Use other's brilliant words – it's where you take the idea'
Rounding off, Phil asked boldness of the room, but more than this 'Be brave' he said 'It's rarer than talent'
We've got a feeling he might be right.